Đời sống
Challenging journey to choose milk for children
On the journey of raising children, parents always want to find the right milk so that their children can develop comprehensively both mentally and physically. Many parents "have a headache" not knowing which milk is really effective for their children among the "matrix" of categories.
Difficulty finding milk to solve children's health problems
Ms. Thu Hoai (HCMC) shared: "My son is 2 years old this year, but he is often sick, constipated and short, weighs less than his peers. I have tried a few types of milk, but the one that helps to improve weight is not listed as helping to increase resistance and support digestion. So mysterious, I consulted a few opinions of acquaintances as well as online and received dozens of very different advice. Until now, I really don't know what kind of milk to choose that can help my baby grow well and limit health problems."
Ms. Phung Ngoc (Thanh Xuan, Hanoi) has a similar problem when looking for a "combined" milk for her child: "Each brand of milk has its own strengths, with a type of digestive aid that works effectively. ; other types help strengthen resistance; some help provide micronutrients for brain development, height, weight… I don't dare to give my child many types of milk at the same time. I'm looking for a milk that both helps my child increase resistance, aids digestion, and is good for the eyes and brain."
Ngoc's concern is well-founded because nutritionists also advise against giving children many types of milk at the same time, the digestive system will be under pressure, excess nutrition will cause overweight and obesity. or accidentally cause the child to have an allergic reaction.
On many forums or community groups specializing in sharing parenting stories, discussion topics sharing parents' concerns in finding a milk that is both nutritious and helps children strengthen their resistance, always attracts hundreds of thousands of people. comments. Most of the comments are "hunting", wishing for a "multi-functional" milk to help solve the above problems.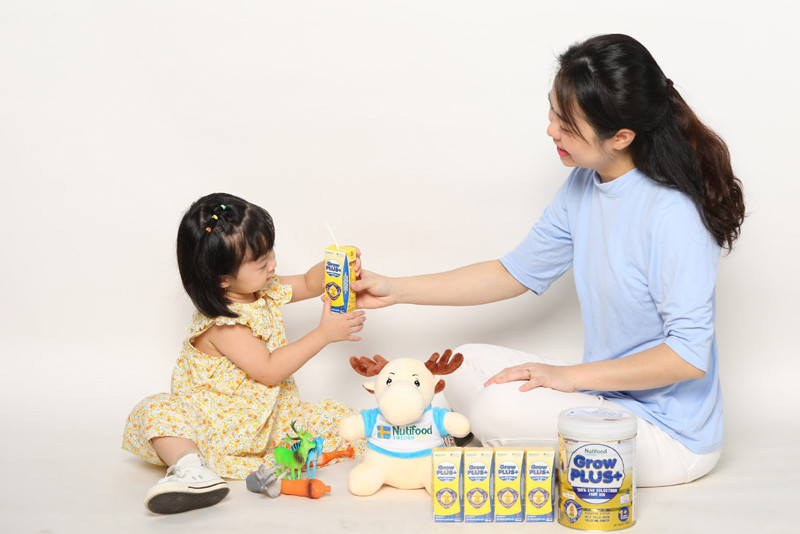 Nutifood GrowPLUS+ Colostrum (Yellow) – use "3 in 1"
In order to solve the concerns of mothers, the Nutifood Nutrition Research Institute of Sweden (NNRIS) has specially formulated Nutifood GrowPLUS + Colostrum (Gold) with 3-in-1 use to strengthen resistance, support digestion. and brain development for children. This is also the latest product of the number 1 baby milk brand in Vietnam for 3 consecutive years (from 2019 – 2021).
BS.CKI Tran Thi Minh Nguyet, Director of the Nutrition Research Institute of Ho Chi Minh City (NRI) commented: "The development of young children is affected by many factors, but the digestive system and the healthy immune system are the main ones. is the most important condition for children to grow up to standards, to prevent infections such as respiratory infections, diarrhea… In addition, the age of 1-3 years is also a period of rapid brain development. Therefore, it is very necessary to supplement with nutrients beneficial to the nervous system. Therefore, parents should research and choose the right dairy products that address these three needs for their children."
Nutifood GrowPLUS+ Colostrum (Yellow) has the main ingredients of 100% 24-hour colostrum imported from the US combined with an FDI formula to help double the resistance for young children. In particular, large amounts of IgG antibodies, lactoferrin, amino-acids and enzymes in 24-hour colostrum contribute to perfecting the passive immune system. The FDI formula provides a second additional source of resistance, helping children to avoid infections. This formula is also clinically proven by the National Institutes of Nutrition to reduce the rate of children with respiratory infections by 58.6%, digestive disorders by 77.8% and sleep problems by 56. .4%.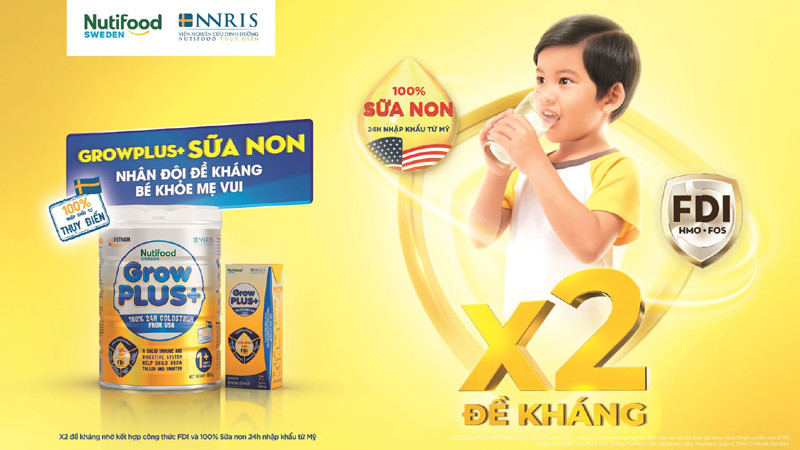 The duo of nutrients HMO and FOS/Inulin in the FDI formula also help children develop a healthy intestinal tract, strengthen the digestive system, thereby maximizing the absorption of nutrients. This platform has been clinically certified by the National Institute of Nutrition, showing a clear effect on the condition of Vietnamese children after only 4 months of use.
Nutifood GrowPLUS+ Colostrum (Yellow) also adds important elements for baby's brain and visual development such as DHA and Lutein. Micronutrients such as vitamins of groups B, A, D3, calcium, zinc, and phosphorus in milk play a big role in helping children grow significantly in height and weight.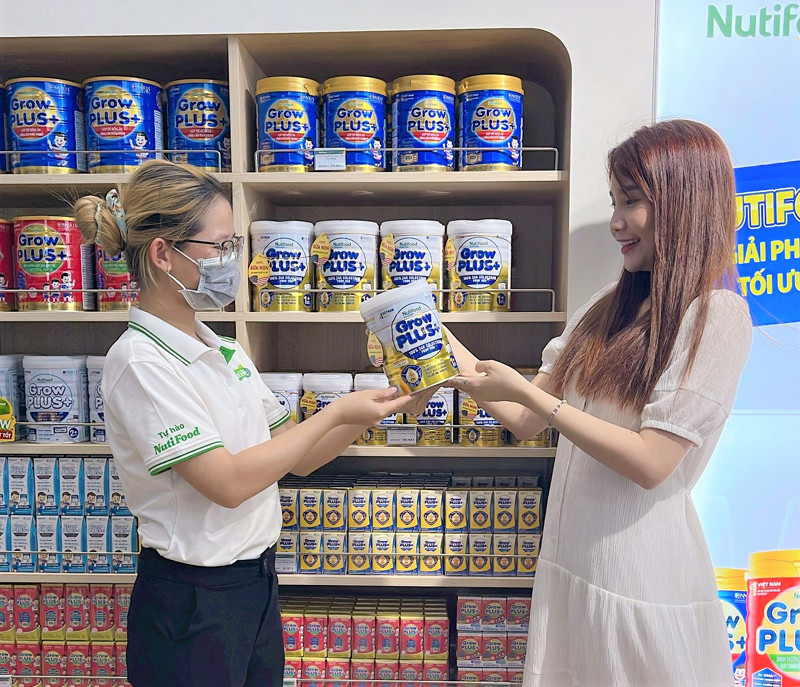 The product is 100% manufactured and imported from Sweden, one of the cradles of the world formula milk industry.
With two convenient versions of powdered milk and ready-to-drink milk powder, Nutifood GrowPLUS+ Colostrum (Yellow) is the optimal product to help mothers build a solid foundation for their children to thrive.
Marking a 10-year journey, the Nutifood GrowPLUS+ brand thanked customers with thousands of scholarships for Vietnamese children. The program lasts from April 1 to May 15, 2022 with 10 Diamond Scholarship prizes worth 100,000,000 VND/prize; 100 Gold Scholarship prizes worth 10,000,000 VND/prize; 1,000 Silver Scholarship prizes worth 1,000,000 VND/prize; along with 100,000 Consolation prizes worth 50,000 VND/prize and 1,000,000 Lucky prizes worth 10,000 VND/prize in the form of phone scratch cards.
For more information about the rules and prize structure, see: https://khuyenmainutifood.growplus.vn/
Tan Tai
You are reading the article
Challenging journey to choose milk for children

at
Blogtuan.info
– Source:
vietnamnet.vn
– Read the original article
here