Ciné
Life Style
Real love is noisy with a single mother who used to be a beauty student in Hanoi
Dinh Tu: "New wind" of VFC's male lead
Dinh Tu is considered the "new wind of" of the male lead VFC after Manh Truong, Hong Dang, Viet Anh. He is familiar with the audience through VFC's film projects such as: Youth, Chronicle, Underground circuit of the border, Going through the summer, Hate it, love it, Opposite of tears, A lifetime of resentment, The girl of someone's family…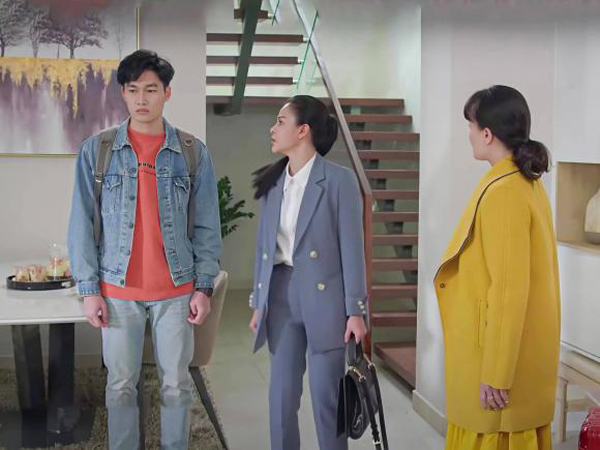 Dinh Tu in the movie "Sunflower against the sun".
After that, Dinh Tu was mentioned a lot when he participated in the primetime movie "Sunflower against the sun". In the film, Dinh Tu takes on the role of Tri – Minh's twin brother (Luong Thu Trang) but his personality is completely different from his older sister.
If the character Minh is mature, calm, and capable, Tri lives carefree, lacks perseverance, and studies lazily. Tri is compatible with her mother but also loves her sister very much. Tri both relied on but also feared Minh. Dinh Tu's character Tri received mixed responses from the audience, with this actor born in 1992, he has his own comments. Dinh Tu believes that regardless of the audience's attitude, he respects and absorbs it.
Currently, continue to appear on prime time with the movie "Love the sunny day" as Duy. Duy is an international student returning home, possessing the style of a Rich kid but wanting to walk on his own. It seems that Duy's father is none other than the boss of Hoang Kim Group, but Duy wants to work in the company through… a decent interview.
It was Duy's way of working that made the character that Dinh Tu showed to score points in the eyes of the audience right from the first episodes of the film.
It can be said that Dinh Tu's frequency of appearances on primetime television series is quite high compared to other actors of the same age. To get this favor, partly due to the excellent appearance of the actor from Bac Ninh.
The look of actor Dinh Tu.
He is 1m83 tall with a handsome and masculine face. Dinh Tu himself does not deny that his appearance has contributed to opening up opportunities to get good roles for himself. However, he still thinks that thanks to his professional training from the University of Theater and Cinema, he can be like that. Not only that, Dinh Tu also has confidence in acting.
He said that if just because of his bright appearance, the director chose Tu to play dozens of episodes, it would be impossible. Therefore, they must have seen that there is an acting talent in Tu, so they trusted and assigned that role to Tu.
Dinh Tu: Noisy love story in private life with single mother who used to be Miss Student Hanoi
Recently, actor Huong Giang – Miss Hanoi Student 2009 has confirmed her split from Dinh Tu after more than 5 years of dating. She wrote: "No matter who you meet, they are all people who need to be in your life. No matter what happens, it's all got to happen. No matter when it started. , it is the right moment. Every meeting in life is fate, there is no right or wrong. Huong Giang would like to thank everyone who has always loved and supported Huong Giang. Thank you for your support. Traveling with Giang has a long and meaningful journey. And finally… the story is over, it should be over. Let it be good memories."
Dinh Tu has very romantic scenes with many female actors.
It is known that Dinh Tu has a beautiful love affair with actress Huong Giang, this beauty is 3 years older than him. Before coming to Dinh Tu, Huong Giang experienced a marriage breakdown and had a daughter of her own. However, that is not a barrier to their love story. Huong Giang is happy because Dinh Tu accompanies everything. Most of all, he loves her daughter very much.
Three years apart, but Dinh Tu and Huong Giang are commented on as a beautiful couple. They often go hand in hand at events and also many times model for collections of wedding dresses, ao dai…
Currently, he is rumored to be in a fake movie with Phan Minh Huyen playing the role of Van Trang in "Coming on a sunny day".
However, when the audience had not witnessed a beautiful wedding of them, suddenly Huong Giang broke up. This has made fans feel sorry for the famous couple.
You are reading the article
Real love is noisy with a single mother who used to be a beauty student in Hanoi

at
Blogtuan.info
– Source:
Kenh14.Vn
– Read the original article
here