In the forest of Dodauer, northern Germany, about 100 km northeast of Hamburg, there is the world's oldest "matchmaker", which is a hundred-year-old oak tree. It is worth mentioning that this special "matchmaker" has also had his own postal code for more than 95 years. Like love, a 500-year-old tree stands firm and tall despite the storms of life.
Known as Der Bräutigamseiche (The Groom's Oak), this ancient tree outside the town of Eutin has been matching singles long before Tinder appeared. This cool "matchmaker" is said to have helped more than 100 couples come together. Today, people from all over the planet write letters to the tree, hoping that with a postage stamp they can find their mate.
The postman tasked with delivering hope-laden love letters from every corner of the world is Karl-Heinz Martens. Since 1984, this 76-year-old man has been regularly picking up and delivering mail for more than 20 years.
In an interview in February 2018, Mr. Karl shared: "There is something magical and romantic about this place. On the internet, facts and questions connect people, but on the internet. this tree, it was a wonderful coincidence, like fate."
Now retired, Karl still keeps a scrapbook filled with pictures, letters and newspaper clippings from his days as a messenger of love. Whenever someone asked about them, he would happily show each memento and tell touching stories.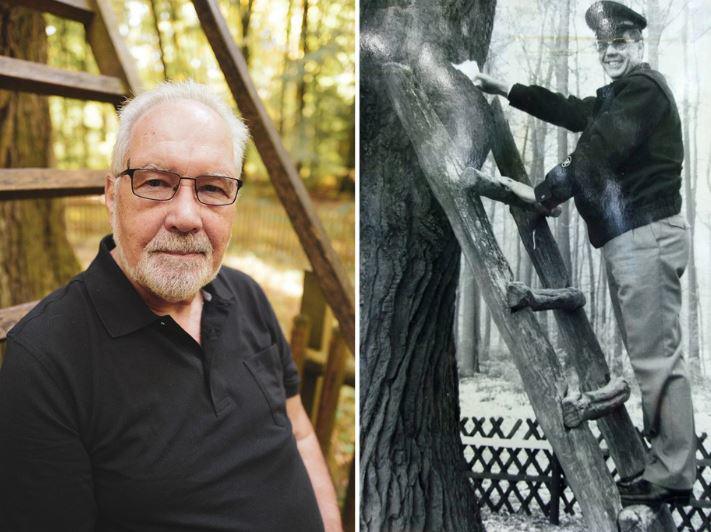 Mr. Karl-Heinz Marten.
During his two decades of oak service, Karl delivered letters from six continents, written in languages ​​he did not understand. He explained that today a lot of people know about the tree, but 128 years ago, this was the secret of two lovers.
In 1890, a local girl named Minna fell in love with a chocolatier named Wilhelm. But this love is forbidden by Minna's father, so the young couple begin to secretly exchange love letters by leaving them in the eye sockets of the oak tree. A year later, Minna's father finally allowed her to marry Wilhelm and their wedding took place under an oak tree on June 2, 1891.
The couple's fairy tale love story then spread. Before long, love-seekers across Germany began writing letters to the "groom oak tree".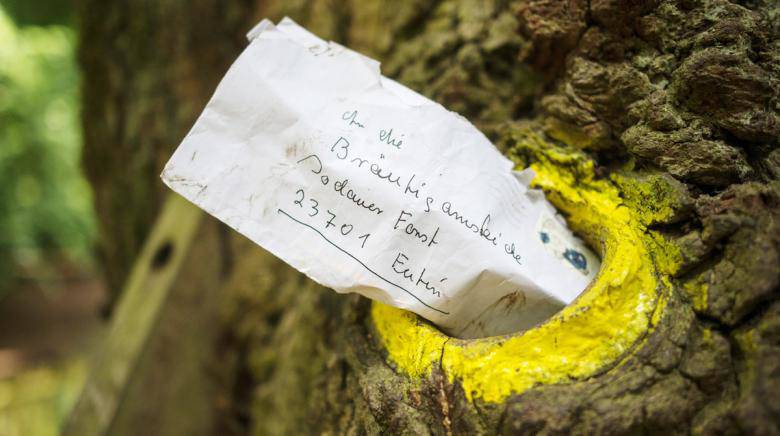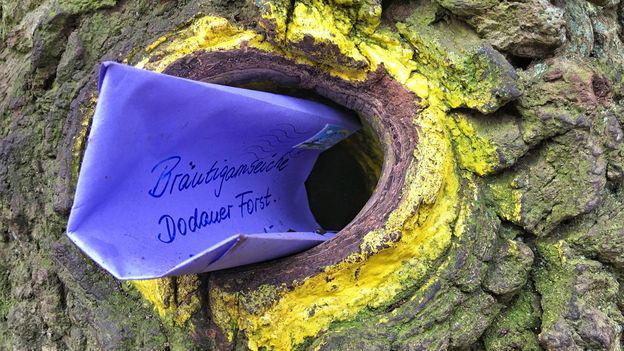 The oak received so much mail that in 1927 the German postal service Deutsche Post assigned it a postcode and a postman. A ladder was also placed on the mailbox so that anyone could open, read and reply to the letters. The only rule was that if you open a letter but don't want a reply, put it back in the hollow of the oak tree and let someone else do it.
Martin Grundler, a spokesman for Deutsche Post said that "The oak tree receives about 1,000 letters a year, most coming in the summer. I think that's when everyone wants to fall in love."
For those who already have "the person of their dreams", it is said that a girl just needs to walk around the oak tree three times under the moonlight and think about her lover, without saying or not smiling, she will get married in that year.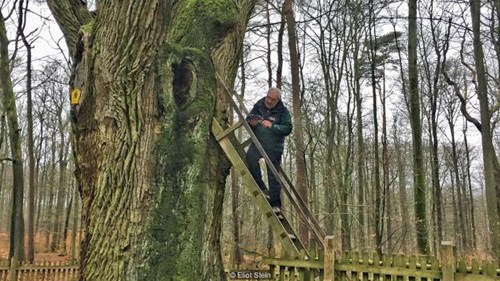 Today, the "groom oak tree" remains the only tree in the world with its own mailing address. Every 6 days a week for the past 91 years, a postman has walked through the forest, despite rain, rain, storm, and snow to deliver love letters from single people yearning for love. And no one has delivered a letter to the oak tree longer than Mr. Karl. "It's my favorite part of the day. People often memorize my route, wait for me to arrive because they don't believe there is a postman delivering mail to the tree," he shared.
In 1958, a young soldier named Peter Pump reached into an oak tree and retrieved a piece of paper with his name and address on it. After the thought flashed through his mind, he decided to write a reply. The main character in the letter is Miss Marita. Because she was too shy, Marita's friends helped her write a letter to this matchmaking oak tree. After a year of correspondence, Peter and Marita finally had the courage to meet. They married in 1961 and celebrated their 57th wedding anniversary in 2018.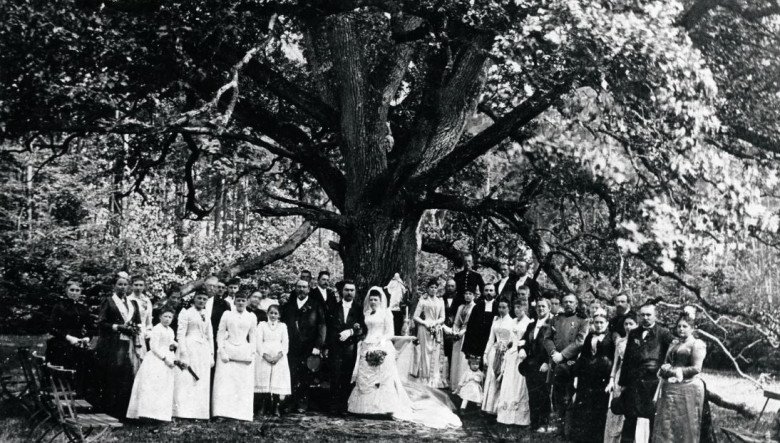 A wedding under an oak tree.
Or like the fateful love story of the Christianen family should also be graced by this oak tree. In 1988, Karl delivered a letter from a 19-year-old East German girl named Claudia to the oak tree. A West German farmer, Friedrich Christiansen, found the letter and replied. By the 40th letter, they officially became a couple. Unable to meet due to geographical separation, Friedrich and Claudia corresponded for nearly two years across the border. When the Berlin Wall fell, they met for the first time and married in May 1990.
In 1989, a German television station ran a special about oak trees. They asked Karl if he himself had ever found love under an oak tree. The young man Karl said he had not tried it yet. A few days later, as Karl climbed the ladder to deliver a letter to the oak tree, he discovered a handwritten letter from a woman named Renate to himself: "I'd love to see you. You are my role model. Now, I'm alone too."
Too surprised by this letter, Karl called the girl. After a somewhat confused and awkward conversation, they arranged to meet. "We got married in 1994 and had a wedding party under the oak tree," said Karl of the outcome of this love affair. The local newspaper printed a picture of Karl standing on the steps and a newlywed couple kissing under an oak tree with the headline: "Wedding of the Year". 24 years later, Mr. Karl and Mrs. Renate are still living happily together. The postman still kept all of his wife's love letters.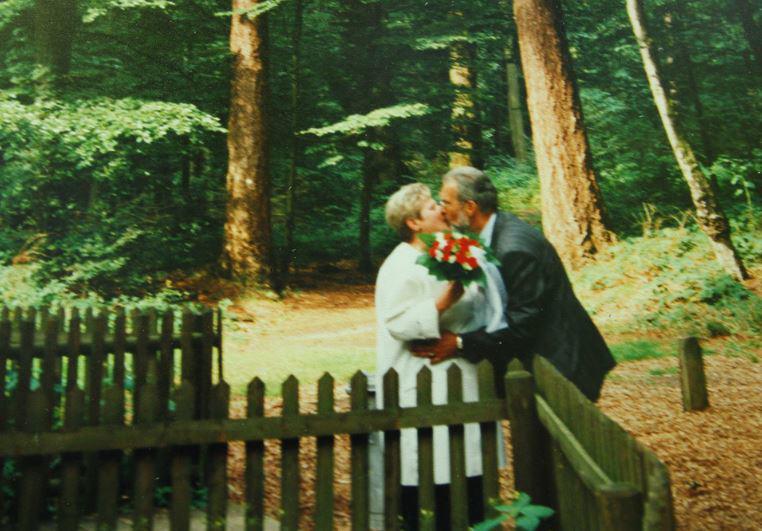 Mr. Karl and Mrs. Renate.
In 2009, after more than 100 years of human charm, the "groom's oak" was symbolically married to a 200-year-old chestnut tree near Düsseldorf. Although separated by 503 km, they were still together for 6 years until the chestnut tree began to grow old and had to be cut down, leaving the "widowed groom".
Mr. Karl said that since the letter came here, the tree is getting stronger and stronger. There seems to be a special connection between him and the oak tree. When it was discovered that the tree was infected with a fungus and had to cut down some branches to prevent the disease from spreading, Karl himself was diagnosed with leukemia. He said his bones were like branches, no longer stable. Although retired, Mr. Karl still likes to visit the tree again, recalling the days of mail delivery, connecting the old love.
You are reading the article
Magic oak tree: Successful matchmaking for more than 100 couples, I also married another tree

at
Blogtuan.info
– Source:
Eva.vn
– Read the original article
here