Suggested dinner this afternoon will have the following dishes:
– Fried spring rolls: 50,000 VND
– Boiled water spinach soup: 30,000 VND
– Tofu with sweet and sour sauce: 12,000 VND
– Pickled salt: 5,000 VND
Total: 97,000 VND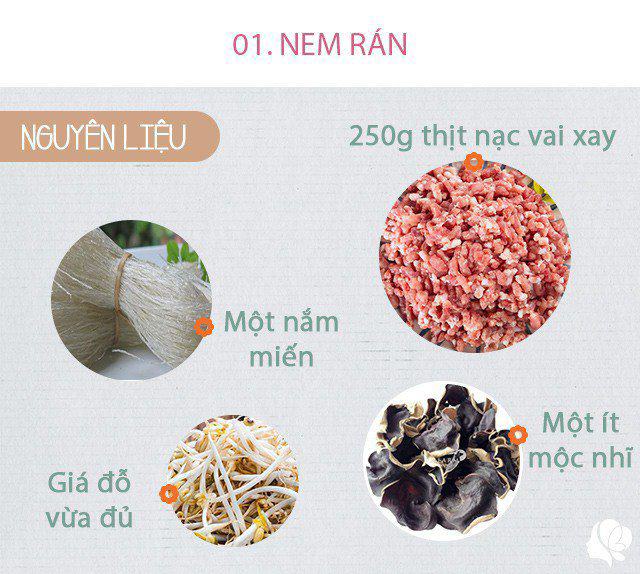 Preparation: – 250 gr of ground pork – 5-6 wings of wood ear; 1 chicken egg; 1 small handful of vermicelli; 1 carrot; 1 handful scallions; 1 stack of thin rice paper – 1 few bean sprouts – a few shiitake mushrooms, enough pepper
Spring rolls include minced shoulder meat, soft soaked vermicelli, sliced ​​soft dried shiitake mushrooms, chopped wood ear, diced onion, shredded carrot, pepper, egg, diced scallions small. Mix the filling and then wrap the rice paper rolls into rounds. Heat cooking oil and then fry spring rolls until golden brown, served with sweet and sour dipping sauce.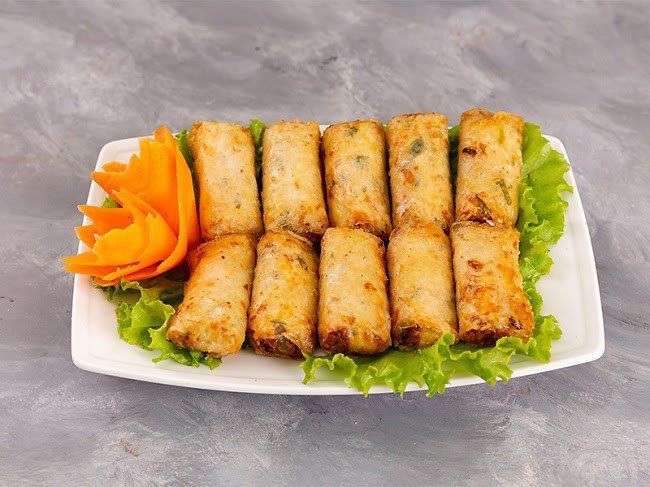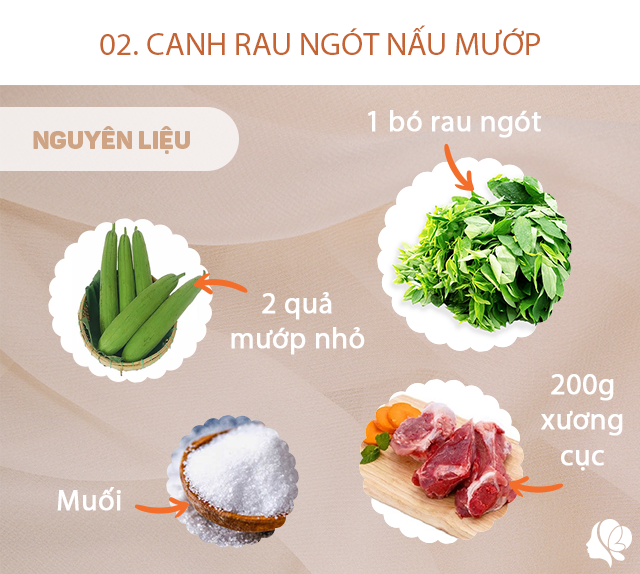 Ingredients: 1 bunch of spinach, 200g ribs, 2 small flavored melons, salt.
Stew bones with water until tender. Spinach peeled and washed. Watermelon peeled and cut into bite-sized pieces. After the bones are simmered, add water to make a soup, add the spinach and cook for about 2 minutes, then add the melon, cook for another 2 minutes, the melon and vegetables are completely cooked, season with salt to taste, and then turn off the stove.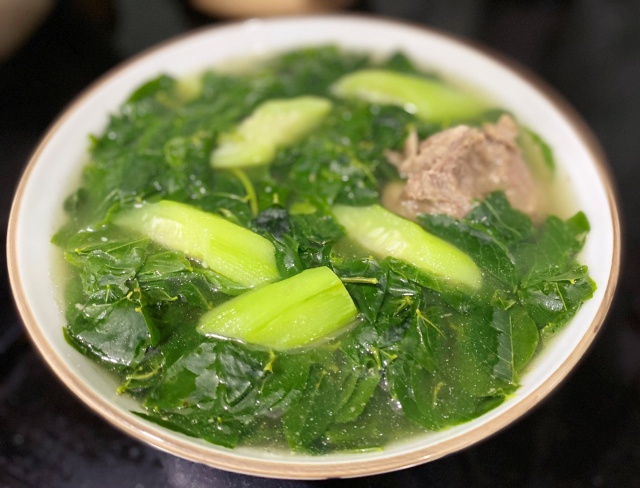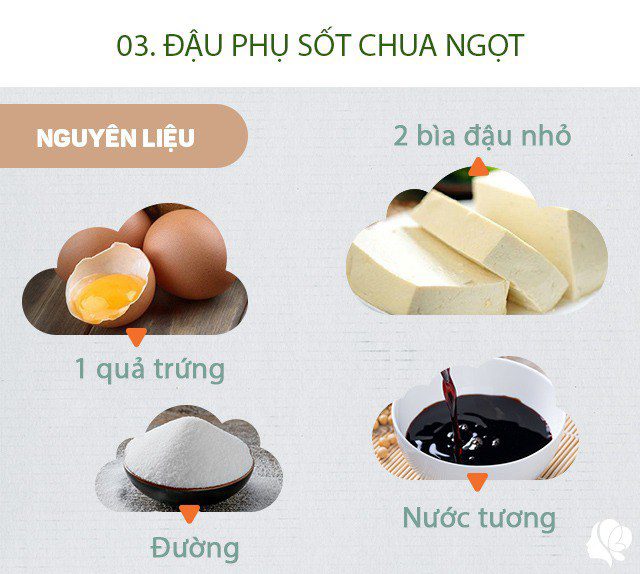 Preparation: – 2 small tofu covers, 1 egg, 2 tablespoons starch. Seasoning for sweet and sour sauce: 2 tablespoons light soy sauce, 2 tablespoons aromatic vinegar, 2 tablespoons sugar, 1 tablespoon ketchup, 2 teaspoons salt, half a teaspoon of water, 2 tablespoons oyster sauce , 2 tablespoons starch
Cut the tofu into 0.5cm thick pieces. Crack the eggs into a bowl, beat them, and then under the eggs into the bowl of beans so that each piece of beans is covered with the egg. Roll the eggs into the starch dish, then dip the beans back into the eggs, then set aside.
Add 2 tablespoons of light soy sauce, 2 tablespoons of vinegar, 2 tablespoons of sugar, 1 tablespoon of ketchup, 2 teaspoons of salt, half a teaspoon of water, 2 tablespoons of oyster sauce, and 2 tablespoons of starch. large bowl, stir well. In fact, you can also adjust the ratio of ingredients to make the sauce to suit your family's taste.
Leave a little oil in the pan, once the oil is hot, fry the tofu until it turns golden brown on both sides. Don't leave it for too long, or the tofu will not taste good. After frying is complete, pour in the adjusted sweet and sour sauce, bring to a boil. When the sauce thickens, put the beans on a plate. Sprinkle some green onions on the beans and enjoy!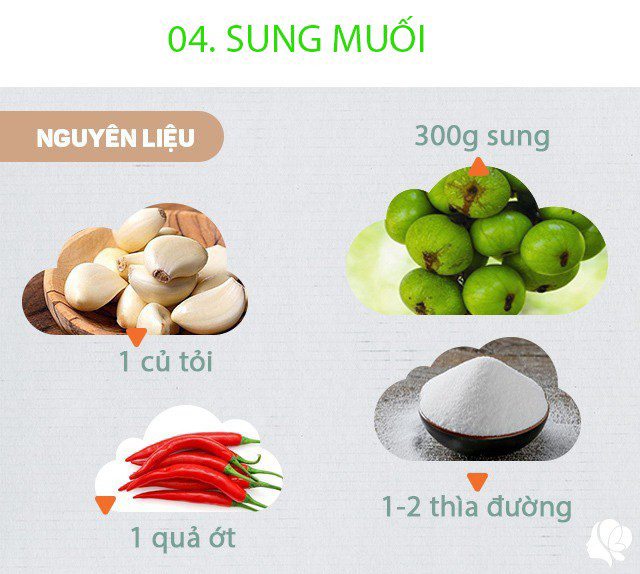 Preparation: – 500g fresh figs – Garlic – Lemon – Chili – Spices: sugar, soup powder, salt.
Figs separate each fruit, remove the stem and wash. Then add the fruit into 2 or 3 pieces depending on the size of the fruit and then immediately soak in diluted salt water so that the figs do not darken. Wash and rinse several times to remove the plastic. Finally, take out the figs to drain. Peeled garlic, crushed. Squeeze lemon juice. Sliced ​​chili.
Marinate figs with soup powder, sugar to taste and then let the figs soak up the flavors for about 10-15 minutes. Next, add the garlic, lemon juice and chili (depending on your preference) and mix well. Let it rest for about 20-30 minutes and you can eat it right away.
If you want to eat figs for a few days, take a bowl of boiling water, mix a little salt and sugar so that the water mixture is just right. Add salt to the jar and pour the mixed water, mix well, close the lid and put it in the refrigerator. In this way, figs can be eaten for several days without being sour.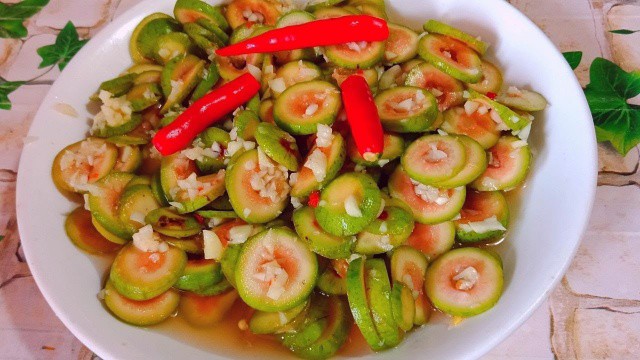 Good luck!
You are reading the article
The meal is less than 100 thousand, you get 4 simple dishes but drifting rice

at
Blogtuan.info
– Source:
Eva.vn
– Read the original article
here