Business
District bank deputy defrauded nearly 50 billion VND
The large amount above is the sweat and tears of many individuals in the area. Among them, there are old people who are close to the earth and far from heaven, because they believe that Phuong is a bank officer, so they send money to subjects who want to earn a little higher interest to have money for old age. Unexpectedly, paying high interest is a "trick" for her to lure the prey into the trap.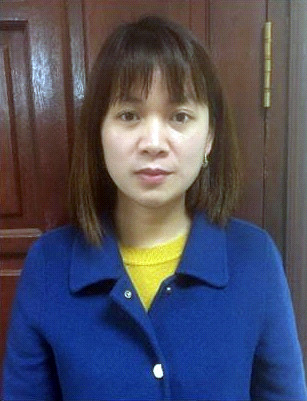 Pham Thi Phuong at the police station.
One of Phuong's victims is Nguyen Thi T, 65 years old. Mrs. T is a retired teacher. The couple accumulated over a lifetime of more than 1 billion VND and sent it to the bank to earn interest for daily expenses. However, when Ms. T was due to withdraw the money, Phuong, a bank officer, knew about this, so she immediately met Ms. T, saying that she was in need of money to complete procedures for customers to mature, so she wanted to borrow again with interest rate. 1,500 VND/1 million/day. According to Phuong's analysis, with the principal amount of 1 billion, Ms. T will earn a profit of 45 million dong every month, nearly 10 times higher than the bank's interest rate.
Seeing the high profit, she believed that Phuong was a bank officer, so Ms. T agreed to lend Phuong a loan. At first, Phuong paid the interest in full, so Mrs. T trusted her very much and introduced her brothers, friends, and family members to lend to Phuong. Unexpectedly, after a while, Phuong evaded not paying interest, asking for the original she also begged. With no other choice, Ms. T had to file a report to the police.
Another pitiful victim is Mrs. Hoang Thi N. Ms. N, who is single, has difficult circumstances, sells vegetables every day to earn a living. Saving forever more than 300 million to send to the bank to take care of old age, did not expect to listen to Phuong's sweet words, so he fell into a trap.
Ms. N said, "When she didn't pay interest, people came to my house to find out that she owed a lot of money from many people. My money is just salt, but it's the sweat and tears of my life. Now that it's all gone, I don't know how to live." It is known that when she heard that Phuong was arrested, Ms. N was sick for dozens of days because of her loss and worried that she could not get any money back.
According to police documents, from 2013, while working as an employee of this bank at a branch in Thanh Son town (Son Dong district), Phuong started borrowing interest from a number of individuals and then gave them money. Others borrow again with higher interest to enjoy profits. However, in the same year, being in the position of a "creditor", Phuong became a "debtor" when her 3 partners who borrowed 5 billion dollars could no longer pay.
From 2013 until being arrested, taking advantage of her own name and reputation, in the form of mobilizing capital to mature banks and promising to pay high interest rates, Phuong borrowed money from many citizens in the area. Son Dong district. Phuong uses the borrowed money to continue lending to others at a higher interest rate to enjoy the difference profit. In fact, because she owed a large amount of money, Phuong used the borrowed money from this person to pay the principal and interest to others until she was completely unable to pay. With the above tricks, Pham Thi Phuong fraudulently appropriated the property of 43 citizens with a total amount of about 47 billion.
At the police station, Phuong confessed: From 2013-2020, using the name of a bank officer, she needed money to complete the due process for customers who had borrowed money from many people with interest rates from 1,500 VND to 2,500 VND/1 million/1 day. However, the subject does not use the loan to maturity as promised, but uses it to pay personal debt.
The Police Department of Bac Giang Province prosecuted and temporarily detained Pham Thi Phuong for the crime of "fraudulent appropriation of property", specified at Point a, Clause 4, Article 174 of the Penal Code. On May 17, the Criminal Police Department of the Bac Giang Provincial Police said that it had concluded the investigation and proposed the Bac Giang Provincial People's Procuracy to prosecute the accused with the above crime.
In the coming time, in order to prevent similar incidents from happening, the Criminal Police Department of Bac Giang province suggested that banks need to tighten their management, strengthen inspection, supervision and timely response. detecting signs of employees participating in or abetting loan maturity activities in order to prevent, correct and handle. At the same time, it is recommended that the public be very vigilant and alert and do not participate in high-interest lending activities to avoid causing property damage.
You are reading the article
District bank deputy defrauded nearly 50 billion VND

at
Blogtuan.info
– Source:
cafebiz.vn
– Read the original article
here