Ms. Bui Thi Thoa (31 years old, Dong Nai) is a national bodybuilder. At the 31st SEA Games, she excellently won 1 gold and 1 bronze medal. And her husband is Mr. Tran Cong Dung (31 years old, Quang Binh) is an office worker. At the 31st SEA Games, she attracted everyone's attention when her mother, parents-in-law, husband and daughter went all the way to Hanoi to cheer her on.
It is known that because of her life and passion, when she gave birth to a child 1.5 months ago, she sent the child to her grandmother to practice. However, she always feels lucky because she has a solid rear, always a support to encourage her to overcome everything to win today even though this is the first congress she attends.
Thao's small nest.
Let's listen to Ms. Thoa's sharing about her pregnancy and her birth story!
When I was pregnant, I felt sorry for myself because I practiced alone in Saigon
Ms. Thoa's story at the 31st SEA Games made many people admire when her whole family went to Hanoi to cheer, I don't know how she and her husband met each other in fate? How long after getting married did you receive the good news?
My name is Thoa and my husband's name is Dung, born in 1991. I both work out and teach at the gym and my husband works in a company. I live in Saigon and my husband and daughter live in Dong Nai with my grandmother. The couple got to know each other when they studied at the same School of Physical Education and Sports 2, I studied in Gymnastics and my husband studied in Karate. Although my husband is the same age, he took the course after me because I studied 1 year before my age. My husband and I know each other only because of the story of "yams and potatoes" because my husband is from Quang Binh. (Laugh)
My husband and I have been married for more than 3 years when we received good news. When the couple learns that they have a child, they are very excited and happy, and feel very nervous.
As an athlete with a good physical background, was your pregnancy much different from everyone else's?
Lucky for me is the time pregnant Both mother and baby are healthy and develop normally. When I was pregnant, I stopped competing, the rest of the time I still went to teach and practice normally until I gave birth.
When I was pregnant, I was also busy teaching, so I only prepared fresh milk for me. The funny thing is that when I was pregnant, I only wanted to eat vermicelli, so I often ate at the restaurant.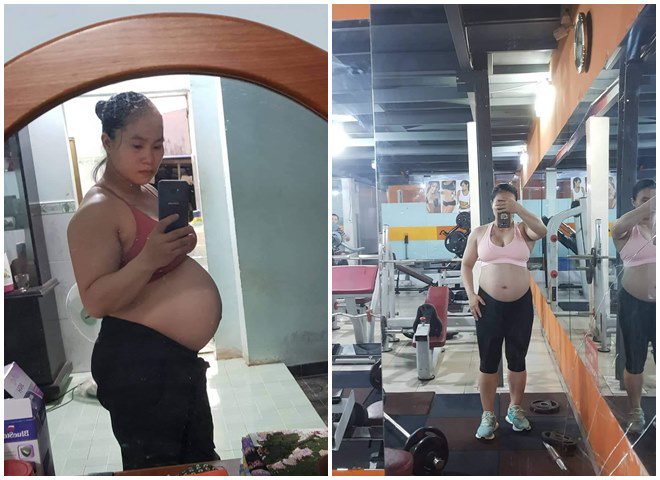 Pregnant woman gained 15 kg.
How is your exercise regimen during pregnancy, is it limited?
When I was pregnant, I still exercised normally, but the weight was reduced to fit my strength at that time. I practice all the movements just to avoid the movements that hit the stomach. I gained 15kg during my pregnancy.
Being pregnant alone in Saigon without a husband by your side, are there times when you feel sorry for yourself?
When I was pregnant, I still lived alone in Saigon until almost 1 month after giving birth, I didn't come home. My husband and family could only call to ask about my situation at that time. I'm also very sad, but thinking of my children should comfort and encourage myself to try to overcome it all.
After giving birth 1.5 months, I went back to teaching from 4 am to 10 pm
Is it easy for you to give birth?
I remember the most when giving birth, the doctor made me lie down and wait, I pushed myself for 1 hour. When I was born, I used to practice breathing through my mouth and scream, but the doctor didn't let me scream. Moreover, I was pregnant so I was stuffed like a dough when giving birth. (Laugh)
When I gave birth, all the doctors looked at me and asked me why I was doing weightlifting and then told me that I was going to give birth but went well. My baby was born 3kg2.
Do you think the baby looks like his father or mother after giving birth?
I just gave birth by surrogacy, the baby looks like his father from the time he was in the womb until now, he has always looked like his mother and is a bit of a jerk.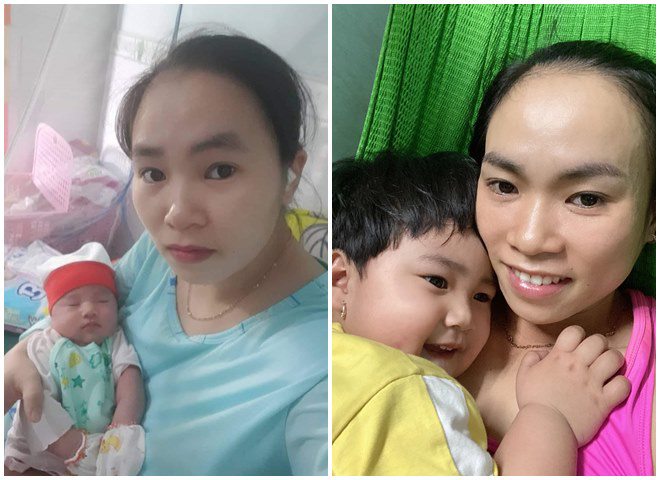 Her baby was born exactly like her father.
As an athlete, were you strict after giving birth?
After giving birth, I abstained for a month and a half, then I went back to teaching, 3 months after giving birth, I practiced again and after 6 months I weaned the baby and started to squeeze and compete again. Because of life and passion, when my daughter was 1.5 months old, I went back and forth from 4 am to 10 pm to return. I love my son very much, but I still have to leave him at home with his grandmother. My baby is 6 months old, I weaned her from milk to focus on competing again.
Gaining 15kg during pregnancy, is it difficult for you to get in shape?
To be honest, at first, I was also very tired and frustrated because of the increased fat. In addition, because of the birth of the first child, the bones are also weak, and it is very frustrating at first. But thanks to my family and friends who are always beside me and encouraging me, I tried my best and when I saw my daughter, I no longer felt tired or discouraged.
My baby was 6 months old when I weaned and I started competing again. I set a strict regimen for myself from the beginning because I pressed down a lot of kilos to go from 78kg to 52kg.
I usually eat a lot of vegetables and eat protein about 500g / day along with drinking more whey, so 3.5 months I'm back to 52kg.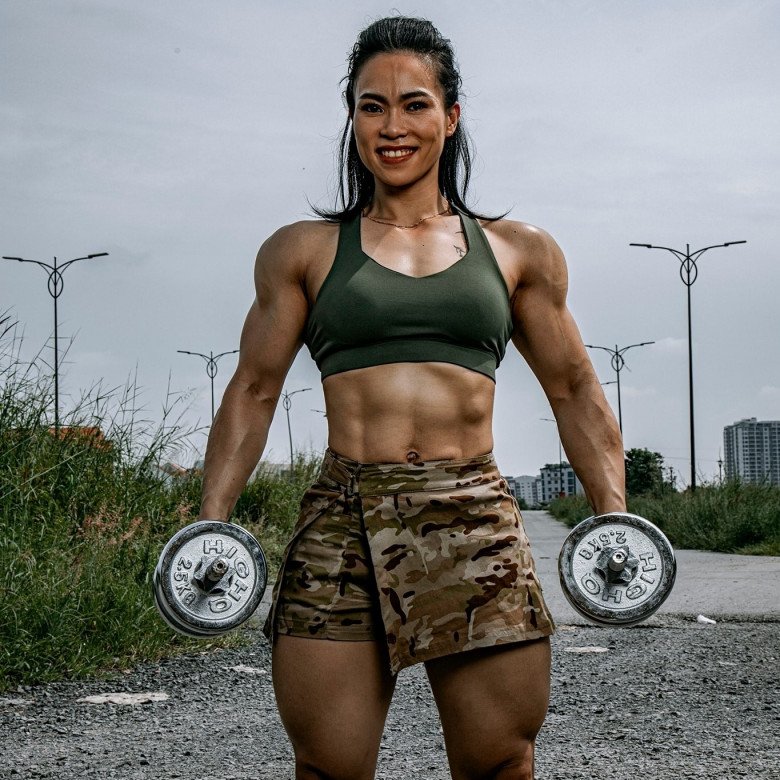 After giving birth for 6 months, she tightened her weight to compete.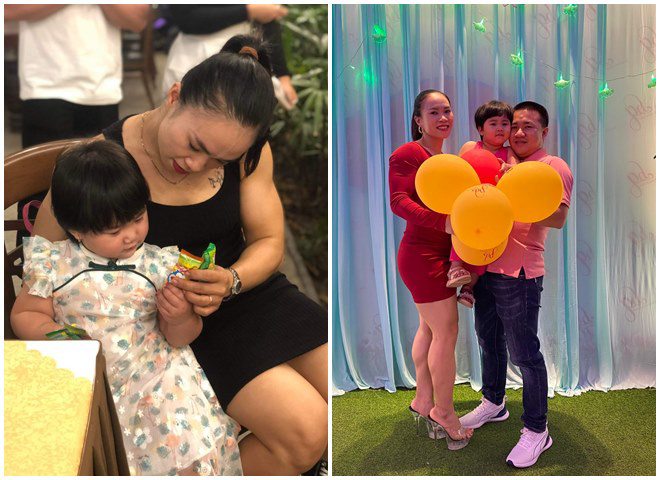 Her baby was born in 2019 and is now 3 years old.
Mom is an athlete, I don't know how you are in her eyes? I have to leave my mother early, is there a saying from the baby that makes you emotional?
From time to time, I tease her with "Is this mother ugly?" Then the baby replied "no, mom is pretty". (Laugh)
Sometimes when I go to work, my baby comes to hug my mother and says "mom stay home with me". I said "Mom goes to work to earn money to buy milk for me", the baby replied "I don't drink milk, mom feed me". When I heard the baby say that, I really couldn't help but have to say it until the baby would let her go. It was 3:30 a.m. she woke up and wouldn't go back to sleep.
Men often like weak and gentle women to protect, you are a strong athlete, do you feel that you are at a disadvantage?
Even though I'm an athlete, I'm still a girl, I still need care and protection, only when I practice I need to be strong and have the will to try to overcome everything to complete my mission. .
Thank you for your sharing!
You are reading the article
The athlete who just won the gold medal at the 31st SEA Games is pregnant, still practicing, and sends her child to work 1.5 months after giving birth

at
Blogtuan.info
– Source:
Eva.vn
– Read the original article
here