If you follow the 31st SEA Games, especially in Esports Mobile Legends: Bang Bang, you will not be able to leave your face in front of the TV screen because of the ingenious leadership of MC Xuan Hieu. The handsome MC whose full name is Nguyen Xuan Hieu, lives in Hanoi. He graduated from Foreign Trade University and is currently a professional bilingual MC who is admired by many people.
Xuan Hieu possesses a handsome appearance, tall figure and a low and attractive voice. To become an MC at a big event, he had to go through hard training. Join us to chat with MC Xuan Hieu to listen to his profound sharing about his career and life story!
– Hello, Mr. Xuan Hieu, since when have you been passionate about hosting? How did you train to become a professional MC?
I started to love the job of hosting when I was a high school student. I used to be the Vice President of the school's MC Club. However, because there were not many opportunities at that time, I temporarily put my passion aside. By the first year, I also "rolled around" doing many different jobs such as: Working as a tutor, working as a bartender, etc. But I realized that it was just a part-time job, not a hobby and a hobby. don't give me much experience.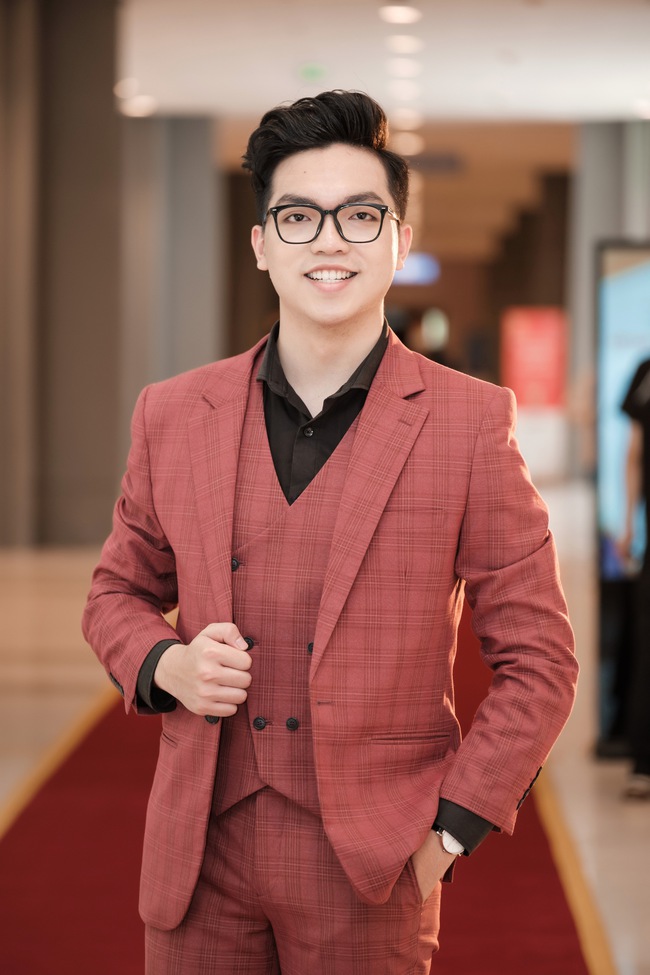 Then, by chance, I was invited to host some events at schools. This helps me regain my emotions with the profession of holding a mic. In my second year of university, I decided to join the MC Club and the School's Fashion Club. That was the time when I started to enter the profession with a serious attitude. I have improved a lot of knowledge and skills about the profession of programming. And I decided to pursue MC professionally.
To become a professional MC, I have tried to find a good environment, looking for opportunities to lead from small programs to events of hundreds and thousands of people. In addition, I also look to professional and reputable training centers to learn from the experiences of my predecessors.
– Up to now, do you remember exactly how many programs/events, big and small? How did you feel when you held the mic for the first time on stage, sir?
I don't remember all the programs/events I've led because every opportunity comes, I always take advantage to learn and hone my skills for each type of program. And if you calculate carefully, there must be hundreds of programs already. (laugh)
The first program that I led was a small event at the university. Back then, when the homeroom teacher asked my friends, I volunteered and immediately took the opportunity. Although it's just a small event, I still try my best to complete it in the best way.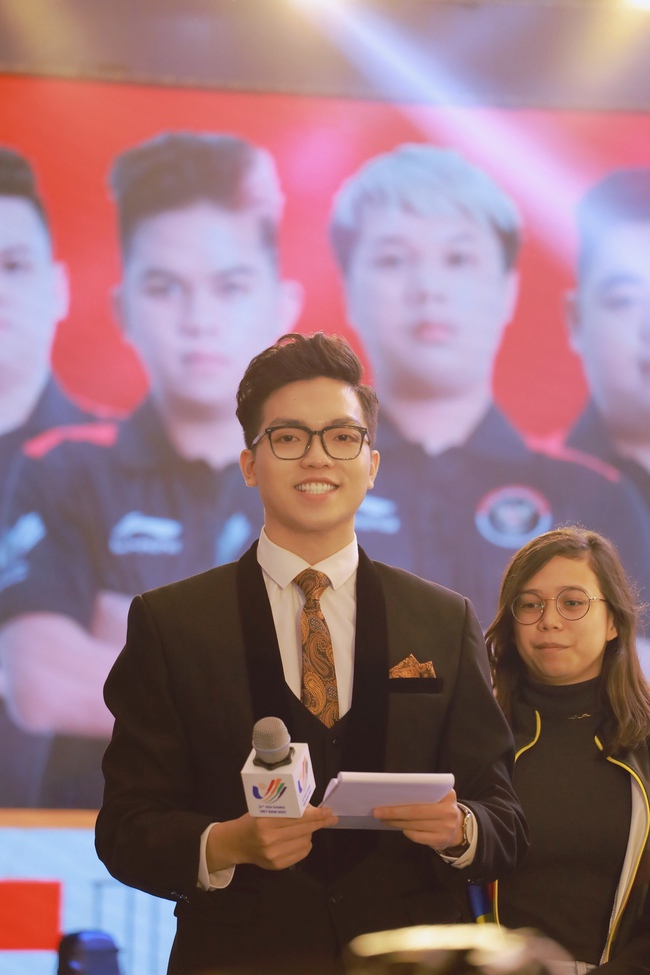 – What made you become a bilingual MC at Esports eSports? When you received the invitation, how did you feel?
The chance to come to the 31st SEA Games program came to me quite by chance. An older sister in the Organizing Committee knew that she had the ability to conduct bilingualism, so she let me take on the role of bilingual MC for the e-sports Mobile Legend: Bang Bang.
I received the invitation at 1am – when I was about to fall asleep after a long day of hard work. The first emotion is surprise but also extremely proud because the SEA Games is a program representing the country, with the stature of Southeast Asia. Without hesitation, I accepted this honorable invitation.
– It is known that this is the first time you stand on the SEA Games stage – a big event, so what pressures have you faced? How did you prepare everything?
Actually standing on a regional stage like the SEA Games, I personally feel a lot of pressure. Until now, I have been the MC of large and small programs/events in many different fields, but never at a big stage like the SEA Games. Besides, eSports is also a new sport appearing at SEA Games for the second time, so everything is still quite new. Therefore, I have to listen to suggestions and learn a lot of knowledge to be able to coordinate smoothly with the Organizing Committee.
In particular, the e-sports Mobile Legend: Bang Bang is broadcast live on TV channels in countries in Southeast Asia, making me feel that I have to do well. I always try to maintain positive energy to convey the content and spirit of the sport to the audience. From the time I received the invitation to the time the competition started, I only had 2 short days to focus on learning and improving my skills.
In order for the sessions to be successful, we must first prepare in terms of time. The matches from the group stage to the final took place in 3 days but I had to attend the rehearsal at least 2 times. In addition, I also need to prepare appropriate clothes and makeup to have a neat appearance. Vietnam is the host country at the 31st SEA Games, so everything has to be more careful and thorough because international friends will look at it.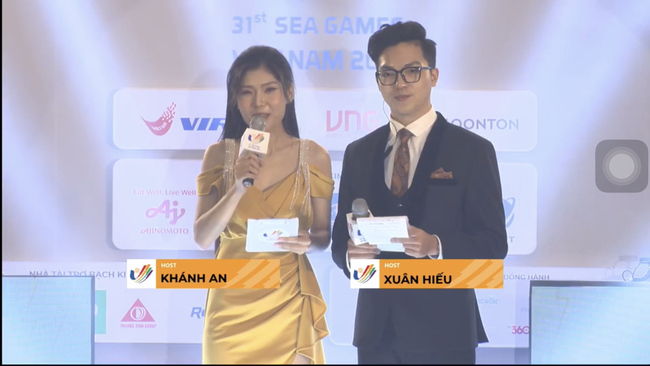 Besides, I also have to learn information about the teams, improve my English to understand more about the terminology in the sport. At the same time, it helps to become confident and poised when interacting with international players. To do that, I contacted the experienced bilinguals at big shows to learn and strengthen my spirit before the show.
E-Sports Mobile Legend: Bang Bang usually competes from early morning to late evening. The peculiarity of eSports is that it takes a long time and takes a long time to compete, from the group stage to the semi-finals to the final. My guide and I have to come from 6am to do makeup and prepare clothes. After that, I and the Organizing Committee reviewed the script, discussed and agreed on the moving positions on the stage.
I remember the grand final ceremony of awarding medals, we had to rehearse twice to make sure there were no mistakes. That day there were many guests from all over the world to attend. The rehearsal and main show took a long time, both me and the host were tired but still encouraged each other to be confident and shine on the stage. Only when the program ended, we breathed a sigh of relief because we had completed the task.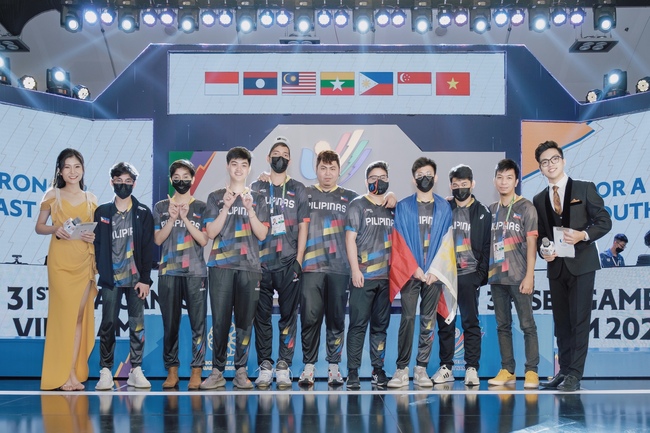 – Before the busy, hard and stressful work, how did you help yourself relieve stress?
My release method is very simple! After the sessions, I invite my friends to coffee or exercise. For me, it's a simple but effective way to recharge, ready to conquer new challenges.
– When seeing you host at SEA Games 31, how do your relatives and friends feel, sir?
Every time my subject is broadcast live, all my family, relatives and friends watch and send congratulatory messages. Everyone hopes that the program will go smoothly and with great success. Although my parents have seen me on TV many times, I believe that standing on the SEA Games stage will make them very proud of me.
In the future, I plan to continue to stick with the profession of holding a mic. I will improve my skills and experience to be able to stand on bigger stages.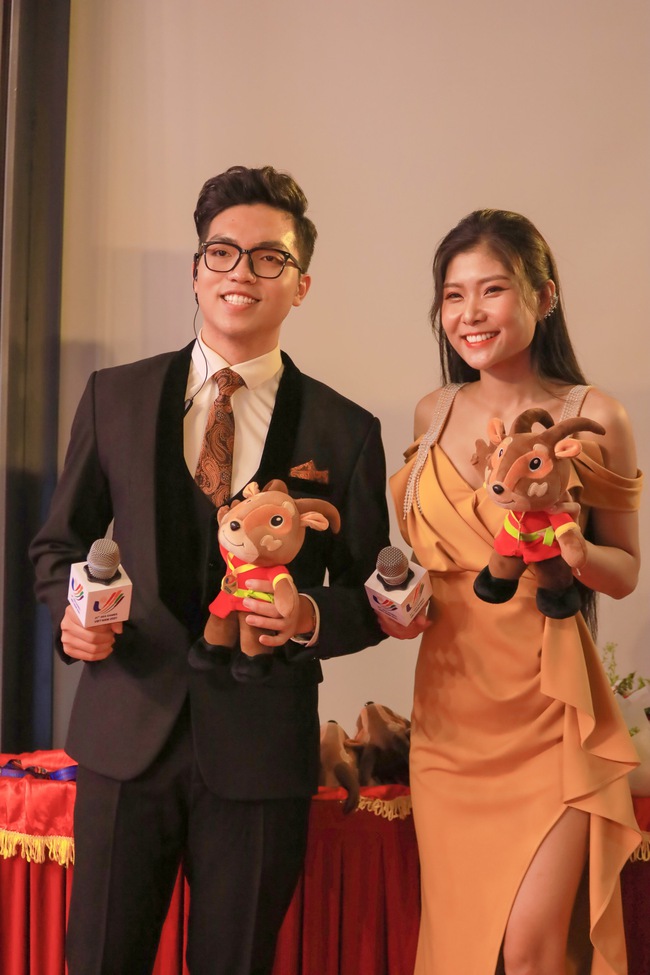 – What are the inspirational quotes that help you stay firmly on the path to pursue your passion?
"Follow your passion and success will follow you" That's my favorite quote and I've learned a lot about it. I believe that those who pursue and go to the end of their passion will definitely achieve success.
Thank you for the chat!
Photo: NVCC
https://afamily.vn/chang-mc-song-ngu-dien-trai-tai-sea-games-31-lan-lon-di-dan-tu-thoi-sinh-vien-chuong-trinh-ket- com
You are reading the article
Handsome bilingual MC Nguyen Xuan Hieu at SEA Games 31

at
Blogtuan.info
– Source:
Afamily.vn
– Read the original article
here