Chuyên đề
Young admin "Your doctor" provides free medical examination for people
You don't have to go to the hospital right away, just one click, you will be consulted and examined completely free of charge from a group of doctors, doctors, and nurses.
In the early days of 2021, the Covid-19 epidemic broke out in many localities, and medical facilities were always overloaded. As a media man specializing in pharmaceuticals and cosmetics, Mr. Nguyen Pham Tuan came up with the intention to help people prevent the epidemic.
Thinking to do it, he mobilized doctors, pharmacists and health experts to set up a group called "Your Doctor" to provide free online examination for people.
The group "Your Doctor" has attracted more than 132,000 members
"At that time, many people were very worried when they did not receive timely help from local health authorities. Therefore, you always have to stretch yourself to be on duty 24/24 to answer the problems that people are worried about, "said Tuan.
According to Mr. Tuan, the group was originally established to simply advise and share knowledge around Covid prevention, and properly self-treating Covid at home.
The group's admin, Mr. Pham Tuan, shared that at first, the members were hesitant to post their illness much, just quietly watching the sharing of the doctors in the Group, but later when they saw the The doctors shared in this article that there are also doctors who are working at major institutes, some of them have also been published in the newspaper and have a good reputation in the profession, so they have more confidence, patients openly share about their medical conditions. to get medical advice.
The number of members and articles that need advice is also increasing day by day." Tuan said that the group created both provides health and disease advice and is a communication channel between patients and doctors.
Up to now, when the epidemic has been controlled and the number of cases has decreased significantly, the "Doctor" group is still maintained with completely free telemedicine visits taking place every day.
Accordingly, the members of the Group began to share about common diseases, mild diseases were guided by doctors to buy drugs and treat them at home, and serious illnesses were guided by doctors to the right specialist. relevant departments for proper medical examination.
Just like that, the Group became a reliable address for many families. Ms. Ngan Vu works at a bank in Hanoi – a member of the Group said that she has been "submarine" in the group since the day it was put into operation, but only recently did she "boldly" ask for her child's illness online. .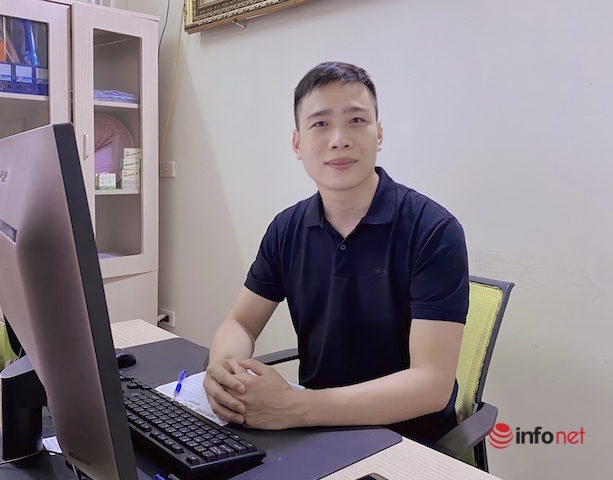 Mr. Nguyen Pham Tuan
The reason is that after the epidemic is less stressful, work is "flooded", so there is no time to take care of the children. More than a week ago, after a tiring day of work, she discovered that her baby's skin was red all over her abdomen.
At that time it was also 8 pm, I was afraid to take my child to the hospital, so I took a photo of the rash on my baby's skin and sent it to the doctors in the group to "see for help". Immediately, she received advice from the physician Mai Xuan Hung, the Vietnam Association of Traditional Chinese Medicine, one of the group's doctors and physicians, who wholeheartedly guided her to treat her child's illness from the leaves right away. in the home garden.
Another case was also examined online by Dr. Nguyen Ha, National Children's Hospital, and advised on appropriate medication without having to go to the hospital. That is the case of Ho Thi Cuc's daughter in Hanoi. Cuc's child has oral thrush, knowing that the group of doctors specializes in free online examination and consultation, she also took a picture of her child and sent it to the group.
A few minutes later, she was asked by Dr. Nguyen Ha carefully and then advised on the appropriate topical medication. After 4 days, Cuc's child's condition improved markedly.
Currently, there are a lot of articles written by patients a day, but most of the doctors are working in the hospital, so the free time is quite limited, so Mr. Nguyen Pham Tuan wants to have more and more patients. Doctors and nurses join hands to participate in this volunteering activity so that patients across the country can receive timely advice.
N. Huyen
You are reading the article
Young admin "Your doctor" provides free medical examination for people

at
Blogtuan.info
– Source:
infonet.vietnamnet.vn
– Read the original article
here