Giới trẻ
'It is not because of the large cover and beautiful paper that the price of textbooks has increased so rapidly!'
Most parents think that having to buy a new set of textbooks every year at an inflated price is a waste, putting great pressure on families with difficult circumstances.
Textbooks (textbooks) increased in price by 2-3 times, making many parents frustrated. They think that the most important thing is the quality of knowledge transmitted by the textbook, not because of the large cover and beautiful paper, but the price has increased "gallopingly".
Ms. Nguyen Thu Tra (Cau Giay district, Hanoi) said that the price of books increased, in addition to the main book, parents also had to buy more exercise books for their children to do the homework directly in the book (instead of doing it in the notebook). costly.
"For families who can afford or have little difficulty, it is normal to add a little extra to buy new textbooks for their children to study. However, for poor working families with precarious income, spending millions of dollars to buy textbooks, school supplies as well as pay the beginning of the year such as uniforms, insurance… is a big worry.
I think the important thing about the textbook is how the content is inside, not just printing thick, large, beautiful paper and then skyrocketing in price … leading to the burden falling on parents, "Ms. Tra said. .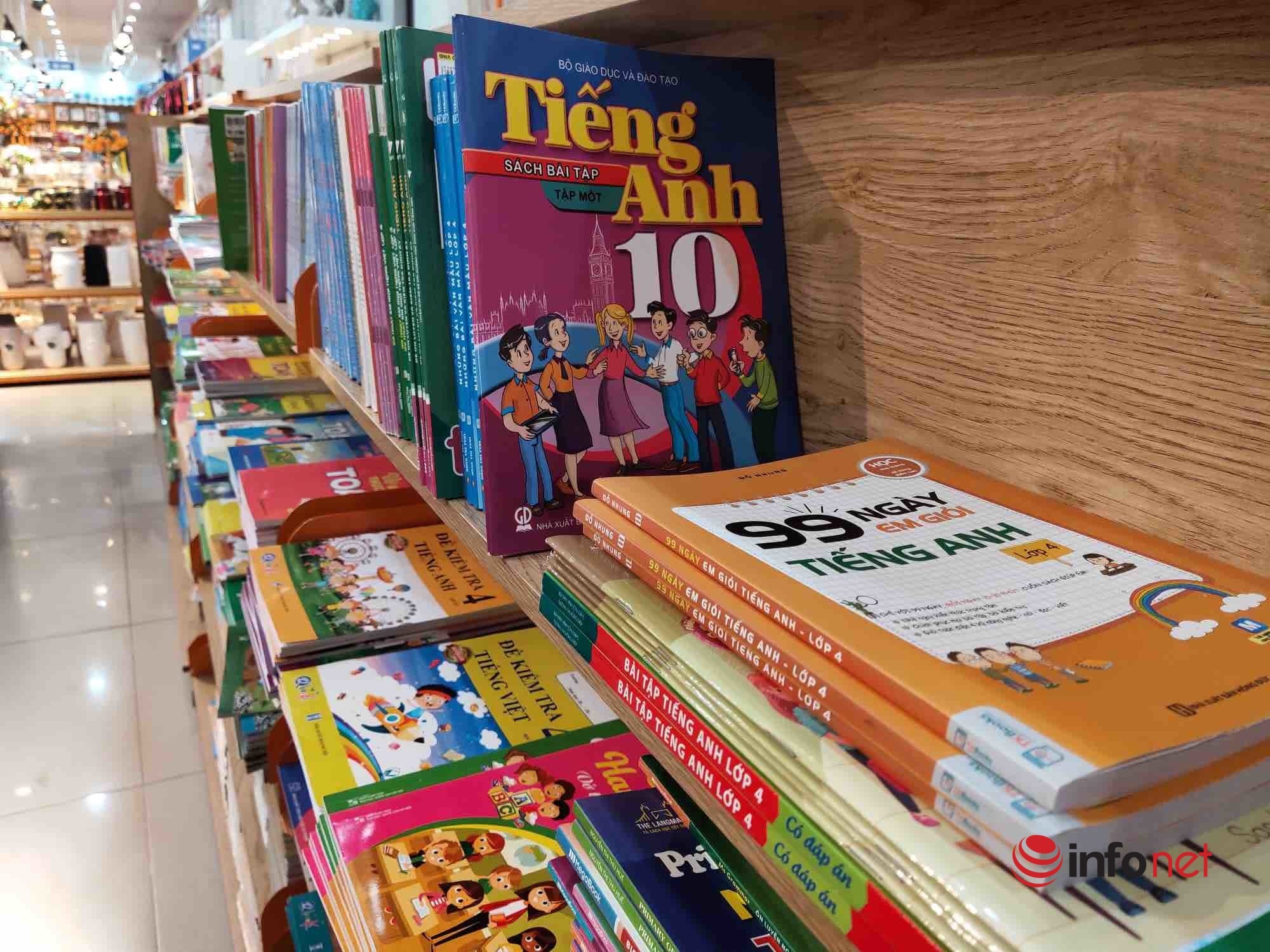 Textbook price increases become pressure on parents. (illustration)
Teacher Nguyen Trung Dung – Principal of Ly Tu Trong Secondary School (Yen Bai) said that an increase in the price of books will put a lot of pressure on parents in highland and low-income areas.
At Ly Tu Trong Secondary School in the school year 2021-2022, the school helps students buy new textbooks, but parents can't pay off all the money to buy textbooks once like in the lowlands, but the school has to ask the book company for debt relief. You can't pay until the end of the semester.
Mr. Dung explained that there are families who are not from poor households but it is difficult to collect money for books, and for families in poor households, the school has to wait until December for the state to subsidize and then agree with parents to use that money. pay for textbooks.
"Parents of students in my area mainly work in agriculture and forestry, so the economy is very difficult, most of them are poor students.
Therefore, buying textbooks for students but to collect textbooks to pay for book companies is also a problem. I think that the price increase of textbooks may not be too difficult for students in the city, but for highland students, I suggest that if possible, reduce the cost of books by 50%, as a support for poor students. That's great, parents are no longer under too much pressure.
In addition, for schools in Mu Cang Chai with mainly part-time and boarding students, if it is a boarding school, 1 room will have 3 students in the same class, I recommend in this case 3 students 1 room. Is it possible to study the same set of books to save money on buying books?
Because it is clear that the students are in the same class, eat and sleep together, it will have many advantages to use the same textbook instead of requiring each student to buy a textbook when their family's economic situation is too difficult," said Mr. Dung. .
Previously, Minister of Education and Training Nguyen Kim Son explained the reason why the price of textbooks increased 2-3 times compared to before. Accordingly, new types of textbooks are compiled with larger sizes and better paper. The processes from compiling to introducing, testing, and publishing books are completely self-managed and declare prices with the Ministry of Finance.
The Minister also said that the Ministry of Education and Training has directed the price of textbooks to decrease by 10-15% compared to last year, while the prices of materials and fuel increased.
Proposal to put textbooks on the list of goods priced by the State
According to the Ministry of Education and Training, in fact, the price of new book sets of the Education Publishing House in recent years is often lower than that of other publishers in the market.
For students in difficult circumstances, in remote and isolated areas, the Ministry of Education and Training has advised, submitted and promulgated according to its authority many regimes and policies to support them in terms of the cost of buying textbooks and supplies. use learning.
In addition to the general regimes and policies, every year, the Ministry of Education and Training coordinates and proposes to localities to pay attention and have specific policies to support textbooks for students from poor, remote, mountainous, and coastal areas. island…
According to the Ministry of Education and Training, the implementation of renovation of popular textbooks to comply with the provisions of Resolution 88 has attracted a large number of talented intellectuals, teachers and experts; Because of the participation of many publishers, the printing and distribution takes place in a competitive environment in accordance with the 2018 Competition Law. There is no longer a monopoly in publishing textbooks as before.
However, the current price declaration mechanism may lead to different high and low prices, creating psychological instability for parents and students. Meanwhile, textbooks belong to the group of essential educational materials for students. This affects social security, especially people in remote and difficult economic areas, so the State needs urgent solutions to regulate prices.
The Ministry of Education and Training has made a written proposal to the Ministry of Finance and the Government to consider and decide to include textbooks on the list of goods that are determined by the maximum price of the State to submit to the National Assembly for decision.
The Ministry of Finance is reviewing the overall process of implementing and implementing the Law on Prices, in which it will continue to evaluate and report to the National Assembly for consideration and addition of textbooks to the State's list of valuations.
Hoang Thanh
You are reading the article
'It is not because of the large cover and beautiful paper that the price of textbooks has increased so rapidly!'

at
Blogtuan.info
– Source:
infonet.vietnamnet.vn
– Read the original article
here