Giáo dục
Life Style
Khanh Vy revealed the most "pleasant" thing when leading the way to Olympia Peak
Although it has been on the air for more than 20 years, the show Road to Olympia is still the most famous television knowledge contest today. In order to create the success of this "national program", besides the intense mental battles between the contestants and the interesting backstory, the charming leadership of the MCs cannot be ignored.
Among them, many people love Khanh Vy – the new MC face of Road to Olympia. "Hot girl in 7 languages" every year scored absolute points because of the dynamic and colorful way of the program Gen Z. Khanh Vy's latest post is a concrete proof of that source of energy.
MC Khanh Vy revealed her favorite thing when hosting the show Road to Olympia.
Accordingly, Khanh Vy revealed what she "liked" the most when hosting the show Road to Olympia. I thought it was a big deal, but it turned out not to be,Dieu Khanh Vy likes it best when it's simple is the candidate who completed the test Obstacle just after the first horizontal row. For those who can't remember, the exam Obstacle requires the candidate to answer all 4 horizontal lines to get all the suggestions of the program about the last obstacle. So, for the contestant who finds the obstacle in the first row, it must be very smart!
As for why the candidate answered quickly, Khanh Vy was happy, that's why she will be able to… get home from work early. Khanh Vy's wit and humor can't help but make everyone laugh. In another development, many people also felt with MC Ngoc Huy's expression "3 parts are helpless, the rest 7 are also helpless" when witnessing his colleague swinging the TikTok trend.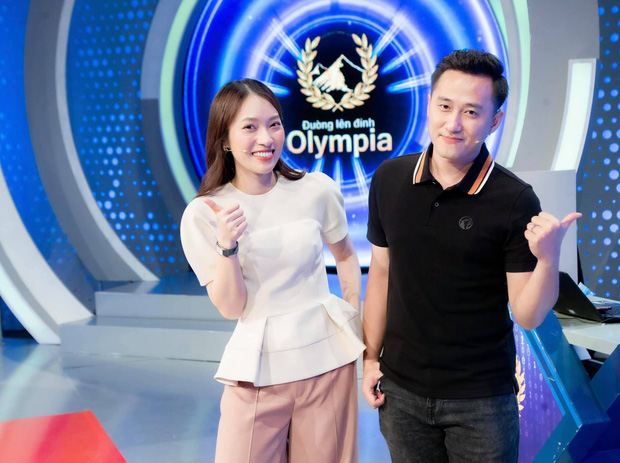 The 2 MCs have a very cute collaboration.
Some comments from netizens about Khanh Vy's clip:
– Oh my god, "she" is happy because the candidate answered quickly, the reason for leaving early is painful to the stomach.
– I'm in love with Khanh Vy who made a clip about The Road to Olympia Peak.
– Vy's face is already cute and she beats the right rhythm of the music. 10 points for this energy of yours.
– Mr. Huy made a face like: What are you filming?
– I only noticed the face "3 parts helpless, the remaining 7 parts don't know what to say" of Mr. Huy.
Since leading the program Road to OlympiaKhanh Vy often interacts with contestants. At the same time, the female MC also works hard to update TikTok clips about the show The Road to the Top of the Olympicsa on his personal page and received a lot of support from the online community.
Khanh Vy is the MC who often "invites" the contestant to swing the most trending TikTok on the show Road to Olympia.
Photo: Synthesis
You are reading the article
Khanh Vy revealed the most "pleasant" thing when leading the way to Olympia Peak

at
Blogtuan.info
– Source:
Afamily.vn
– Read the original article
here