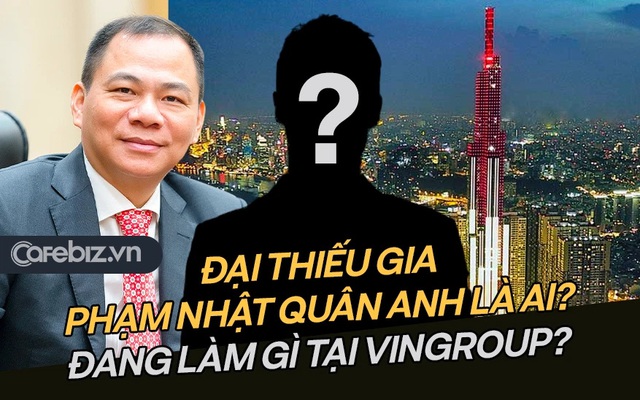 The children of Vietnamese billionaires are often little known in the media.
Pham Nhat Quan Anh, the eldest son of billionaire Pham Nhat Vuong, takes on what responsibilities at Vingroup people are interested in.
A rather rare information about this character was announced that on 4/2021, Pham Nhat Quan Anh owns 0.5% stake in VinFast.
In particular, according to the National Business Registration Portal, on March 15, 2021, VinFast Production and Business Co., Ltd increased its capital by nearly 4,900 billion VND, from 37,616 billion VND to 42,497 billion VND. Thus, VinFast's new charter capital is higher than Vingroup (VND 33,824 billion) and Vinhomes (VND 33,495 billion).
Thus, the two largest shareholders are Vingroup Group owning 51.5% and Vietnam Investment Group Joint Stock Company owning 41% – Company owned by Mr Pham Nhat Vuong 92.88%.
The remaining 4 shareholders include Mr Pham Nhat Vuong holding 5%, Mr Vuong's wife Mrs Pham Thu Huong holding 1%; Vuong's son Pham Nhat Quan Anh owns 0.5%; His wife's younger brother, Pham Thuy Hang, owns 1% of VinFast.
If the value of VinFast after its IPO in the US reaches 50 billion USD, Pham Nhat Quan Anh's assets will also reach trillions of dong.
One piece of information we have recently, not only owns 0.5% stake in VinFast, but Pham Nhat Quan Anh also serves as Deputy Chairman of the Board of Directors of this company. It should also be added that the Board of Members is the organization with the highest decision-making authority on the development strategy and annual business plan of VinFast.
As of 21 December 2021, the VinFast board consists of 4 people: The chairman is Mr. Pham Nhat Vuong and 3 vice presidents including Ms. Nguyen Mai Hoa, Ms. Thai Thi Thanh Hai and Mr. Pham Nhat Quan Anh.

The vice president of the VinFast member council will immediately receive instructions from the Chairman of the Member Council. They oversee the Standards and Quality Control Division, the Product Strategy Department, the Investment and Technology Cooperation Division.
Two female vice presidents Nguyen Mai Hoa and Thai Thi Thanh Hai are well-known "female generals" in Vingroup. Currently, Ms. Hoa is a member of the Hanoi South Urban Development JSC Board of Directors. Ms. Thai Thi Thanh Hai is the Chairman of the Board of Directors at Vincom Retail.
About Mr. Pham Nhat Quan Anh, according to the introduction, was born in 1993, has a bachelor's degree in business administration and has been working at Vingroup since 2015 until now.
3 years ago, in an interview with Tuoi Tre newspaper in 2019, the only billionaire Pham Nhat Vuong shared about his children.
"My opinion is that they have to work hard, love their job and have to practice. Like the first child, back then, in Ukraine, my yard was very large. In the summer, I bought a brick truck and poured it into the yard.
Me and a few other friends just drive from one end to the other, set it up for 100 bucks, and work hard all summer like that. Even now it has to work. Just like my youngest daughter now, after eating, she has to clean the dishes and do housework.
I don't mean forcing children to embrace their father's work later. You can do as much as you like and have the ability to do it, otherwise you can't destroy the career so many dedicated people can.
Even this older brother (pointing to the eldest son sitting next to him) now has to go to work, go on business all day, go to the office to work, can't stand up.
This is his chance to learn. Listen to how uncle and aunt work. But normally, he's always in touch with a team that's younger than me, so it's hard for him to bounce back.", said the chairman of the Vingroup.
https://cafebiz.vn/he-lo-bat-ngo-dai-thieu-gia-pham-nhat-quan-anh-nha-ty-phu-pham-nhat-vuong-dang-lam-gi-tai- vingroup-20220310095928348.chn
You are reading the article
What is the great young master Pham Nhat Quan Anh of billionaire Pham Nhat Vuong doing at Vingroup?
at Blogtuan.info – Source: autopro.com.vn – Read the original article here