Giải trí
Breeding 'noble' fish, a guy in a remote area earns billions of dong a year-Young man
"I plugged in my motorbike for 5 million dong, bought 10 kg of koi fish and tamed it, after selling for a profit of nearly 1 million. Currently, I have developed 3 koi farms in the provinces of Kon Tum, Lam Dong and Dak Lak", Pham The Hung shared.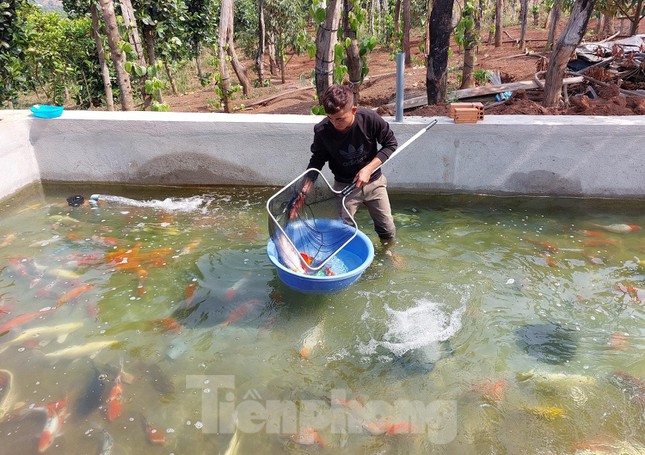 Hung picked up fish, took pictures to send to customers
We met Pham The Hung (in 1997) at his house in Cu Ne commune (Krong Buk district, Dak Lak) when he was busy picking fish, taking pictures to send to customers. "I just wholesale and retail koi fish. Customers they asked to take pictures to send over. They fix the price, set the quantity, I pack the oxygen pump to send it to a passenger car or a plane," Hung said.
Hung said, before starting a business with ornamental fish, the young man learned a motorbike repair trade and opened his own shop at home. Passionate about ornamental fish since childhood, during this time Hung bought 3-tailed fish and 7-color fish to raise.
After accumulating experience in the care and taming of ornamental fish, in 2019, Hung switched to raising and taming koi fish. "The more I delve into learning and raising koi fish, the more I see that the economic profit that this fish line brings is quite high. To have money to buy fingerlings, I bought a motorbike for 5 million VND to buy 10 kg of fish to take care of, then sell for a profit of nearly 1 million. I continue to import fish and resell it to expand the fish farm", Hung said.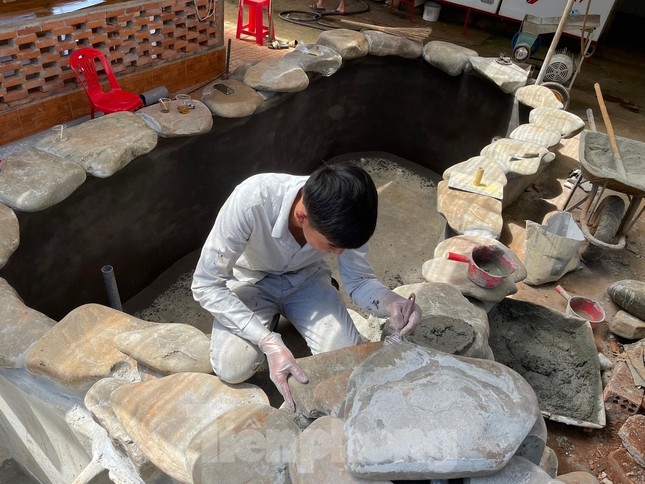 In addition to raising fish, Hung builds aquariums for families in need
During a favorable business period, an incident occurred one day in 2019, on the way to send fish to customers, Hung and his wife had a serious accident. "It rained heavily that day, at home there was a power outage, all the fish in the tank died because the jacuzzi system stopped working, leaving me with a debt of nearly 1 billion dong. Thanks to the encouragement from family and friends, I got up and started all over again. After 2 years of raising fish, designing and building lakes, and renovating gardens for families in need, I have paid off all my debt, "said Hung.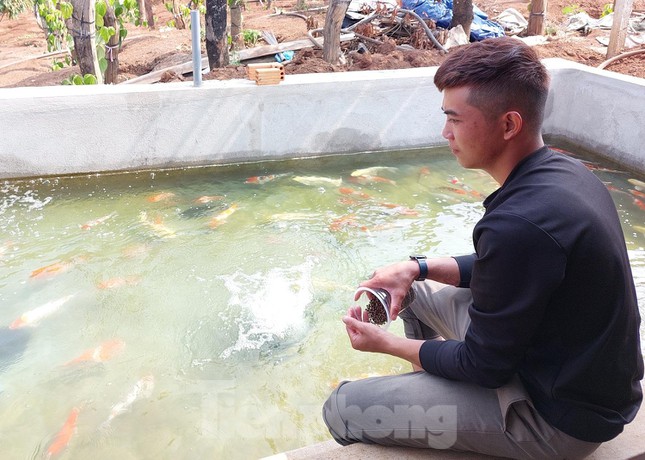 Koi fish are fed 3 meals in a day
According to Hung, koi fish are meticulous, difficult to raise, at first, farmers do not have much experience, fish are prone to heat shock, infectious diseases, and die mass. Hung many times went to the North to the South to learn more experience, go online to learn how to care for and tame koi fish.
According to the young man, in order for koi fish to live healthy in an artificial environment, the aquarium must be built in accordance with the standards of microbiological environment and water source. Koi fish love clean water, so a water filtration system is needed for fish.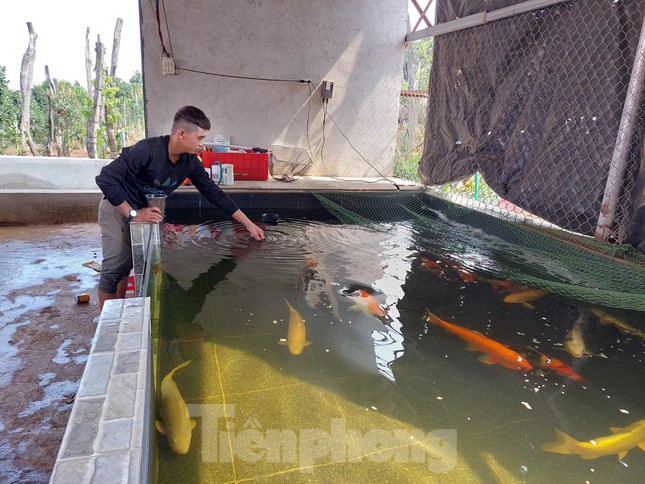 Japanese fish are raised in a separate tank
"During my study, I met a brother who specializes in treating diseases for domestic fish in Lam Dong province. He enthusiastically teaches only the knowledge that he has lacked over the years," Hung said.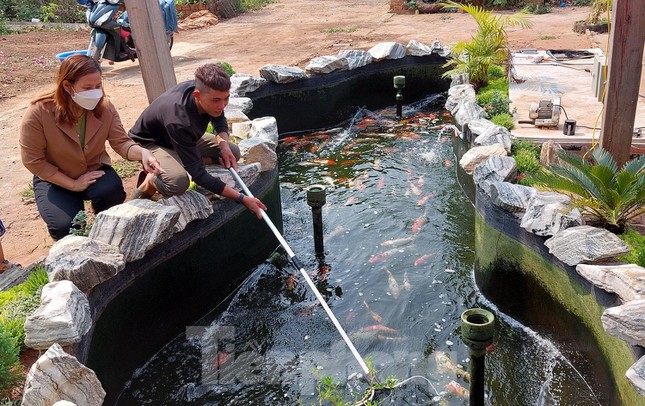 Hung's customers are located in all provinces and cities across the country
Recently, Hung opened 2 more fish farms in Kon Tum and Lam Dong provinces, all 3 farms have about 400 Japanese koi fish, and more than 10 tons of Vietnamese koi fish. Koi fish are sold after 2-8 months of curing. Depending on the size and color, the koi fish has many different prices. For Vietnamese fish, it ranges from 200,000 to 500,000 VND/kg; Japanese fish costs from 800,000 VND to 50 million VND/fish. "Japanese fish are calculated by fish size, Vietnamese fish are calculated by weight in kilograms and grams from seed to sale," Hung said.
Koi fish of different colors and sizes
After 4 years of starting a business, Hung's customers are now in all provinces and cities in the country, selling from 1 to 5 quintals of fish per day; Every month, minus all expenses, Hung earns 100 million VND.
You are reading the article
Breeding 'noble' fish, a guy in a remote area earns billions of dong a year-Young man

at
Blogtuan.info
– Source:
24h.com.vn
– Read the original article
here