Khỏe - Đẹp
Why do children infected with Omicron easily panic parents?
Many children infected with Covid-19 have a continuous high fever that does not reduce fever, accompanied by abdominal pain and vomiting, which scares many parents.
Nguyen Ha Phuong (Dong Da, Hanoi) is still worried when her children are infected with Covid-19 in turn. Phuong said that her son normally likes to eat snacks, he can eat a lot, but at noon on March 15, 4-year-old Tom didn't eat anything and just lay still. In the afternoon, my face was red. Phuong at first did not know why her child had a high fever because her husband and her husband had been infected with Covid-19 before, but the child was isolated so he did not get infected.
The baby has a high fever continuously from 39 – 39.9 degrees Celsius, taking fever-reducing medicine can't return to 38 degrees Celsius, people are always like coals. High fever accompanied by vomiting and headache made Phuong and her husband worry about meningitis.
Rushing to take the child to the hospital for examination, the doctor tested the baby for Covid-19 and instructed him to go home for follow-up. For two days, the child had a high fever continuously, on the third day, the child's fever gradually decreased to 38 degrees Celsius and began to play. The son has just recovered, the 8-year-old daughter is infected with Covid-19 again.
Phuong said that while studying online, her daughter was cold even though it was hot. Phuong has a feeling that her child has been infected with Covid-19. After the cold, the child had a high fever continuously, sometimes even up to 40 degrees Celsius. After 1 hour of lowering the child's fever, he continued to have a high fever.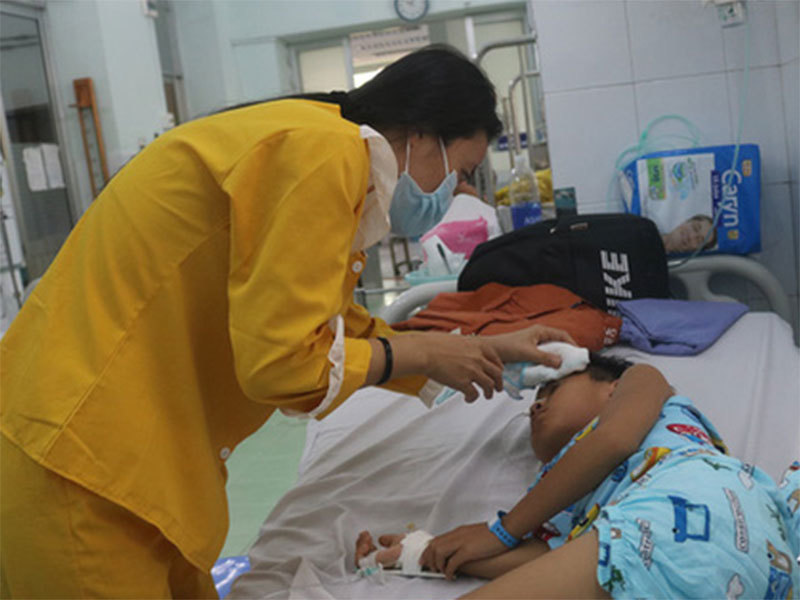 Illustrated photo.
All night, Phuong hardly slept, just watched the baby because of the high fever. Early in the morning, the baby complained of abdominal pain, screaming and crying. Seeing the child holding her stomach curled up like a shrimp, Phuong and her husband "heart beat and legs trembled" and did not know how to handle it.
You must call your doctor for advice. When the doctor said that the Omircon strain caused abdominal pain and diarrhea in the child, she calmed down but still worried about her child's appendicitis without timely detection.
Only 4-5 days after two children contracted Covid-19, Phuong and her husband were extremely tired. Although the couple had been infected before, they did not have many symptoms. Phuong read that children with Covid-19 were all mild, so it was subjective, but did not expect that when the child had symptoms that made parents heart palpitations.
Doctor Truong Huu Khanh, consultant of Infection – Neurology, Children's Hospital 1, Vice Chairman of Ho Chi Minh City Infectious Association Children infected with Covid-19 strain Omicron have high fever in 24-48 hours. There are children with vomiting, headache, abdominal pain, diarrhea. If you know exactly that a child is infected with Covid-19, parents need to stay calm because fever in children infected with Covid-19 is characterized by high fever, even if a child has a high fever, taking fever-reducing drinks does not reduce much.
Parents can apply physical therapy with a warm towel to lower the child's temperature.
For children infected with Omicron, children often vomit for 24 hours, this is normal. Children with headaches and vomiting when infected with Covid-19 should not be worried because children will not be able to progress to meningitis, while viral fever with vomiting may progress to meningitis. In case the child still vomits for a long time, they can go to a medical facility for evaluation.
Dr. Khanh said that children often have aggressive manifestations in the acute stage in 48 hours and will go away. Children without symptoms can play as usual and do not need to worry after Covid-19. Up to now, MIS-C multi-organ inflammation syndrome in children infected with Covid-19 strain Omicron is extremely rare, so parents only need to monitor children with symptoms of cough, runny nose, then treat according to symptoms.
Children infected with Covid-19 after coughing are completely normal because that is the body's response. If the child coughs a lot, give cough syrup, can use lemon basil leaves, kumquats with alum sugar according to folk experience to reduce cough for children. Children who can drink honey ginger can be given to them twice a day.
Detecting unusual symptoms or serious illness, it is necessary to immediately take the child to the nearest medical facility for timely medical examination and treatment when having one of the following signs:
Shortness of breath; persistent cough; give up eating and drinking; persistent high fever that does not go down or does not improve after 48 hours; vomit everything; chest pain; diarrhea; Children are tired and refuse to play. Measure SpO2 < 96% (if possible), children have signs of tachypnea: Breathing rate of children from 5 to under 12 years old ≥ 30 times/minute, children from 12 years old ≥ 20 times/minute, abnormal breathing such as concave breathing thorax, intercostal muscles, wheezing…
Khanh Chi
You are reading the article
Why do children infected with Omicron easily panic parents?

at
Blogtuan.info
– Source:
infonet.vietnamnet.vn
– Read the original article
here