Bất động sản
Sun Group launches the first component of Hon Thom Paradise Island
On March 21, Sun Group launched the first component of the Hon Thom Paradise Island Super Complex of Entertainment – Resort – Investment on Hon Thom Island (Phu Quoc) with the name Sun Iconic Hub.
Sun Iconic Hub is located at Bai Trao – one of the famous beautiful beaches of Phu Quoc, is one of three important components of Hon Thom Paradise Island including: Sun Iconic Hub, Sun Festival Avenue and Sun Retreat Village.
Launch of the Sun Iconic Hub component
With a location located on the beautiful bow-shaped beach on the west coast of Hon Thom island, where ancient coconut trees lean on the fine white sand, turquoise water and interesting cliffs, Sun Iconic Hub is located created by aesthetic souls, love art and cherish nature. The works here are designed to honor the inherent beauty of nature, with unique artistic imprints, creating a charming painting of Paradise Island – Hon Thom Paradise Island.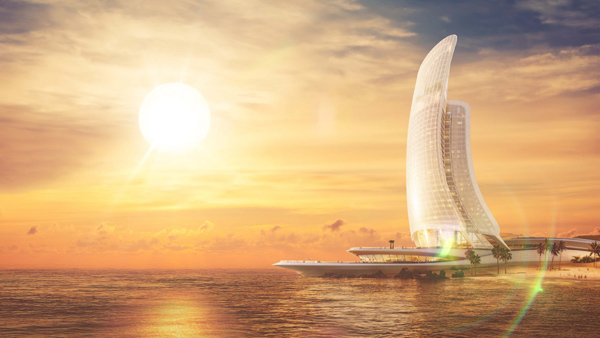 The iconic Sail Wing Building at the Sun Iconic Hub. Illustrated perspective photo
Sun Iconic Hub owns 2 subdivisions: The Sailing Bay and The Santo Port. In which, The Sailing Bay subdivision is home to the Sail Wing Building – the pride of Hon Thom Paradise Island. Located at the confluence of mountains, sea and natural rock formations, Canh Buom building was inspired by Sun Group and a team of talented architects of 10 Design – a globally famous design consultancy. Inspired by the image of a sail full of wind and full of life. The whole building simulates the shape of a ship reaching out to the sea, symbolizing the rise of Hon Thom.
The resort – entertainment – commercial complex includes luxurious hotel rooms with a view across the ocean, a jetty system to watch the sunset, an infinity pool, a sky club… this place will become a distant destination. flowers, being different, attracting a stream of upper-class guests to Sun Iconic Hub in the future.
Also located in The Sailing Bay subdivision, running along the curve of the bow-shaped beach is the system of Commercial Villa and the super luxury Boutique Hotel with contemporary design. The large glass wall system is used with sharp and delicate lines, both bringing personality to each villa and creating an open space to bring people closer to nature.
Not only gathering unique architectural masterpieces, holding attractive profit potential, The Sailing Bay subdivision also owns a chain of high-class, multi-experience, and colorful utilities such as mega mall, entertainment center. indoor, wellness center, night club and countless recreational games on the water… promise to bring dream vacations to visitors.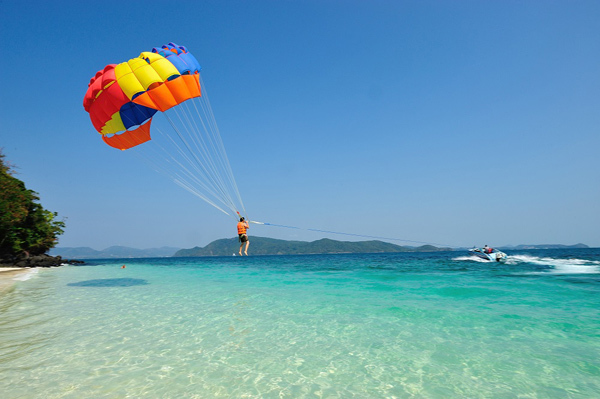 Recreational activities on the water at Hon Thom Paradise Island. Photo: Sun Property
Bring Santorini inspiration to Hon Thom
In The Santo Port subdivision, Sun Group also launched a system of Santorini-style beachfront shophouses by the high-class marina. If Bai Trao is considered a giant bow, the Canh Buom Building and the Santorini-style shophouse are the two ends of the bow – which possesses unique terrain and cliffs reaching out to the ocean.
"The topography of Hon Thom is very similar to that of Santorini thanks to the cliffs protruding into the sea creating a large difference. In terms of color, the turquoise Hon Thom beach combined with the characteristic golden sunset is also very similar to Santorini in Greece. To better suit the tropical climate at Hon Thom, we designed the roof, balcony, and windows to be larger to create a buffer between the inside and outside of the house, in harmony with nature. The walls are also thinner, because in Santorini the climate is desert, so the walls are very thick. We want to bring Santorini inspiration to Hon Thom", shared Mr. Nguyen Tien Hong Duong – Project Design Director.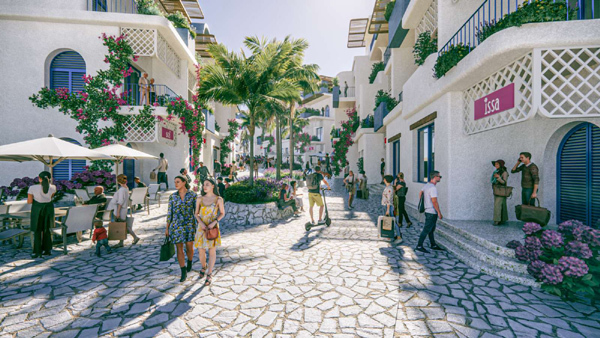 Santorini style shophouse at The Santo Port. Illustrated perspective photo
The high-class facilities of the residents of Paradise Island
Inheriting the full range of high-class facilities and services of the entire Sun Iconic Hub component, the Santorini-style beachfront shophouse chain also owns a series of top-notch local amenities such as clubhouse, observatory, VIP lounge, square, beach. Helicopter parking, coastal promenade… thickens the all-in-one utility system at Bai Trao, bringing endless living, resort and entertainment values ​​to owners and visitors.
Not only located in a prime location, which easily connects to the iconic Canh Buom Building, Commercial Villa system, Boutique Hotel as well as Sun World Hon Thom Nature Park marine entertainment complex and Sun World components. Festival Avenue, Sun Retreat Village on the island, The Santo Port subdivision also owns a marina in the center – where millions of dollars of superyachts from around the world come to Paradise Island.
The Santo Port is the bustling "trade gateway" of Hon Thom Paradise Island, attracting a huge stream of visitors from all three directions: tourists at Sun World, visitors to Paradise Island by yacht, guests experiencing the Court House of Sails and the Sun Iconic Hub component. From there, it brings huge commercial profits for shophouses here.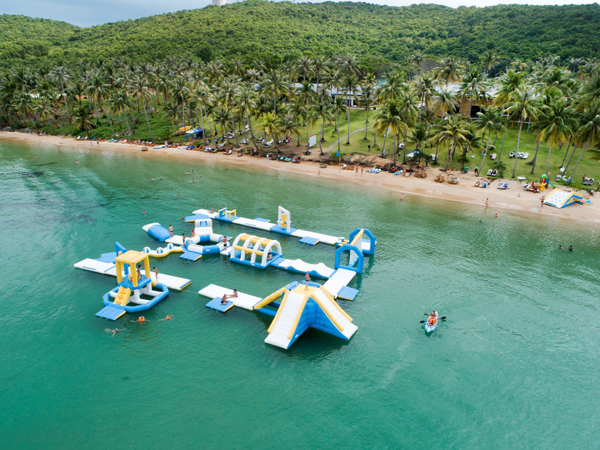 Sun World Hon Thom Nature Park marine entertainment complex. Sun Property's photo
As the pioneering mark of Hon Thom Paradise Island, Sun Iconic Hub with 3 "pieces" of Sails building, Commercial Villa and Boutique Hotel system, Santorini style shophouse has shown its grandeur and architectural imprint. art, experience as well as rare commercial value of each work item at Hon Thom Paradise Island.
"Sun Group is focusing on turning Hon Thom Paradise Island into a Super Complex of Entertainment – Resort – Investment, a luxury rendezvous for all of Sun Group's key brands such as Sun World, Sun Hospitality, Sun Property, and Sun. Air… Since then, not only creating a prosperous Paradise Island – the new center of Phu Quoc, attracting huge tourist flows, Hon Thom Paradise Island also created a new legend for tourism in Phu Quoc and Vietnam. , and at the same time brings pride and pride to prestigious residents", affirmed Ms. Nguyen Ngoc Thuy Linh, General Director of Sun Property (a member of Sun Group).
Doan Phong
You are reading the article
Sun Group launches the first component of Hon Thom Paradise Island

at
Blogtuan.info
– Source:
vietnamnet.vn
– Read the original article
here