Being a mother is a sacred feeling in everyone's heart. It is the unconditional love and protection of a mother for her child. Therefore, a mother, whether stupid or crazy, is always anxious about the birth of her child, as in this story of a woman named Kim Lieu (SN 1966, Tay Ninh's hometown).
Suffering from seeing her still red daughter "kidnapped"
Kim Lieu was an ordinary woman like most other women. When she was a child, she knew and fell in love with a man from the same hometown named Huu Tinh. The love affair was hindered by the family, but he ignored the objections and decided to live with Tuan Tinh as husband and wife, without a marriage certificate.
"Called to live together, in fact that day, my wife and I only had two bare hands, so we worked hard to make a living. But doing it forever… working forever still struggling, unable to "raise my head". We had to go here and there, go everywhere to make a living, and then lay down wherever we could," recalls Ms. Lieu.
At the time Ms. Lieu was pregnant, the two of them were still living the "heaven and earth" scene. Therefore, she discussed with her husband to build a temporary hut next to their rice field. On the autumn afternoon of 1990, she gave birth and gave birth to a beautiful baby girl at Trang Bang Hospital. "Because I didn't have money to pay for the hospital fees, I hugged my son to escape from the hospital, so I didn't have a birth certificate to make a birth certificate for him. My wife and I named our son Hong," said the poor mother.
At the time Ms. Lieu was pregnant, the two of them were still living the "heaven and earth" scene.
Even though life is difficult, Lieu and her husband still try to provide a peaceful life for their daughter. He told his husband and wife to accept the fast so that their daughter would not be harmed and have a peaceful life. However, he himself did not anticipate the storm that would come to his small house.
Just 2 months after giving birth, Ms. Lieu was too tired, so he asked Mr. Tinh to take care of him. "I don't understand why my husband brought the child back to my grandfather's house at that time. The next morning, I woke up and didn't see Hong's head, so I went to find him and heard that my husband had taken the baby. I impatiently ran to my sister-in-law's house to ask the truth? But they are social people, so they are very fierce, denying that they can't raise babies. I pleaded with them and got an answer: "Your son, you are worried. I don't know", said Ms. Lieu regretfully.
At this time, a kind neighbor told him that his brother-in-law brought Hong to Mrs. Nam Lon is nearby to help raise him. He immediately went there to ask, but they didn't say a word. He knelt down and begged him not to take the risk: Holding a knife to his own neck, threatening not to let him see Hong, he would kill himself there. "Actually, when I mean, I don't know what to do but think of death to frighten them. Fortunately, my sister who was with me stopped him. After that, I couldn't see her anymore," the woman said.
Wandering in search of you and the magic magic
Since the day she lost her child, Ms. Lieu went crazy, wandering everywhere looking for little Hong, but she didn't know anything. He even went to Saigon, went to the bus station and the orphanage to find them but still couldn't find them. "I have no proof that my sister-in-law kidnapped our children, so I couldn't go to the police. At that time I was also angry with my husband, but the business was over, I could only listen to information. a child like little Hong is coming," said Ms. Lieu.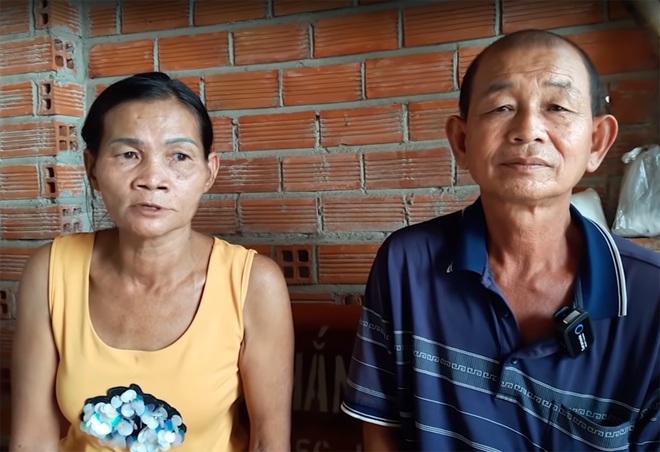 Hong was furious with her husband but didn't know what to do.
The years went by, Ms. Lieu grew old and weakened. In particular, his mind is abnormal, sometimes he wakes up and goes to look for his daughter. Right now, people are telling her and her husband to contact the Youtube channel G, which specializes in finding missing relatives. He immediately sought them out for help in hopes of having good luck with his biological daughter.
"After the news was posted, my brother-in-law called to blame, asking why I was bringing my family story on social networks for people to laugh at. Then, he started to tell me about Hong's whereabouts. He told me that I wanted to see his son, so I went to Grandma's house to ask him. I immediately ran there and found out that Hong was raised by a woman named Le", Ms. Lieu was happy.
A few days later, Ms. Lieu is connected to his biological daughter. What surprised him the most was that for the past few decades, Hong had always been close to him, living not far from where he lived. Even Hong tried many times to find his birth mother but failed. "People said that Hong used to look for me to find out why he left her. Actually I didn't leave him. Right now, she had just given birth, plus her status was in shock, so she was still anxious and didn't want to see me. He told me to wait until his mind stabilized and he would find me later", Ms. Lieu told.
Although there are still girls who do not want to meet, Ms. Lieu was still happy. He said that knowing that his daughter was alive and happy was enough. He will wait for the time when mother and daughter are reunited after more than 30 years apart.
You are reading the article
Mother goes crazy when her daughter is kidnapped, more than 30 years later discovers an unexpected secret
at Blogtuan.info – Source: Eva.vn – Read the original article here