Giới trẻ
Shocked to see a drunk man riding a motorbike, swinging in a hammock on the street
The clip recording the image of a motorbike rider constantly swerving and bouncing on the road, making many people's hearts flutter, is spreading on social networks.
The clip, taken by the dash cam of the car going behind, recorded an image of a man driving a motorbike with an unusual expression. This clip was shared on social networks.
According to the clip, a man wearing a light gray jacket, a motorbike with a license plate from Lam Dong province is walking on a road with divided lines. The man was going straight, then veered to the left, pressed the yellow line and continued to enter the opposite lane. When he saw two cars coming from afar, the man driving the motorbike shifted the steering wheel back to his lane. At the intersection through the intersection, also know how to stop the car and wait for "safety" before continuing to let the car continue. However, this person continued a wobbly journey, swinging on the road.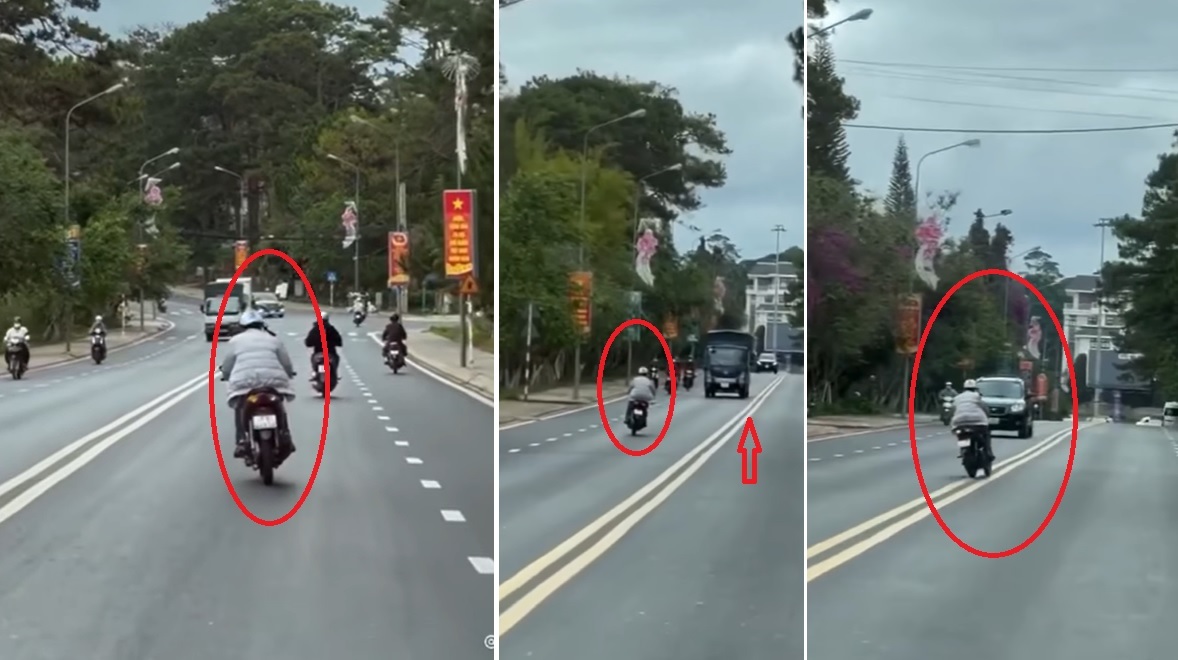 Image cut from clip
At times, it seemed that this man rushed into a car going in the opposite direction, causing the driver of the car to have to "dodge" urgently. Just like that, the man alone drove the car to swing the hammock, swerving on the street, making many passersby bewildered.
It is worth mentioning that many clips like the above are not uncommon on social networks.
Recently, on social networks, a clip recording the image of two people riding on a motorbike has also attracted the attention of the online community.
A woman driving a motorbike, behind with a man wearing an orange shirt is sitting very crooked and about to fall. Due to the uncertain rear seat posture that made her unable to hold the steering wheel firmly, the motorbike staggered close to the roadside, nearly crashing into a house by the roadside. And then, the man sitting in the back fell upside down on the road.
The above are just 2 of the many clips recording images of men who "go out of their way at the drinking table" and when they return, make their families and loved ones "out of breath".
Netizens, in addition to condemning and criticizing people who drink too much because of their passion for fun, get drunk, and still "stubbornly" drive home like the man in the clip above, many people also comment on what they want everyone to see. drunk drivers on the road should find ways to keep their feet from continuing to move or else it will be difficult to control their behavior, which is dangerous to themselves and the community.
"I met 4-5 times. Only one time, I couldn't stop because the car was so terrible. I can't stop by car. Then they got into an accident. There are other times when they thank me after waking up";
"The old man is still a bit conscious. If someone can call in and out, if he can keep his feet, it will be safer for him and the people on the road";
"Instead of recording a clip, you go over and speak well to help them stop. Fortunately, the drunk motorbike driver is okay, but if you are injured, you can't save him because you see death"…
Lam Giang
Clip: MXH
You are reading the article
Shocked to see a drunk man riding a motorbike, swinging in a hammock on the street

at
Blogtuan.info
– Source:
infonet.vietnamnet.vn
– Read the original article
here