Kinh doanh
Cam Lam land price is still increasing hot
The government has taken many actions to correct and prevent the subdivision and sale of plots in Cam Lam (Khanh Hoa). However, the price of land in this area has increased rapidly recently.
In the past two months, speculators and storks have flocked to Cam Lam district to hunt for land, and trading is still happening.
"Located in Cam Lam for more than a month, the land is still sold and the price is still increasing day by day. This opportunity to buy and sell is more favorable when the situation of "virtual trigger" is much lower than at the beginning of the year," said Phu, an employee of a real estate floor in Nha Trang.
Land price increases day by day
According to this land stork, during Tet, prices increased sharply, but then the government intervened, so it was quiet. "Since VinGroup officially announced it will invest in a super urban area in Cam Lam, land prices continue to increase," Phu said and said that now with about 1 billion VND in Cam Lam, it is difficult to find beautiful land.
And Thu Trang – a freelance real estate broker, indigenous people – said that although the People's Committee of Cam Lam district has announced to suspend receiving and processing applications for conversion of land use purpose from December 2021. Land prices in this area are still skyrocketing.
"After a corporation applied to invest in a huge project of nearly 17,000 hectares, in addition to the fact that Cam Lam was allowed by the Government to make urban planning for airports, the land in this area increased by 3-5 times. On average, residential land increases by 7-10 million VND/m2, while land for perennial crops increases by 5-7 times annually depending on the area," Trang said.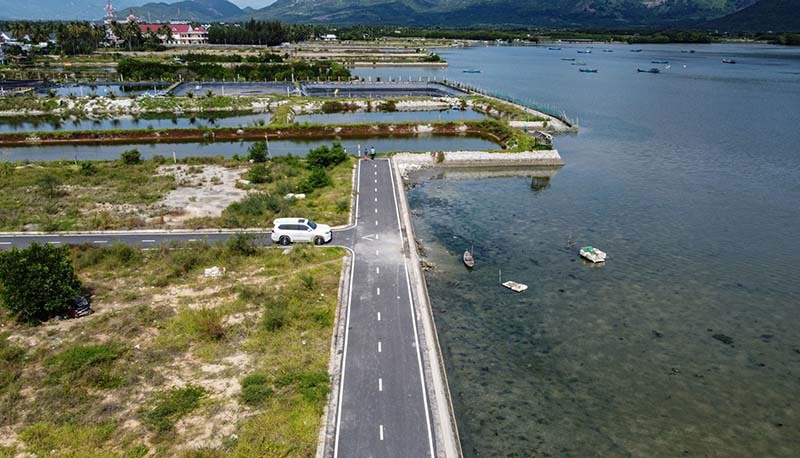 Many locations of land along Thuy Trieu lagoon, Cam Lam district, are subdivided for sale. Photo: Xuan Hoat.
According to this trigger, the increase in land price in Cam Lam is not according to certain standards, mainly because the stork blows the price or the two parties agree with each other depending on the trading needs. For the area along the main road and along the Thuy Trieu lagoon, residential land costs 18-40 million VND/m2 but it is not easy to get a nice lot.
Meanwhile, local people said that the land for growing mangoes in Cam Lam is now very few sellers. Partly because of this land fund, they sold most of it, the rest are still "stashed" waiting for the price to increase more.
"After Tet, many real estate brokers and speculators in other provinces come to ask to buy more garden and swidden land. Previously, the price fluctuated from 70-80 million VND/meter, now it has increased to more than 150 million VND/meter. Land with a beautiful location costs no less than 200 million VND/meter wide," said Mr. Dang Van – living in Cam Hiep Bac commune, Cam Lam district – said.
Contact some storks when you need to buy land in Cam Lam, these brokers advise not to "hunt" land along Thuy Trieu lagoon because the price is very high, while other areas are cheaper, the paperwork is also convenient. .
"The land along Thuy Trieu lagoon is mostly owned by owners, where the price is still very high. While other areas are only about 10-15 million dong/m2, the bookkeeping is also simple," advises a stork named Hoang.
Publicize the planning to avoid risks
However, when raising the issue of risk because of the origin of the land, the land is entangled with the planning, plus the government tightly controls the related documents, Hoang affirmed that as long as the customer puts down the deposit, everything will be taken care of.
"According to the 1/5000 plan, it is production land, later it is re-planned 1/2000, 1/500, it can be changed to another type of land. As for perennial land in front of Highway 1 bypass, far from high-speed railway, the possibility of converting into residential land is very high because it will be residential land on both sides of the highway. That price is cheap, so buy it and wait for it to land or buy it when the corporation deploys the project", stor Phu reassured.
Mr. Phan Viet Hoang – Deputy General Secretary of the Vietnam Real Estate Brokers Association – said that the news of large corporations wanting to invest in Cam Lam resonated with the Prime Minister's approval of a new urban master plan in Cam Lam district. has caused land prices in this area to increase abnormally; many areas increased sharply compared to before the 2022 Lunar New Year.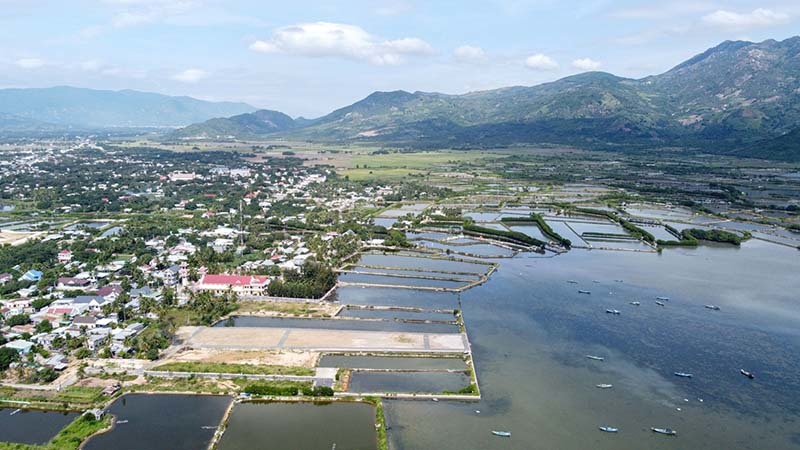 Cam Lam is planned to become a modern airport urban area in the future. Photo: Xuan Hoat.
Deputy General Secretary of the Vietnam Real Estate Brokers Association said that one of the current inadequacies is that many land plots are subdivided for sale based only on the annual land use plan.
"These types of land have been allowed to be converted into residential land, but without the basis of detailed zoning and residential plans, in the matter of calling for investment projects, there will be planning conflicts, resulting in overlapping project boundaries on 'emerging residential areas' with potential risks for buyers," said Mr. Hoang.
"The real estate profitability factor is shown through the socio-economic development of the locality, not through the 'praise' and 'price blow' of brokers", Deputy General Secretary of the Real Estate Association said. Vietnamese real estate emphasized.
Ms. Le Pham Thuy Ngan, Vice Chairman of the People's Committee of Cam Lam district, said that in the past time, the land transfer situation in the locality and land prices in some areas in the area have fluctuated.
Vice Chairman of Cam Lam district said that the transfer of land use rights and other land-attached assets is the right of land users; The increase in land prices is according to the situation of the market.
"The government has just agreed to Khanh Hoa to develop a new urban master plan in Cam Lam district with the goal of developing the locality into a modern, ecological, world-class airport urban area. If there are transactions on land use rights, it is necessary for the authorities to understand the information about the master plan and land use plan to avoid financial risks", said Ms. Ngan and said that the District People's Committee had assigned The Department of Natural Resources and Environment coordinates with the authorities of communes and townships to publicly announce the land use planning to 2030, the first year land use plan of the land use planning for people to grasp.
"We also publicize information about registered investment projects in the area to avoid damage to land users when conducting transactions on land use rights."
According to Zing
You are reading the article
Cam Lam land price is still increasing hot

at
Blogtuan.info
– Source:
vietnamnet.vn
– Read the original article
here