Children hurt themselves
Doctor of CKII Lam Hieu Minh, Psychology Clinic, University of Medicine and Pharmacy Hospital, Ho Chi Minh City, said that during the examination and counseling for students with mental disorders, many patients shared with the doctor that they had thought about suicide. . In some cases, the patient chooses to hurt himself, such as taking sharp objects and debris in the house to tear his arm or leg.
According to statistics from the Psychological Clinic, Ho Chi Minh City University of Medicine and Pharmacy Hospital, after the outbreak of the Covid-19 epidemic, the number of patients coming to the clinic for psychological problems increased, most of which were children aged 15- 15. 20 years old came to the clinic mainly with depressive disorder. In adolescents, depression has symptoms such as fatigue, lack of energy, irritability, irritability, and insomnia.
The World Health Organization also said that adolescents with depression are more likely to cause impulsive and hostile behavior. This is different from depression in adults. If adults experience depression, they often withdraw, communicate less and think in a negative way.
Dr Lam Hieu Minh said, when a depressed patient has suicidal thoughts, it means that he or she has a long-lasting and very serious mental health problem. When there is an event such as a drop of water that causes the suicidal impulse to arise. Another factor causing imbalance for patients is their lack of support from family, school, and friends.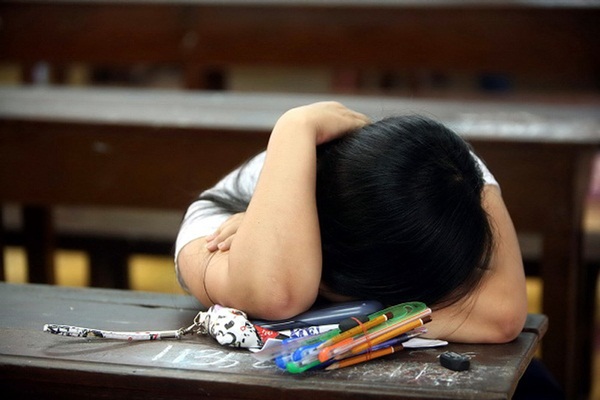 Adolescents need the tolerant care of relatives, friends, teachers… (Artwork)
To prevent mental health problems, there must be a stable circadian rhythm, stress management, emotional balance … These must be considered skills that children need to be learned and practiced.
Experts warn that families with teenage children need to spend a lot of time taking care of and talking to their children. When detecting that a child has abnormal psychological symptoms, parents need to take their child to a hospital that specializes in psychology for timely intervention to avoid long-term effects on cognition and learning ability. children's practice.
Why do children easily think about suicide?
According to Prof. Cao Tien DucFormer Head of the Department of Psychiatry and Medical Psychology, Department of Psychiatry, Hospital 103, During the Covid-19 pandemic, the rate of children suffering from depression increased due to many factors: isolation, online learning, limited communication with relatives and friends, psychological stress in the family such as parental discord , economic deprivation, academic pressure. Many children play games or use phones and computers a lot, use substances such as laughing balls, alcohol, drugs, grass… The infection itself with Covid-19 also increases depression, anxiety, and stress disorders. And so the suicide rate also goes up.
Suicide is a very common problem but few people pay attention to it. Currently, suicide is a major challenge for the health sector and society as a whole around the world.
For the group of teenagers, the causes of suicide are very diverse: mental illnesses such as depression, anxiety, schizophrenia and personality disorders, weak personality, game addiction…
However, sometimes children commit suicide for very trivial reasons. For example, a child who lost a slipper, a pen that was afraid of being beaten by his parents, also sought death. Or like today, many young people, just because their parents forbade early love for fear of affecting their studies, also threatened to commit suicide.
Professor Cao Tien Duc noted, usually, suicide is the end of a problematic, well-thought-out and prepared process (plan, means, time, place…).
In adolescence, the personality is not perfect, it is easy to generate negative thoughts, so it is very necessary for the understanding and tolerance of parents. Faced with a problem, parents should consider and find the right words to teach their children right and wrong.
Parents need to be aware that children from the age of 10 onwards need to look out for unusual signs so that they can detect suicide intentions early.
Parents should not expect too much, causing unnecessary psychological pressure on their children. Parents need to know what their children are capable of and what they can do.
According to Professor Duc, it is not difficult to detect suicidal behavior in children. If parents are loving enough, close enough, spend enough time with their children, they will soon find out that their children have abnormalities to intervene.
https://soha.vn/chuyen-gia-suc-khoe-tam-than-nhung-nguyen-nhan-khien-nhieu-tre-em-gap-roi-loan-tram-cam-20220404171853252.htm
You are reading the article
Reasons why many children suffer from depression

at
Blogtuan.info
– Source:
Kenh14.Vn
– Read the original article
here