Life Style
Xã Hội
The family spoke up, the accuser had to go to the toilet many times!
I tried to commit suicide many times but failed
Da Thao Phuong's older sister (real name Thanh Thuy) informed that the dark 2000s will never be forgotten when she followed her parents to take her sister to Saint Paul hospital to wash her intestines.
Da Thao Phuong's sister wrote: "Time and time again. I was too ashamed, too scared and too painful to put into words all the horrors I had to endure.
Until I could scream, that scream could only make people around me unable to fully understand the meaning and horror of what I went through.
And, the story was easily steered in another direction, extinguished by the villain's sophisticated tricks that made many people think it was just a contradiction in the normal male-female relationship! I was unable to speak clearly, wisely. I was oppressed, raped, tortured, humiliated, but turned into an avenger for love."
According to Da Thao Phuong's sister, the poetess has sought death many times. "The repeated unsuccessful suicides, her crazy mood and disfigured personality caused my family to fall into years of grief, a deadlock with no way out," the older sister said. .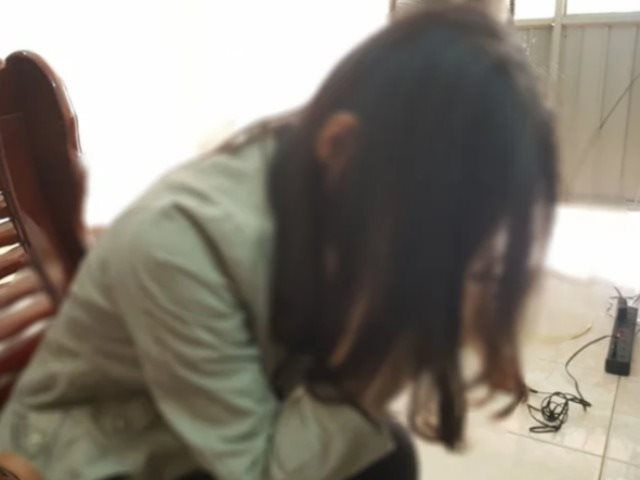 According to the report, on the afternoon of April 14, 2000, about 13 o'clock, Mr. Tam was in the computer room when he heard the call of the poet Be Kien Quoc. Mr. Tam ran to the 3rd floor with some other people.
At the Young Artists' Office, Mr. Tam opened the door and what he witnessed was recorded in his report: At this time, Mr. LNA was in a standing position on Ms. Da Thao Phuong, his hands at her neck area. Da Thao Phuong. Ms. Da Thao Phuong struggled and cried for help, her voice was not normal. When I approached Mr. LNA and Ms. Da Thao Phuong, Mr. LNA started to let go of Ms. Da Thao Phuong.
After that, Mr. Tam and reporters Phong Diep and Nhat Ha stayed to help Ms. Da Thao Phuong regain her composure.
As noted by Mr. Tam at that time, one finger of Ms. Da Thao Phuong was swollen and bleeding. The incident was reported to Mr. Truong Vinh Tuan – Deputy Editor-in-Chief of Van Nghe Newspaper at that time.
"I personally see the above incident as a very unusual incident at an agency of the Vietnam Writers' Association, a prestigious newspaper in the country and I have the responsibility to report the above incident for the agency to see. review" – Mr. Nguyen Le Tam wrote in the report signed on April 20, 2000.
The former artist of Van Nghe Newspaper also said that at that time the case had not been fully and thoroughly handled. From that treatment, it led to a story that stuck with insiders for more than 20 years.
Mr. Tam said: "There are hidden things that, after a period of time are not resolved, will come back at some point." He said that the Vietnam Writers Association and the Van Nghe Newspaper need to review the incident to make everything clear.
We can't be silent
Meanwhile, journalist Truong Anh Ngoc, who knew Da Thao Phuong from more than 20 years ago, also said that she had heard about her story somewhere but then everything calmed down.
Before the recent denunciation of Ms. Da Thao Phuong, journalist Truong Anh Ngoc commented: "I read some comments at home, many people voiced their support for Phuong, and I saw a friend saying how can we claim justice. okay, after all these years. Another person asked why it took so long to speak up.
And there are also insensitive and abominable comments in the direction of blaming the victim. Reading Phuong's life story, I feel sorry for her. Reading comments many people also feel pity and anger at them when they lack a heart, an empathy. Do they understand that, because there are people like them, with such a mindset, many victims do not dare to speak out and denounce the perpetrators?".
According to this male journalist, more than 20 years of living with a great pain in life is never simple. That is a terrible thing that Phuong and those who have been raped like her have been and are facing. Because it torments and torments them. It makes it hard for them to live in the real world, haunting them for life. At least in the end Phuong was brave enough to speak out, to show the face of the person who ruined her life. Perhaps there are many other victims of sexual abuse, because of shame, fear of being judged, stoned, judged and blamed still choose to remain silent about the wounds that have not been healed.
"Phuong's actions may encourage many other victims to speak up, not knowing if they will get justice, but at least it will help them become stronger after speaking a painful truth that they hold back, and raise their concerns. raises a serious social problem for women: women are always weak and vulnerable to violence.
It is not only the violence of those who have harmed them, but also the violence from the mouth of the world, who harm them again, push them into despair and prevent them from coming out into the light, living their lives. a normal life", journalist Anh Ngoc wrote.
According to journalist Anh Ngoc, 20-year-old Da Thao Phuong was not strong enough to protect herself, but Phuong of twenty years later spoke up to tell the truth about what happened to Phuong that day and needed the public to speak up.
"We cannot be silent. Phuong's story is not only Phuong's own, but also the story of many other women who have been abused," said journalist Anh Ngoc.
Earlier, on the evening of April 6, a social account named Da Thao Phuong posted the content of an open letter accusing PTBT of Luong Ngoc An Van Nghe Newspaper of raping and slandering her many years ago.
In the application, Ms. Da Thao Phuong also said that the reason she spoke up until now was because: "I need to speak up. It is an urgent requirement of me personally, as a victim of unjust suffering, as well as a requirement of social reality for the responsibility of a citizen, the demand of conscience for a pen holder".
You are reading the article
The family spoke up, the accuser had to go to the toilet many times!

at
Blogtuan.info
– Source:
Kenh14.Vn
– Read the original article
here