The 2021 epidemic season marks a new turning point for Ms. Bich Han (29 years old, HCMC). After getting married, 9X moved to Cu Chi to live and manage an orchid garden with her husband. Here, she started gardening and growing vegetables to provide food for her family, especially the baby who had just entered the weaning stage.
From an office worker who has never grown crops, Saigon's mother has become the owner of a beautiful 180m2 garden like a picture with all kinds of colorful vegetables. Moreover, Ms. Han also actively learns many different gardening methods to upgrade the garden, turning it into a miniature farm.
Beautiful garden corner of Ms. Han's house.
"Close the bed" to grow vegetables to reduce waterlogging
Looking at Han's rainbow garden full of fruit trees, few would expect that less than a year ago this place was a land of grass, garbage, concrete and many insects. It was Han who came up with the idea to design and build the garden with her husband. She said: "My husband and I planned to clean up the trash together. Then we cleaned the first area of ​​about 35m2, then started to stir the soil and plant simple vegetables. Next, our house renovated another 50m2. The first type I grew was broccoli, collard greens, water spinach, corn, okra, cucumber,… It was fine, I gradually expanded by 40m2 to grow beans, melons, kale of all kinds, and rainbow cabbage. , salad".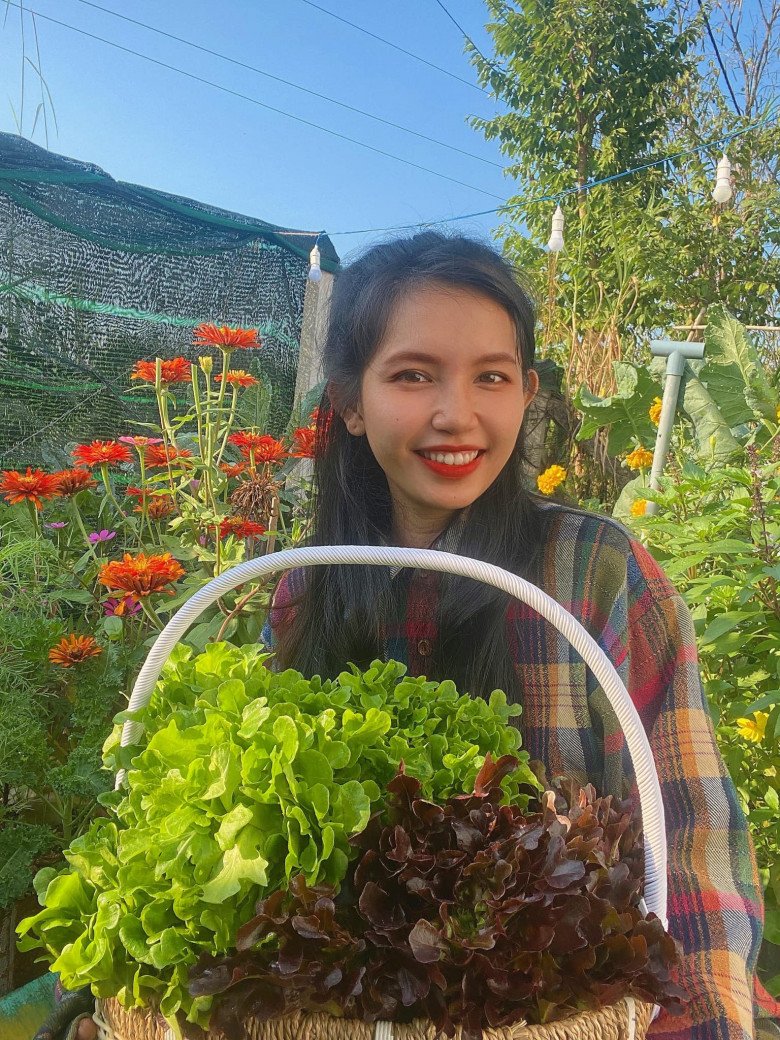 Starting gardening in June 2021, right in the rainy season of Saigon, she had no experience, so Han's vegetable beds were almost flooded and died quite a lot. By the beginning of October 2021, she and her husband have almost completely rebuilt and expanded the garden.. At this time, Ms. Han is studying garden design in the form of an advanced bed garden (roughly understood as "making a bed" to grow vegetables, create into cells with high walls and well-drained bottoms). Ms. Han learns from overseas farmers and applies them to her garden to overcome waterlogging, weeds, and improve drainage. Ms. Han combines a variety of vegetables and flowers in the direction of intercropping, dividing the beds by moderate aisles, the aisle in the middle is spacious.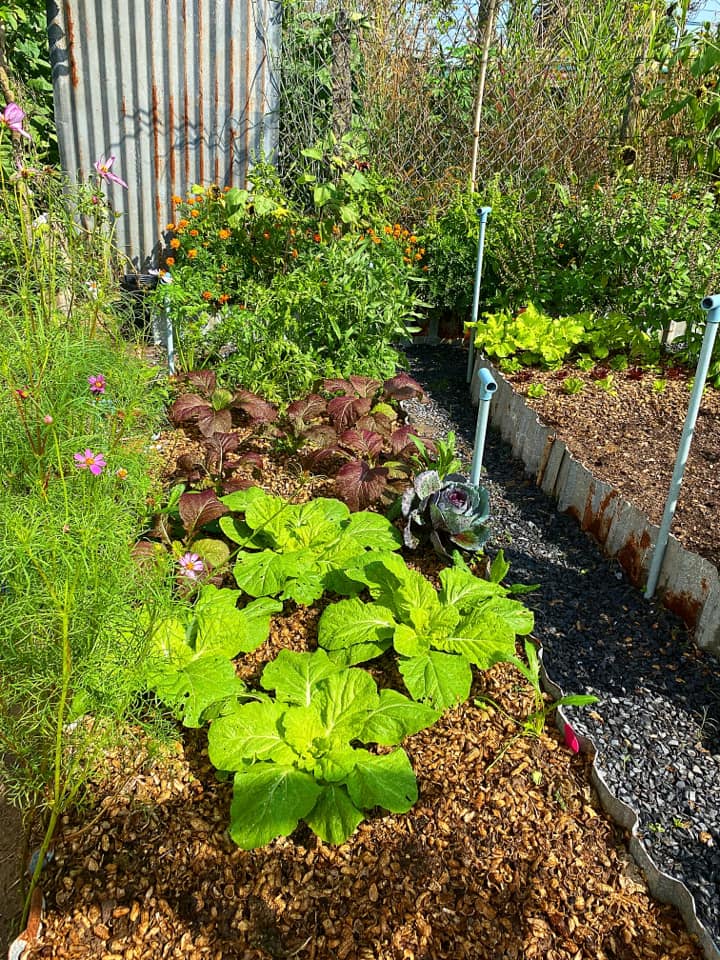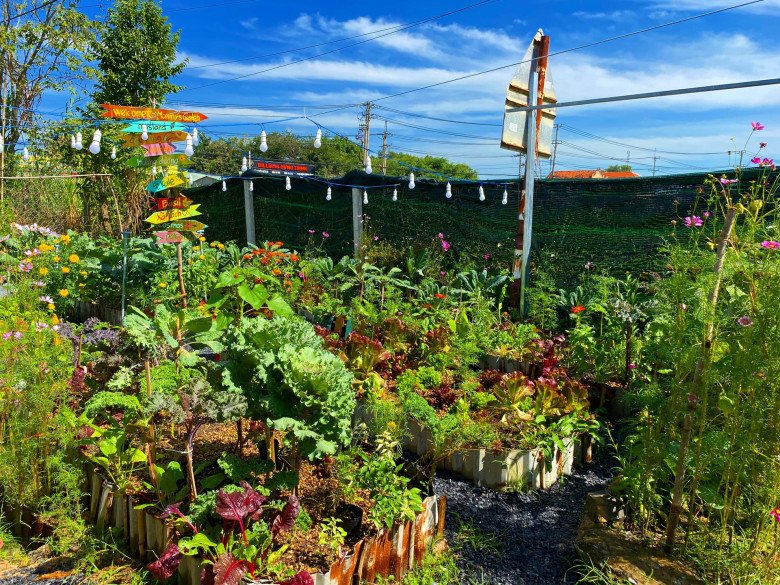 Between the bed gardens is a small path, convenient for homeowners to travel and take care of vegetables.
The current total area is about 180m2, U-shaped and divided into 4 zones, including a vegetable growing area with flowers combined with family entertainment, 2 areas for growing seasonal crops, melons and corn, an area for growing seasonal crops, melons and corn. grow kale. The vegetable growing areas arranged by Ms. Han change according to the season, depending on the direction of the sun and the characteristics of the plants. To support better garden care, Ms. Han uses sprayers and pumps to water with hoses, composted organic fertilizers, compost, uses biological pest management, and intercropped flowers. She absolutely does not use pesticides, chemical drugs.
Growing companion flowers, the garden is as colorful as a rainbow
Looking at Ms. Han's garden, everyone was thrilled because it was so bright and rich, as colorful as a rainbow. Mom shared: "I like to collect local and imported seeds. Any strange variety, I will buy and test. Some of the vegetables I have been growing are kale (have grown about 20 kinds of kale and am collecting). added new varieties), assorted lettuce, giant purple mustard, cauliflower, cabbage, cabbage, Vietnamese broccoli, Da Lat broccoli, Korean cabbage, green bok choy, purple, white, spoon baby,… Flowers have sunflowers with about 16 different types and colors, cosmos, chrysanthemums, especially giant Zinnia daisies like native America,…
Up to now, nearly 400 kinds of vegetables and flowers have been collected. I love plants so I grow a lot of different types of each type. Especially the multi-colored varieties I try to grow."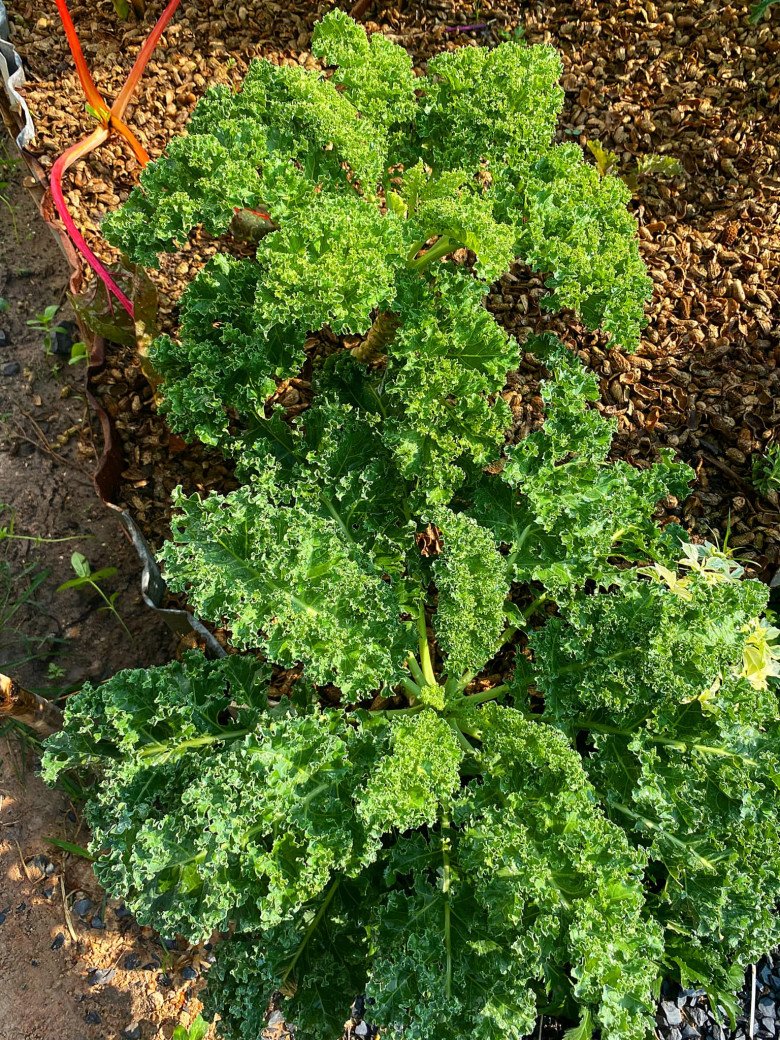 Kale kale.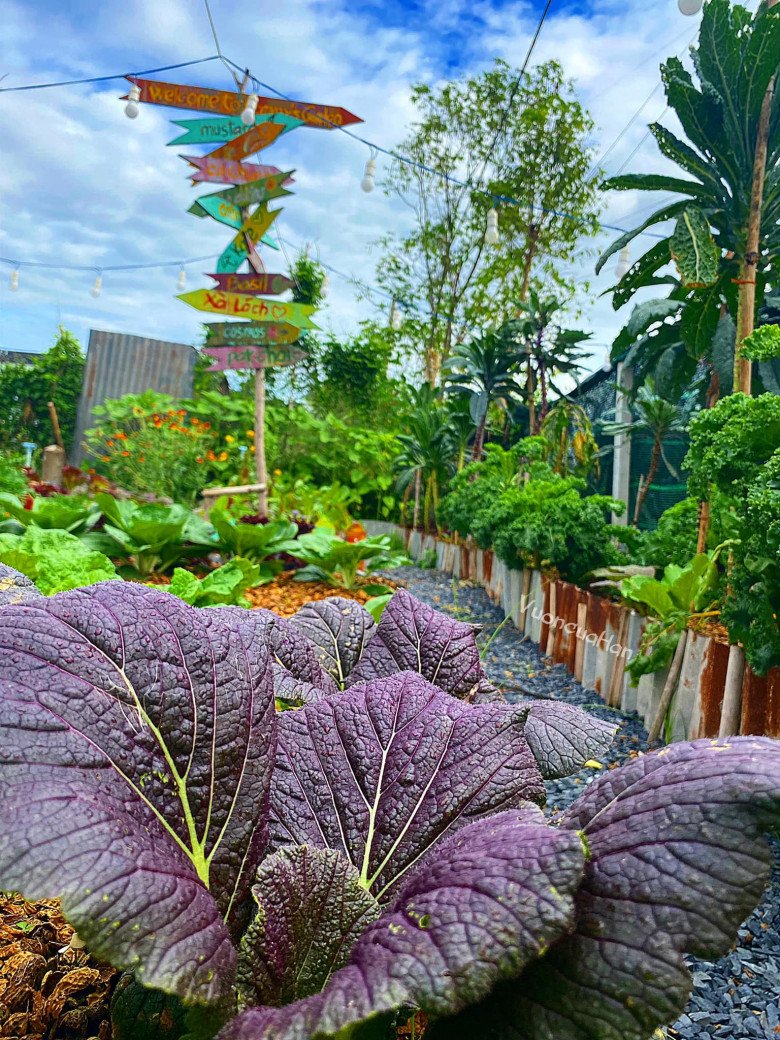 MissHong Cabbage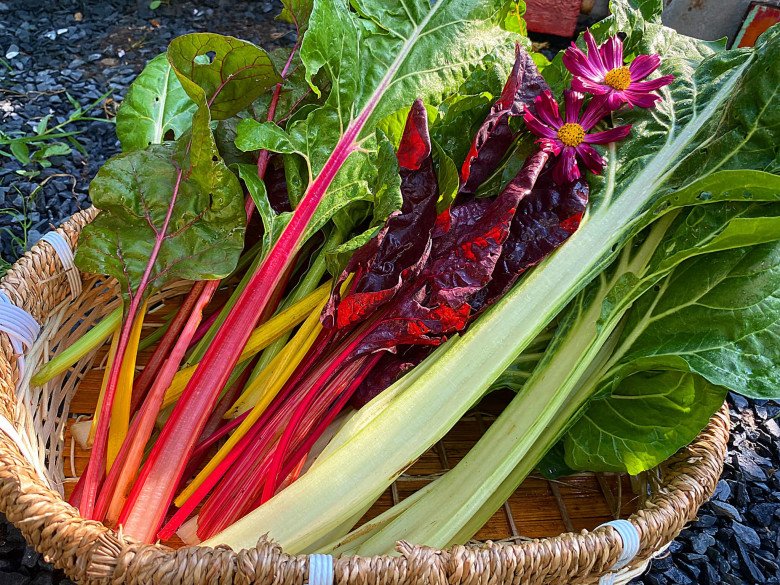 Rainbow cabbage.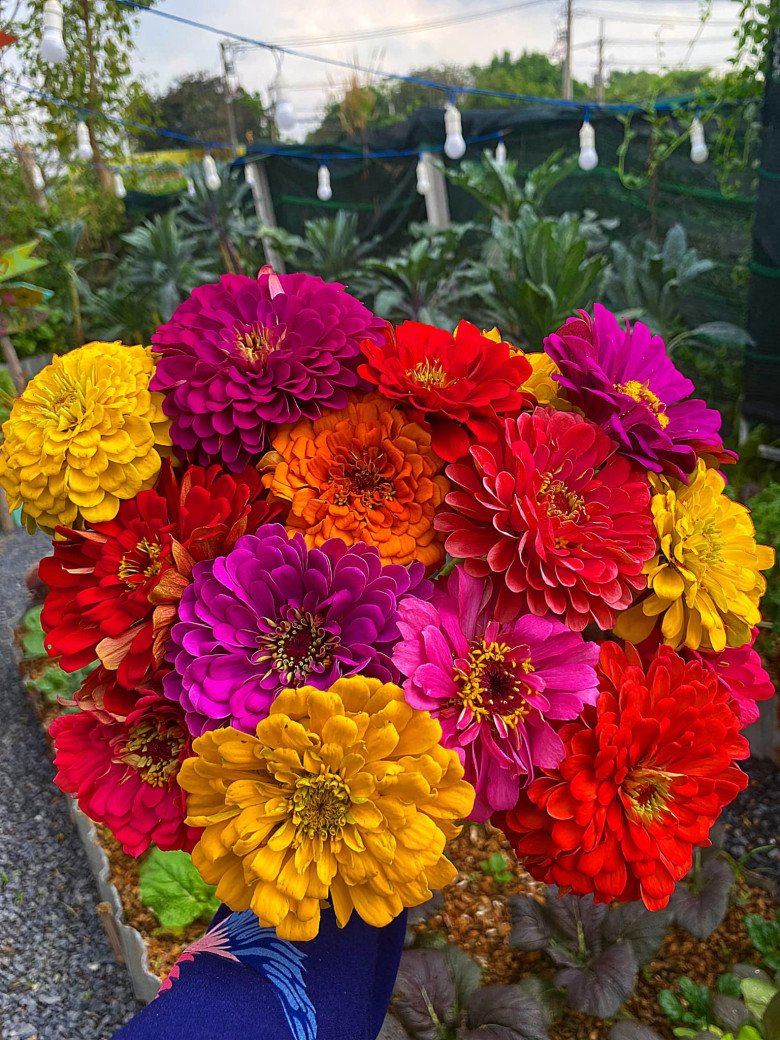 Zinnia.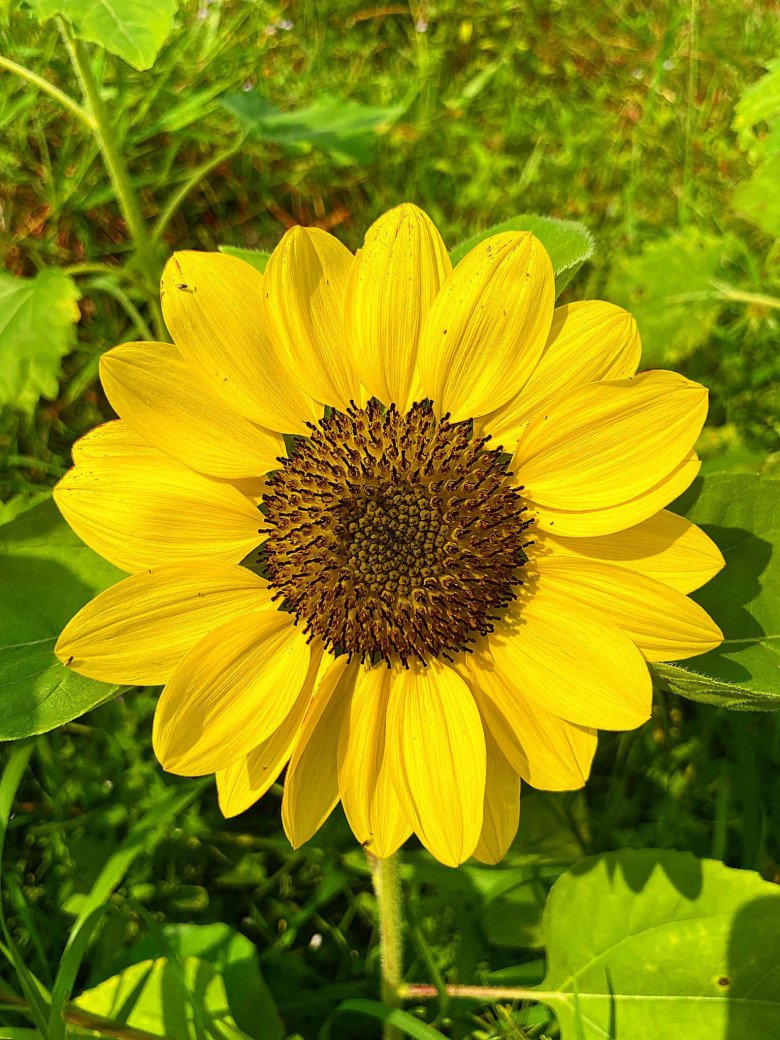 Sunflower.
Ms. Han applies the companion planting method, more specifically, in a bed planted with a combination of vegetables, spices, and flowers. This approach not only creates color for the garden, but also helps to limit pests and diseases, and at the same time diversify nutrition because the varieties will "protect" and support each other. At first, she simply planted marigold flowers interspersed with tomatoes. Gradually, she made sure to learn more deeply and apply them to the garden. Some garden-friendly companion flowers that Ms. Han suggest to combine include periwinkle (companion with cabbage, tomatoes, cucumbers, radishes), marigolds (tomatoes, melons, commonly grown Han grows everywhere in the garden), sunflower (combined with corn, eggplant, potatoes, beans), Zinnia and cosmos grow in the garden, chrysanthemum is beneficial for the garden but also a medicinal flower.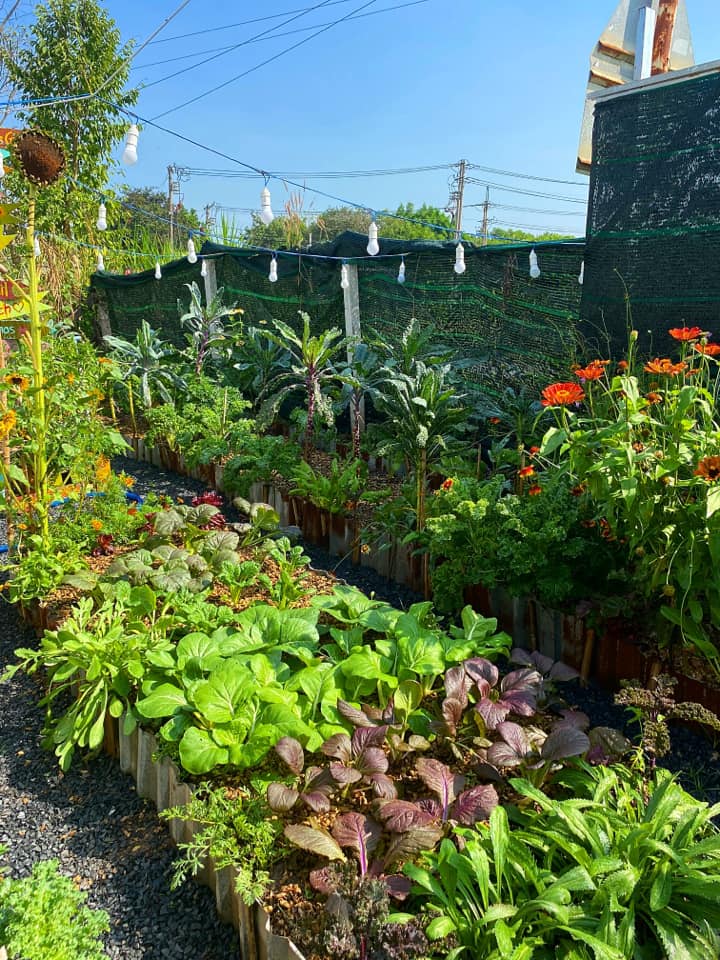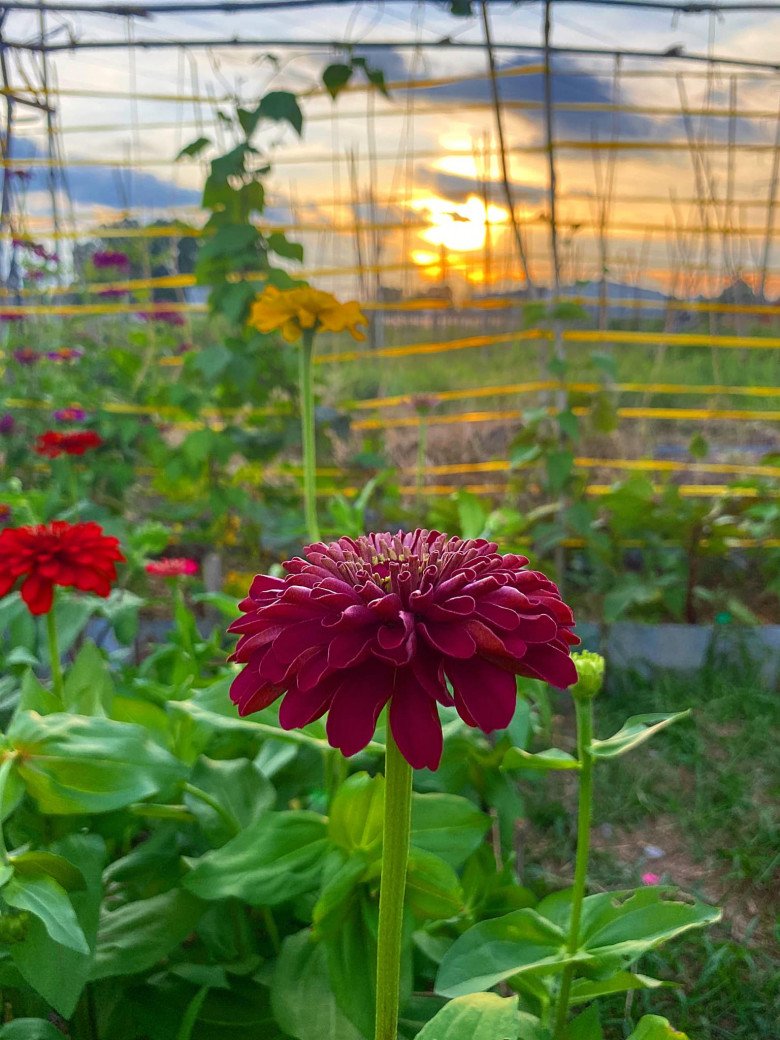 In a bed, Ms. Han intercropped many kinds of flowers.
From her experiences, Ms. Han sums up her experience: "Growing companion flowers will not be effective immediately. It will be beneficial when planting at a sufficient density, it takes time to develop, so don't be in a hurry to plant 1, 2 plants or plant the first crop that has not yet produced results. After I applied the companion flower growing, my garden began to see more pollinated bees, no aphids, more vegetables and beans, before I had to pollinate by hand, now it's not necessary. very".
Sharing about the garden, Ms. Han is not the same joy and passion. Happy sister said: "I like to have a garden that is both beautiful and delicious. For me, a garden is not simply a place to go to find food, but also a place where I relax, experience, learn and fulfill my passions. Where my family plays, gathers together, and takes care of flowers and leaves with my daughter. Thanks to the garden, my baby is very good at eating vegetables, drinking vegetable juices since weaning. The garden brings a lot of spiritual value, Anyone who does a vegetable garden can feel it."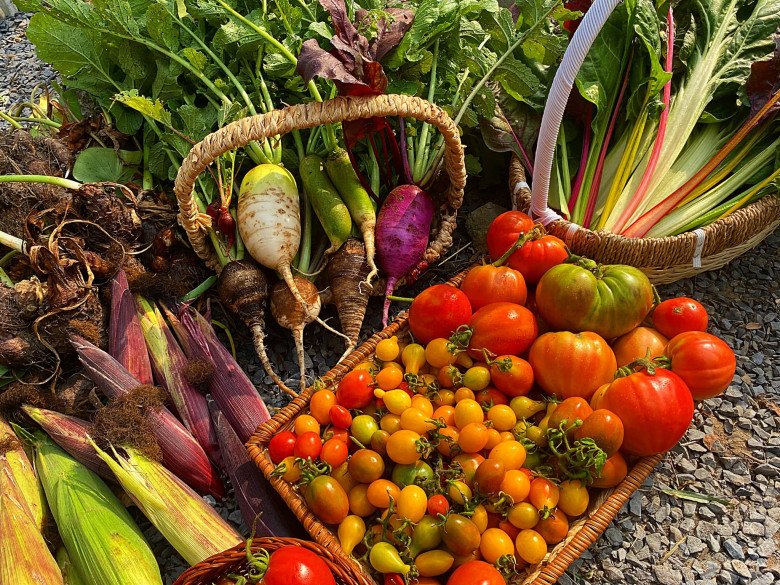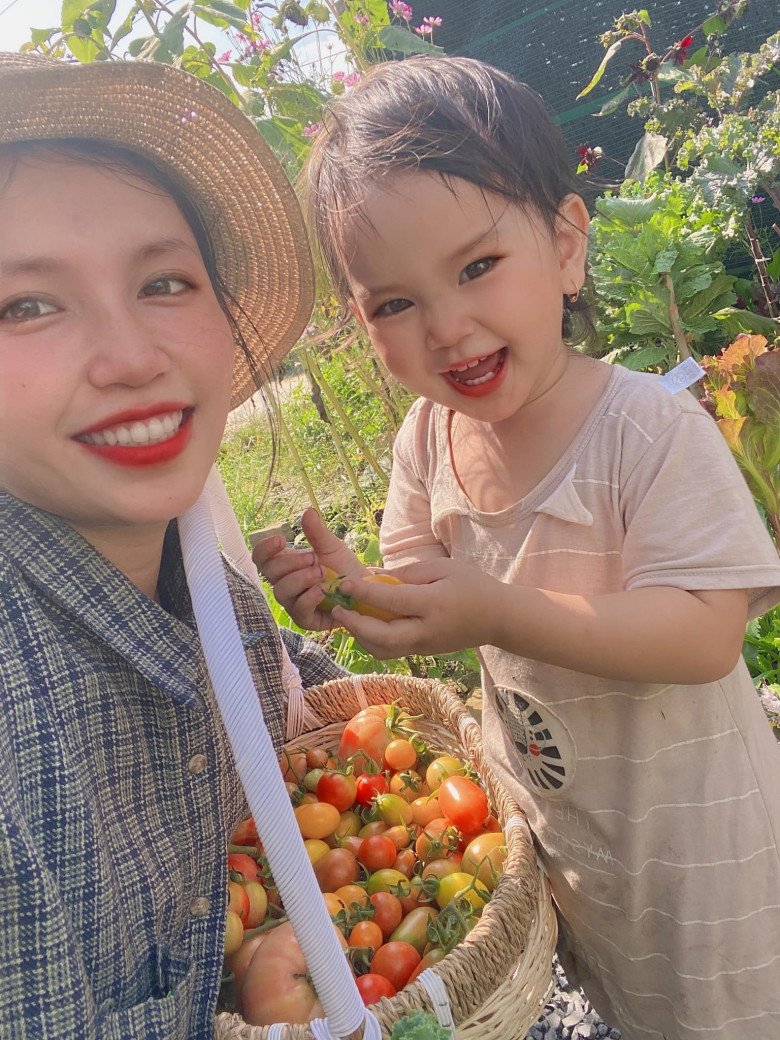 The garden brings fruit and joy to Ms. Han's family.
You are reading the article
Saigon's mother built a bed to grow vegetables, got a 180m2 rainbow garden and got anything

at
Blogtuan.info
– Source:
Eva.vn
– Read the original article
here