Thế Giới
Long time no fly, aviation confused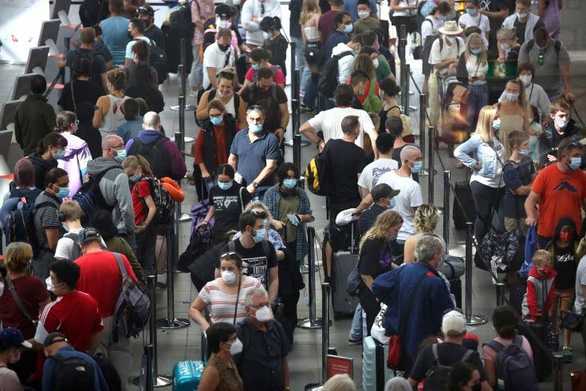 Domestic passengers line up at Sydney Airport (Australia) on April 9 – Photo: Sydney Morning herald
On April 13, more flights at UK airports were canceled due to a lack of airport staff. At Australia's Sydney airport this week, passengers also had to wait in line for hours to check in.
"Terrifying Storm"
The airline industry has had to lay off hundreds of thousands of employees to get through the worst of the COVID-19 pandemic. Therefore, when many countries lifted travel restrictions, many airports and airlines "returned in time" because they did not immediately have the necessary number of employees to serve the rapidly increasing demand. Not to mention at this time, the virus has not "let go" of flight crews and ground staff.
The leader of Sydney Airport, which is considered Australia's international gateway, described this combination of factors as a "terrible storm". Australia's national carrier Qantas faces a shortfall of around 50% of staff, while Sydney's airport workforce is now half what it used to be.
"We don't have enough staff. This situation will last a short time," Sydney airport chief executive Geoff Culbert said on ABC (Australia) on April 12. There has been some chaos at Australian airports coming just before Easter and Anzac holidays in the country.
Mr. Culbert said that on some days, Sydney Airport operates with only 60 percent of pre-epidemic staff, but has to handle 90 percent of passengers during non-epidemic times.
The rapid recovery of passenger traffic in some major markets such as the US has also left airlines and airports confused. Speaking to Bloomberg News on April 12, Tony Fernandes, co-founder of AirAsia, said that US airports are also overloaded with passengers.
Passengers in the UK also had to wait in long lines this week at the airport. Nearly 4.2 million people passed through London's Heathrow Airport in March this year, up more than seven times from a year ago.
Low-cost carrier EasyJet and British Airways both canceled flights on April 10. On the same day, one-third of EasyJet's services were delayed.
Long queues, lost luggage, delayed or delayed flights have affected the travel plans of thousands of Britons in recent days. According to The Independent, experts warn that the chaos at UK airports could drag on for another year.
Overcome difficulties
In addition to increased passenger numbers and staff shortages, there are many other problems that plague the aviation industry right now. Recruiting new personnel and training takes time, meanwhile, after a long time without flying, many people forget about the procedures to do, the requirements related to COVID-19, fuel prices increase. due to the Russia-Ukraine conflict…, all of which give rise to additional complicating factors for the aviation industry.
Qantas Australian airline chief executive Alan Joyce said security staff at Sydney Airport had to double-check 30 per cent of passengers because they forgot to take out items such as laptops and aerosols. out of the bag. Before the COVID-19 epidemic, this rate was 10%.
To deal with chaos at Australian airports, security companies are scrambling to find more staff, health authorities relax isolation rules to allow more people to work, while airlines recommend Passengers are advised to arrive 2 hours before departure time…
In the UK, a spokesman for the UK Home Office told The Independent: "Passengers entering and leaving the UK during this busy Easter period may have to wait longer than usual." Heathrow Airport is also looking to hire 12,000 new staff after Britain lifted travel restrictions.
On April 10, CNBC reported that JetBlue Airways (USA) is planning to reduce its summer schedule to avoid flight disruptions due to staff shortages. The airline will reward flight attendants with $1,000 if they work continuously from April 8 to May 31.
Currently, Thailand and Singapore have not reopened to the same extent as Western countries, so there are not many problems. Tony Fernandes believes that it will be several months before a similar level of air travel recovery takes place in Asia.
80,000 won
According to The Guardian, Australia's Sydney airport warned that delays here will continue to get worse for a while before it improves. April 14 is expected to be the airport's busiest day since the beginning of the COVID-19 pandemic with an estimated 80,000 passengers arriving. And Brisbane Airport is expected to handle 50,000 passengers on the same day.