Chuyện lạ
The average 2-meter-tall family sets a world record
April 16, 2022 15:31 GMT+7
The Trapp family, in Minnesota, USA, has an average height of 2.03 meters, setting the Guinness World Record for the tallest family in the world.
According to the Guinness World Records, a family of five in the US has earned the title of world record for tallest family. On average, members of this family are 2.03 meters tall.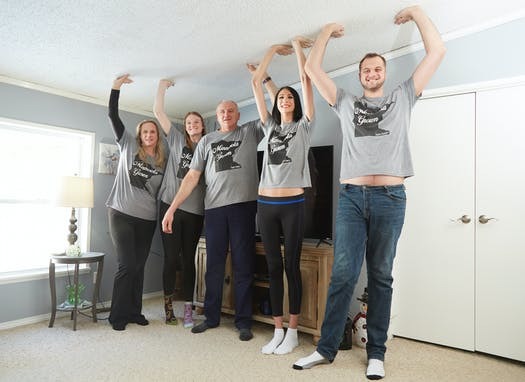 The average 2 meter tall family sets a world record
It is the story of the Trapp family, from Minnesota, USA. The height of Trapp family members are son Adam, 2.21 meters tall, mother Kristine 1,905 meters tall, father Scott 2.03 meters tall, two daughters Savanna 2,034 meters tall and Molly Steede 1.98 meters tall.
Kristine joked: "I'm the shortest in the world's tallest family. I'm only 1,905 meters tall."
In the photo shared on the official website of the Guinness World Organization, each person in the house just needs to stand up straight and reach out to touch the ceiling with their palm. Each member wears a shirt that says "Minnesota Grown".
Although each member of the Trapp family has their own 'funny' situations and experiences in life due to their excessive height, what they all have in common is that they frequently bang their heads against doors, ceiling fans and entangled with the lights on the ceiling.
Family members also face another difficulty that is finding the right size clothes and shoes.
All three Trapp children play sports and have been recruited by colleges for basketball or volleyball.
Savanna played basketball, Molly played volleyball in college, and Adam was a star basketball player in high school.
Meanwhile, Adam continued to pursue the sport while studying further at the South Dakota School of Mines and Technology, Rapid. However, he had to give up his unfinished dream due to a knee injury.
Savanna was allowed to play basketball while attending the University of California at Los Angeles, but later had to give it up due to a brain injury.
It was Savanna who helped her family get the world record recognized after she learned about this record. Before that, a family in the Netherlands with an average height of 2.01 meters was holding the record.
Family members had their height measured at a local doctor's center, then submitted documents to Guinness. Guinness then sent a team of experts to Trapp's house to present the record certificate.
Savanna said the family hopes that this world record title will inspire more people to be confident in their differences. "It's a joy, a uniqueness only you have. No one else is like you and that's the best thing," Savanna shared.
Hoang Dung (synopsis)
You are reading the article
The average 2-meter-tall family sets a world record

at
Blogtuan.info
– Source:
infonet.vietnamnet.vn
– Read the original article
here