Hoai Linh's YouTube and TikTok channels dropped dramatically
In May 2021, the name Hoai Linh was mentioned a lot when it was related to the noise "soaking" more than 14 billion VND of charity money calling for help for the people of the Central region. This shocking scandal has caused the male artist to face many attacks from the public.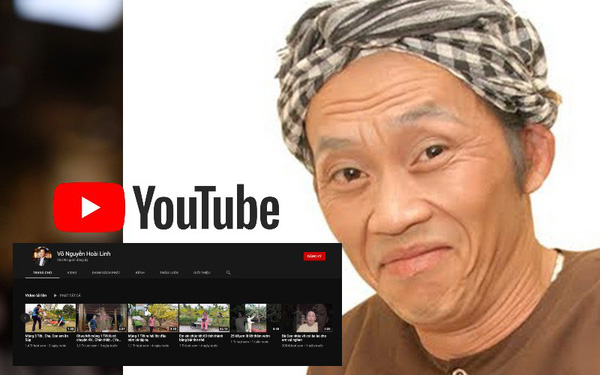 After choosing to speak up and explain once and authorize a representative to go to the Central region to disburse an amount of more than 14 billion VND, Hoai Linh has been silent ever since. Despite being silent and rarely appearing in front of the media, Hoai Linh still suffered a lot of losses.
Accordingly, if Hoai Linh once set a record in the world of Vietnamese artists when he set up a YouTube channel less than 2 weeks ago, he has reached more than 500,000 followers and after 2 months has more than 1 million followers. With only 17 clips at the beginning, Hoai Linh's YouTube channel has reached nearly 40 million views/2 months. The male artist also quickly achieved YouTube's golden button in a very gentle way.
According to Social Blade's statistics, at that time, Hoai Linh could receive at least 235 USD (about 5.4 million VND) every day and at most 3,800 USD (about 87.7 million VND) from YouTube. Therefore, it is not difficult for Hoai Linh to make billions of money every month from YouTube.
However, up to now (after 11 months of the scandal), Hoai Linh's YouTube, Tiktok, and Facebook channels have all dropped seriously. According to the recent Social Blade, Hoai Linh's YouTube channel "Vo Nguyen Hoai Linh" has dropped the number of subscriptions to 993,000, leading to a low amount of money earned by the channel. In the past 30 days, the number of channel subscriptions has decreased by more than 3000 times. Total channel views also reached just over 34,000, down 5.4% in the past 30 days. This is a surprising number because before the scandal happened, the channel had reached 1.03 million subscribers – a number that took other artists a few years to achieve.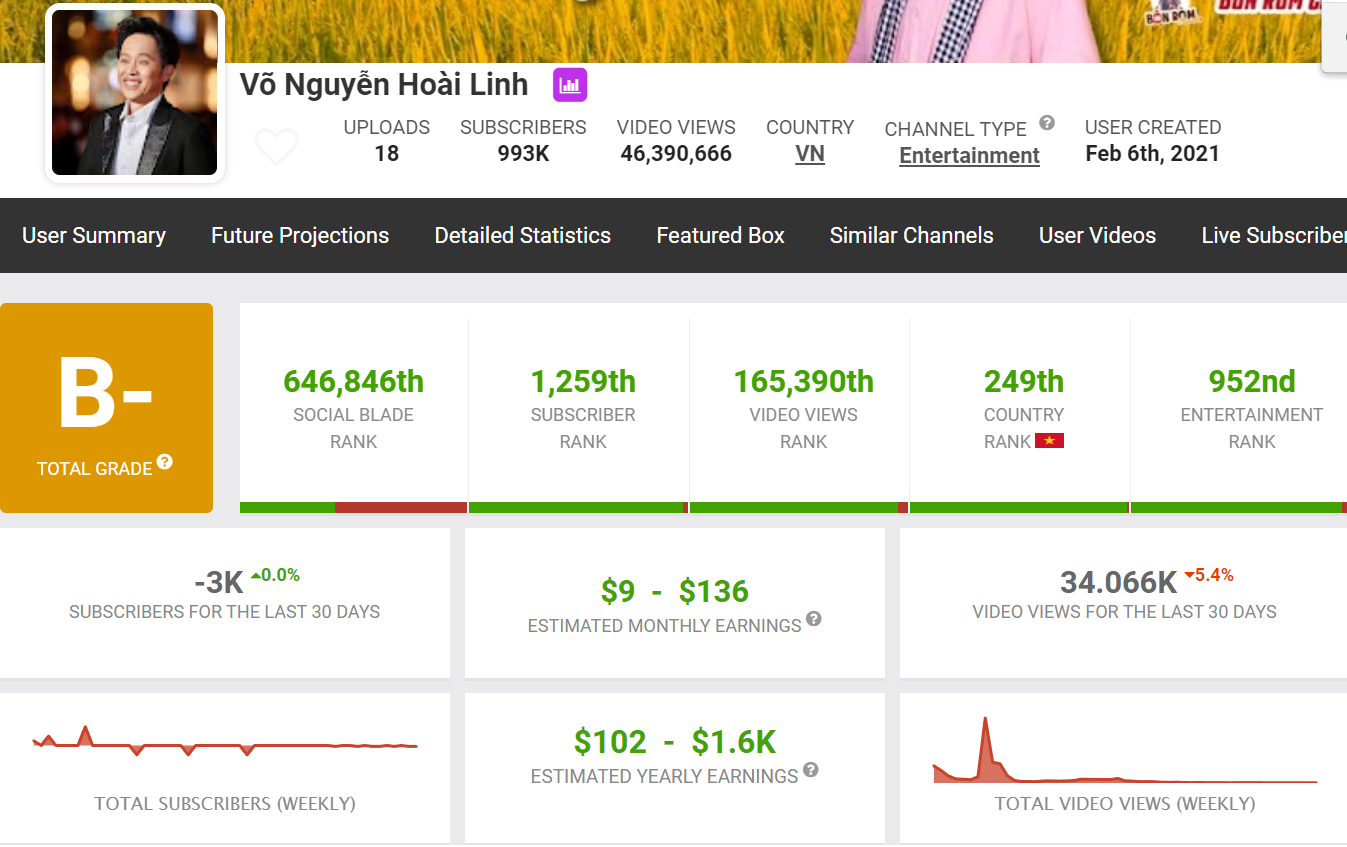 Meanwhile, up to now, Hoai Linh's TikTok channel has also decreased to 3.8 million followers and 27.4 million likes. Previously, in May 2021, the TikTok channel "Artist Hoai Linh" reached more than 4.3 million followers and reached 3 million followers in just 3 days.
One of the reasons why Hoai Linh's YouTube and TikTok channels have dropped subscribers and views is because the male artist hasn't updated new products in the past 10 months. Along with that, after being entangled in the "soak" of charity money, many people do not feel interested in following the male artist's channel anymore.
The name Hoai Linh is no longer a "box office guarantee"?
Not stopping there, if in the past Hoai Linh was considered a "box office guarantee" name – ensuring revenue for films, especially comedies, now the situation has reversed. The movie "Love Girls in the West" with the participation of Hoai Linh was released on March 25, 2022 when it withdrew from the theater, only achieving a revenue of more than 7 billion VND. According to the announcement of Box Office Vietnam – an independent revenue statistics site, after nearly a week of being released in theaters, the film "Love the Western Girl" only brought producers and publishers more than 2.9 billion VND. .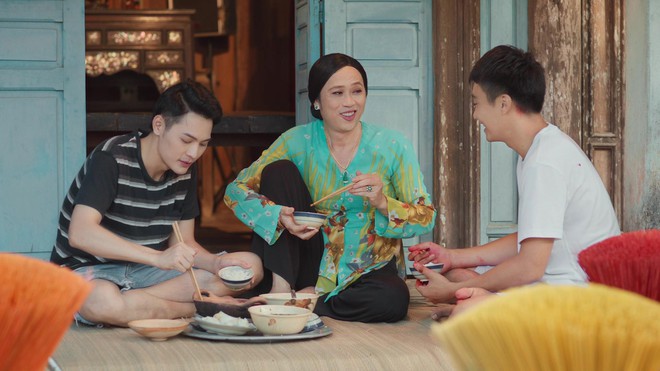 "Love Western Girl" is the debut movie of young director Vo Dang Khoa – who is known as the adopted grandson of artist Hoai Linh. The film was made quite quietly, up to this point it is not clear whether the film was filmed before or after Hoai Linh was entangled in a noisy "soak" of charity money.
However, his participation in this film project immediately caused a stir in public opinion and caused the producer to fall into the "wretched" scene because he received mixed reviews for no reason. Before the movie was released in theaters, many people feared that Hoai Linh's personal noisy story would more or less make the film fall into a scene where a part of the audience turned away.
In January 2022, the artist born in 1969 participated in the play "Lost in the sea of ​​people" – one of 26 works for the Southern Regional Drama Festival and was awarded a medal by the art council of the festival. yellow. However, this achievement was reacted by the audience because he thought that he had just been involved in charity noise and received the award as a way of "bleaching" for "soaking" charity money in the Central region.
So far, although the investigation agency of the Ministry of Public Security has announced the results, it has been determined that there are no signs of crime, "vindicating" the suspicions of "non-transparent charity money", but artist Hoai Linh still did not appear in front of the crowd and did not mention anything about this incident in the media. According to many sources, since the shocking scandal related to the "soaking" of charity money, the male artist still lives in Vietnam and his health has somewhat declined. There was even a time when he didn't eat or drink all day because he was "attacked" by netizens continuously, with baseless rumors appearing rampant.
You are reading the article
How "tragic" are Hoai Linh's YouTube channel and movies?

at
Blogtuan.info
– Source:
danviet.vn
– Read the original article
here