Đời sống
Using the sim card of the owner's phone to set up a fraudulent virtual bank account
April 20, 2022 18:20 GMT+7
Having lost billions in 3 bank accounts, although the phone and sim card are still in her hand, Ms. H. went to the Cybersecurity and High-Tech Crime Prevention Department (Hanoi City Police) to report.
On the afternoon of April 20, Hanoi police said that they had prosecuted the accused and detained Nghiem Van Dung (SN 1991, in Me Tri ward, Nam Tu Liem district, Hanoi) for the act of "Using a computer network" computers, telecommunications networks and electronic means to appropriate property".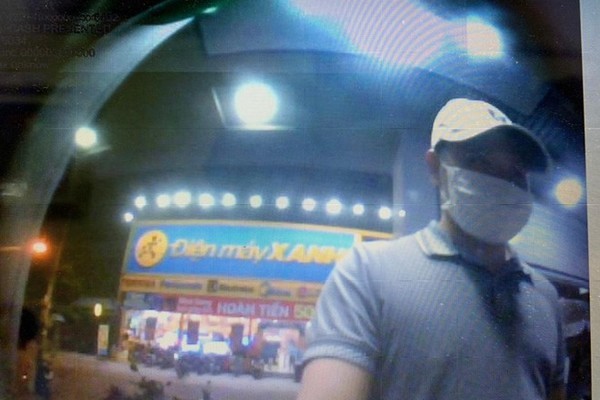 Image of a scam object withdrawing from a bank tree.
According to the investigation document, in May 2020, it was known that Ms. Nguyen Thu H. (born in 1990, in Tan Trieu commune, Thanh Tri district, Hanoi) worked as a financial collaborator and broker, supporting card issuance. Crediting to a bank in Hanoi, Dung approached Ms. H for help with making a credit card and offered to contribute capital to do business.
After a while, there was a conflict between Ms. H. and Dung, so both broke off their relationship. Ms. H. continued to work alone, and Dung now planned to appropriate H.'s money.
At the end of 2020, Dung asked his cousin Le Diem Huyen T (born in 2000, residing in Nam Tu Liem district, Hanoi) to go to the network branch, register 2 genuine sims number 03286336xx and number 03286653xx. Dung also bought 1 sim phone of an acquaintance number 03335084xx for 1,500,000 VND. Also during this time, the subject set up 2 Zalo accounts named "Tuan Anh" and "Phan Thuy Linh" posted information about the ability to make high-limit credit cards and had 3 customers ask for help.
Although there is no credit card function, Dung still uses "virtual" zalo accounts to instruct 3 customers to send documents and open bank accounts, using 3 phone numbers that Dung owns to receive payment. OTP code via Internet banking service.
Done, Dung used the virtual zalo nick to ask Ms. Nguyen Thu H. for advice on opening a credit card with a limit of VND 40,000,000/card. To avoid being exposed, this young man hired Phung Van K. (born in 1993, residing in Quang Minh commune, Me Linh district, Hanoi) to use the Zalo nick "Tuan Anh", on the one hand, to contact 3 customers. of Dung to receive documents, on the other hand, contact Ms. H. to send these documents with 3 smartphones with pre-installed app and Internet banking password of the bank at Dung's direction. These three phones are equipped with 3 sim cards that Dung asked the previous owner to register.
Believing the user of Dung's virtual nick under the name Tuan Anh according to the official phone sim registration, Ms. H. still accepts the application. On February 10, 2021, due to the need to transfer money in large quantities but did not want to exceed the limit, Ms. H. suddenly remembered 3 bank accounts of customer "Tuan Anh" to the previous giver. Ms. H immediately transferred a total of 1,550,000,000 VND to the 3 accounts above. After that, he transferred 75,000,000 VND to take care of the job.
By tricking the bank's switchboard staff, Dung knew that in 3 accounts registered with a phone sim, there was money for Ms. H. Immediately, Dung asked his cousin Le Diem Huyen T. to go with him to the network operator's branch to report the loss of two sim numbers 03286336xx and 03286653xx to issue a new sim. The subject also asked the customer, Mr. Le Duc Huy, to go to the bank and ask to change the phone number to receive the OTP code to another phone number that Dung also bought before. Thanks to this, very quickly Dung appropriated more than 1 billion dong in the 3 accounts that Ms. H. was managing.
Losing money even though the phone and sim card were still in her hand, Ms. H. went to the Cybersecurity and High-Tech Crime Prevention Department (Hanoi City Police) to report. From Ms. H's declaration, the police agency traced Dung's crime. Based on bank security cameras located at ATMs, authorities caught Dung withdrawing money from the appropriated account.
Through the above case, the police agency recommends that people are strictly prohibited from buying and selling accounts and personal information in any form. People need to be vigilant, not to reveal personal information, causing criminals to take advantage of criminal activities. Raise security awareness when using bank accounts.
At the same time, the police agency proposed the competent authority to stiffen the sanctions against individuals buying and selling bank accounts and personal information. On the side of banks, tighten control, appraise records and manage customer information, ensure safety of customers' assets.
Yen River
You are reading the article
Using the sim card of the owner's phone to set up a fraudulent virtual bank account

at
Blogtuan.info
– Source:
infonet.vietnamnet.vn
– Read the original article
here