What driving license A2?
Clause 2, Article, 16 Circular 12/2017/BGTVT has regulations on A2 driver's license. Accordingly, this license is granted to drivers of 2-wheel motorcycles with a cylinder capacity of from 175cm .3 and above and the vehicles specified for A1 class driving licenses include:
Drivers operate two-wheeled motorcycles with a cylinder capacity of 50cm . or more3 to less than 175cm3.
Disabled people operate tricycles.
Conditions and age to take the A2 driving license test
Article 7, Circular 12/2017/TT-BGTVT stipulating mandatory conditions for test takers to be granted A2 driver's license, specifically:
As Vietnamese citizens, foreigners are allowed to reside or work or study in Vietnam.
Make sure you are old enough (up to the date of the driving test). The age of competition is also specified at Point b, Clause 1, Article 60 of the Law on Road Traffic 2008 No. 23/2008/QH12. Persons aged full 18 years or older are allowed to drive 2-wheeled motorbikes and 3-wheeled motorbikes with a cylinder capacity of 50cm or more.3 above.
In addition, before taking the test, the A2 driver's license test taker needs to ensure health according to regulations. Appendix 1 of Joint Circular 24/2015 lists cases in which the A2 driver's license test is not allowed, specifically as follows:
Persons with signs of a chronic mental disorder or have been treated for less than 24 months;
People with epilepsy, motor paralysis of one limb or more, extrapyramidal syndrome, sensory disturbances, dizziness due to pathology…
People with vision problems and eye defects such as double vision, night blindness; disturbance of recognition of 3 primary colors: Red, yellow, green; luminous diseases.
People with hearing problems in the ear: Better than normal speech < 4m (including using hearing aids) or hearing minimal whispers (in better ears) £ 1.5m (including use of hearing aids) ).
People with heart problems: Low blood pressure (BP) (systolic blood pressure < 90 mmHg) with a history of symptoms such as dizziness, fatigue, drowsiness or fainting; arrhythmia (treated but unstable); thromboembolic disease; angina due to coronary disorders; heart failure, heart transplant...
People with endocrine problems: Diabetic (diabetes) with a history of diabetic coma within 1 month.
People who use drugs with alcohol or heavy stimulants: Drugs, alcohol in excess of the prescribed limit, psychostimulants, therapeutic drugs that affect the ability to wake up…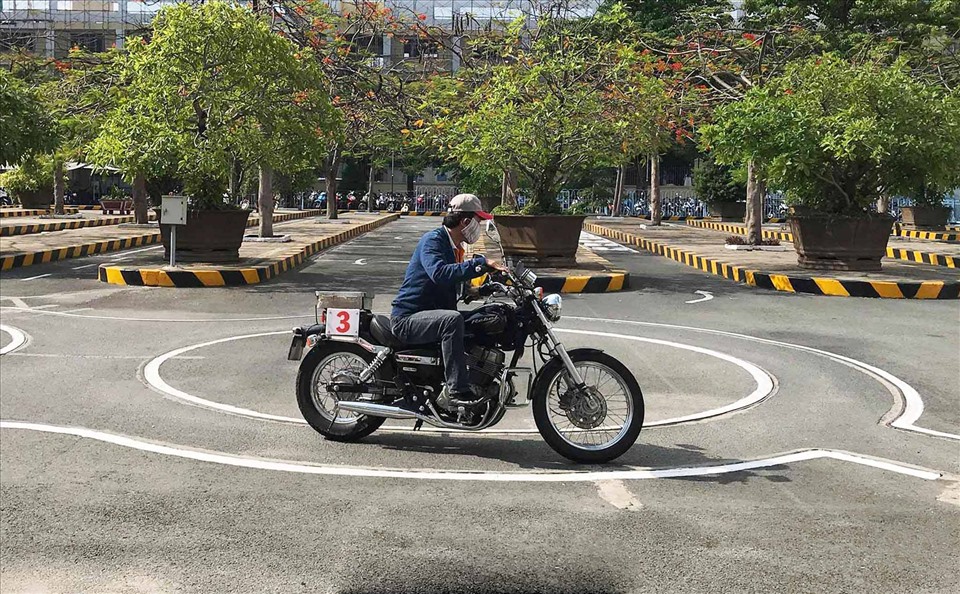 What are the documents required to apply for the A2 driver's license test?
Article 9 of Circular 12/2017/BGTVT stipulates that an application file for registration for the A2 driver's license exam includes: An application for study, test, and issuance of a driver's license according to the form specified in Appendix 7 to this Circular. December 2017/BGTVT; Copy of ID card/CCCD or valid passport;
Copy of passport valid for more than 6 months, temporary residence card; Resident card; diplomatic identity card or official identity card for foreigners;
The test taker's medical certificate shall be issued by a competent medical facility according to regulations.
According to article 12 of Circular 12/2017/BGTVT, the total time for A2 driver's license training is 32 hours.
In which, there are 20 hours of theory (Road traffic law and driving techniques) and 12 hours of driving practice. After passing the test, the driver's license will be issued after 15 days.
Article 17 of Circular 12/2017/TT-BGTV stipulating the duration of use of A2 driving licenses. The A2 license has a permanent term, so the driver only needs to take the test once and there is no need to repeat it.
You are reading the article
Driving license test A2 and what you need to know

at
Blogtuan.info
– Source:
danviet.vn
– Read the original article
here