Khỏe - Đẹp
Not only is the dish 'order milk', banana flower is also a medicine to cure many diseases
April 21, 2022 14:17 GMT+7
In daily life, it is not only a rustic food, making dishes such as mannequin… banana flower is also a medicine.
After giving birth to her daughter Hoang Thi Hoa (Thanh Xuan, Hanoi) lack of milk, thanks to hard work eating banana flowers simmered with bones, pork leg, Ms. Hoa found the milk came back faster. From a mother who lacked milk, she now has enough milk to breastfeed. Moreover, eating banana flowers after giving birth also reduces constipation.
Every day, Hoa's mother-in-law changes dishes with banana flowers such as banana flowers cooked with fish, banana flowers cooked with spring rolls, thinly sliced ​​banana flowers stir-fried like regular vegetables…
The most popular banana flower dish is the banana flower cooked with spring rolls. The method is very simple to clean, marinate with seasoning seeds, oyster sauce, and pepper.
Banana flowers peeled off the outer layer, thinly sliced ​​in circles, soaked in water with a little squeeze of lemon to prevent the banana flowers from darkening, or soaked banana flowers in salt water mixed with batches, this way makes the banana flowers both whiter and softer. When eating, take out and rinse with water.
Sauté onion and garlic, stir-fry the spring rolls with a little fish sauce, then pour in the amount of water you just eat, bring to a boil.
When the water boils, add tamarind and reduce the heat. Marinate the pork leg until it is almost tender, then take out the tamarind and crush it, filter out the residue to get the water. Return the tamarind filtered water to the pot and then add the banana flowers. Add a little seasoning to taste. Continue to cook until the banana flowers are soft, then sprinkle with finely chopped cilantro.
According to Dr. Huynh Tan Vu – Lecturer of the University of Medicine and Pharmacy in Ho Chi Minh City, banana flowers are a familiar dish of people since ancient times. In some places, people also use banana flowers as a remedy in traditional medicine.
Since ancient times, in folklore, stewed banana flower with hooves is used as a remedy to help clear milk, "calling for milk" for women after giving birth. Dishes such as banana flower cooked with shrimp, banana flower salad… so that the baby can receive nutrition from breast milk, helping the baby grow and develop comprehensively.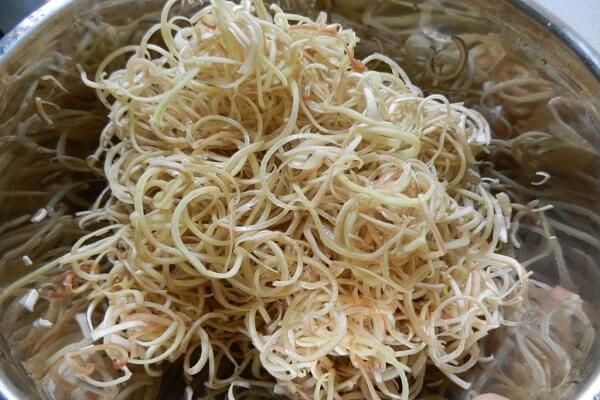 Banana flower is a medicine for women.
Banana flowers are rich in vitamins A, C, E and minerals necessary for the body and have been used in many remedies since time immemorial to treat various disorders.
According to traditional medicine, banana flower is sweet, cold, has the effect of chemical phlegm smooth, calms digestive stasis, clears meridians, is often used to treat diseases such as chest and abdomen fullness, or heartburn. vomiting a lot of phlegm, dizziness, headache, pain in the heart area, only thirst for laxatives, blood circulation, bone marrow benefits …
Not only benefiting milk, Dr. Vu said that women use banana flowers regularly to regulate menstruation because they increase progesterone levels in women. This hormone helps to balance menstrual and reproductive functions. Banana flowers increase hemoglobin in the body because they are rich in iron, suitable for people with anemia. The methanol extract of banana flower has antioxidant properties, stabilizing free radicals in the body.
People with constipation are suitable to use banana flowers because of their fiber-rich properties. Fiber supports a healthy digestive system, regulates bowel movements, and detoxifies. Eating foods rich in fiber is also beneficial for weight loss.
Thinly sliced ​​banana flowers put into meals as side dishes or processed into salads. Drinking banana flower juice regularly is very beneficial for health.
Cure uterine prolapse: Take banana flowers and pepper (pick up flowers that have fallen to the ground) for survival, pulverize, drink 2 times a day, 1 tablespoon of that powder each time, use boiling water to heal. You can also use 60g of fresh bananas to drink several times a day.
Treatment of cough, tuberculosis: Banana flower (fresh) 60g, pork lung 250g, add water, stew until soft, eat both water and female.
Treatment of heart attack, nervousness, insomnia: 30g banana flower, 1 pig's heart. Banana flowers washed, chopped; pork heart washed and tonic; two things put in the pot to boil for 30 minutes, then put the banana flower residue, eat the pig's heart and drink the water. Uses: The vase can be defiant, useful for sedation, calm.
Khanh Chi
You are reading the article
Not only is the dish 'order milk', banana flower is also a medicine to cure many diseases

at
Blogtuan.info
– Source:
infonet.vietnamnet.vn
– Read the original article
here