LOT LEAF SKULL CAKE
Material:
– Fresh squid 300g – Minced meat: 100g – Wood ear, shiitake mushrooms: 3-4 pieces – Raw spring rolls: 50g – Spring onions: 2 branches – Betel leaves: 20 leaves – Skewer sticks: 10 pieces – Ground peanuts: 1 little – Spices: Pepper, soup powder, seasoning powder, cooking oil.
Making:
– Fresh squid is washed with white wine to remove the fishy smell, then drained. Then mince or diced small.
– Wash and mince pork. Wood ear, soaked shiitake mushrooms, cut the feet, wash and then mince. Onions and leaves are washed and dried. Finely chopped scallions.
– Put squid, pork, raw ham, wood ear, shiitake mushrooms, spring onions with 1 teaspoon pepper, ½ teaspoon seasoning powder in a bowl. Mix ingredients until smooth.
– Spread the bay leaves on a plate, put the squid filling and then roll it up, using skewers to skewer each patty in turn. Do this until you run out of ingredients.
– Turn on the oven to heat up, then put each patty in the oven at 150 degrees Celsius for about 15 minutes or when it's cooked. If it feels dry, use a brush to brush the cooking oil on. If you don't have an oven, you can also put squid ink in a frying pan.
Squid rolls with ripe bay leaves on a plate sprinkled with a little more peanuts, pounded sesame.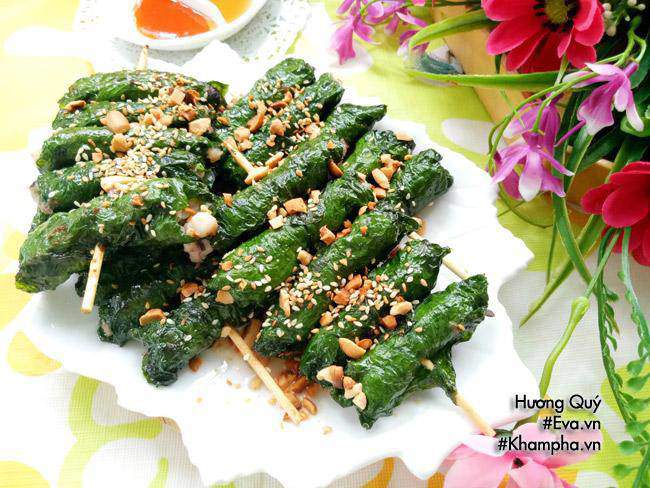 FRIED FISH SWEET SWEET SWEET
Material:
– Seabass 1 fish about 1.2kg – 1.5 kg
– 1 chicken egg
– Crispy fried dough – chili sauce – oyster sauce – honey – strawberry jam – onions, garlic – pepper – chili – salt – sugar – seasoning seeds – fish sauce – cooking oil…
Making:
Step 1. Preliminary fish processing:
– Fish after slaughter is washed with wine and salt, then cut off the fish head and body.
– Next, filter the fish bones in the middle and two sides of the fish belly but do not cut off the fish meat on both sides from the fish's tail.
– Turn the inside of the fish out, use a sharp knife to lightly cut the fish meat vertically and horizontally to form small checkered pieces of meat. Then flip the fishtail upside down as shown. Note: When slicing fish, you need to be gentle, if you are a little strong, the broken fish will not be shaped.
Step 2. Marinate the fish
– Let the fish dry and drain, then marinate the fish with a little salt, apply a layer of egg all over the fish and then roll the fish in crispy flour.
Step 3. Fry the fish
– Use a large saucepan to boil a lot of oil and fry the fish. Note: when you put the fish in, you must fix the fish head to create a beautiful shape for the fish. Oil is best to submerge the fish to avoid having to flip and break the fish.
– Fry the fish for the first time with medium heat, when the fish is cooked, take it out to cool and fry again on high heat to keep the crispiness of the fish. Then gently remove the fish to a plate.
Step 4. Make the Sauce
– Sauté onion, garlic, add ½ tablespoon of wine, 1 tablespoon of ketchup, ½ tablespoon of honey, ½ tablespoon of sugar, ½ tablespoon of grilled fish sauce, ½ tablespoon of oyster sauce, 1 teaspoon of strawberry jam, 1 bowl of filtered water, 1 tablespoon of white vinegar, a little tapioca starch to create a consistency. Bring to a boil, season to taste, then turn off the heat.
Step 5. Enjoy
Arrange the fish on a plate, decorate with vegetables to make it eye-catching, pour the sauce over the fish, add a little dill and enjoy. The fish is cooked, crispy and fragrant, the fish shape is firm, not broken, the sauce has a moderate consistency and can be eaten according to each person's taste.
BOOKING WOOD
Material
– Young heart: 0.5kg
– Five flavors: 1 pack
– Herbs, 1 piece of ginger, 1-2 lemons
– Tools to make the heart
– Skewers, charcoal for grilling
How to choose delicious young hearts
– It is best for you to go to the market in the morning to buy hearts, this time the heart will be fresh.
– In addition, you should choose the first parts of the heart, because the first part will be thicker and more brittle than the last part. Choose the round parts, the fluid inside is milky white.
– Do not choose thin pieces, inside are yellow, these segments will be very bitter and tough.
Making:
Step 1: Prepare the heart
– Wash the squash with lemon and salt. Boil the heart in boiling water with a little ginger and salt, only boil for 1-2 minutes.
– Then take it out and wash it with water, cut into pieces to eat and then wash again to dry.
Step 2: Satisfy your heart
– Marinate the heart with 1/2 tablespoon of sugar, 1 teaspoon of seasoning, a little five flavors, satay, oyster sauce just enough, 1/2 tablespoon of fish sauce, pepper, onion and garlic. Mix everything well, marinate for 30 minutes.
Step 3: Make the dipping sauce
– Fish sauce or seasoning is fine.
– Make dipping sauce with fish sauce: 2 tablespoons of sugar, 1 tablespoon of boiling water to cool, 1 tablespoon of fish sauce to cook for a slight boil, turn off the heat to cool. When eating, add minced ginger and garlic, add lemon leaves (optional) .
Step 4: Bake the heart
– Group the charcoal stove up, then skewers and skewers, put on the grill to cook. Turn occasionally to cook evenly, not burning.
Enjoy
Eaten while still hot with dipping sauce and raw vegetables.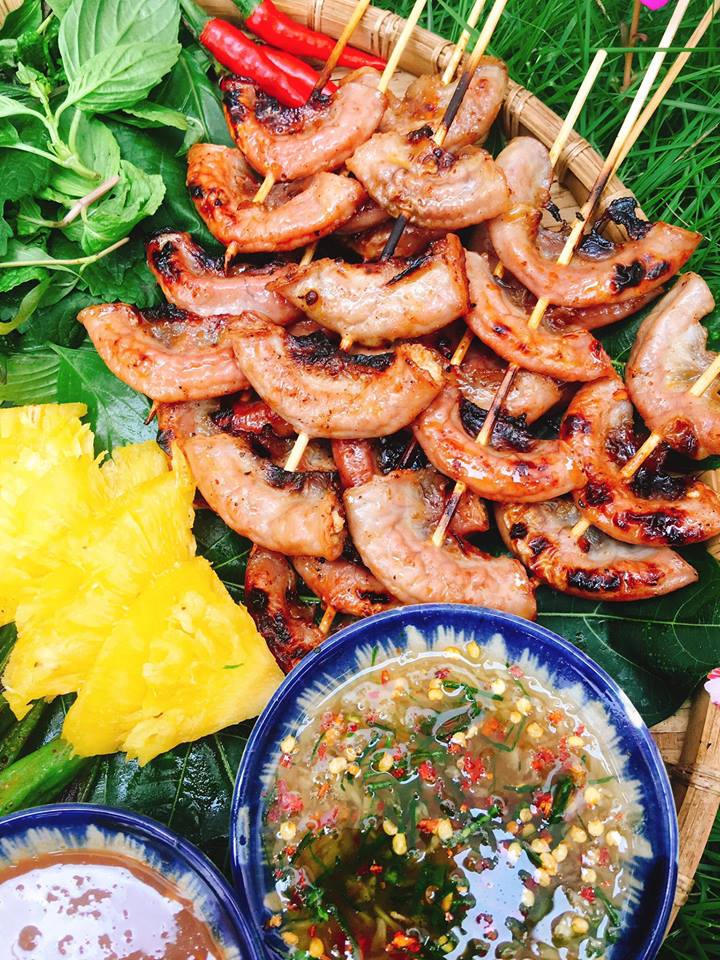 FRIED KITCHEN TAIL TAIL
Material:
– The pig's tail (pig) has some other names: Some regions call it Khau Linh, the North Central region (Thanh Hoa, Nghe An, Ha Tinh, …) ,…: Need a total length of about 30-35cm (about 300g)
– Chopped or minced soft cartilage 150-200gr (This amount of cartilage is only relative because it depends on the large or small ponytail (if the ponytail is small, it only needs about 100-150gr).
– Peanuts or green beans, peeled
– Basil (also known as gioi basil, dog basil, duck basil, pork basil, …): this is the vegetable to create the main flavor of this dish.
– laksa leaves, scallions, cilantro (coriander)
– Onions, minced garlic
– Fish sauce, seasoning (or seasoning), ground pepper
Making:
Wash the tail with vinegar or salt, when washing, you must squeeze it carefully, squeeze and squeeze to remove the oil both outside and inside.
Vegetables (basil, laksa leaves, green onions, Chinese coriander) finely chopped. Minced onion garlic. Peanuts soaked in warm water, peeled off the skin and chopped or chopped.
Bring the water to a boil, season with a little salt, and boil the tail. Mix the cartilage meat, minced peanuts, minced onions, chopped vegetables, pepper, spices (sauce, salt).
Boiled to make the tail less viscous, less smelly and not bulging unevenly when stuffed. If the tails are fresh, thoroughly washed, and seasoned, you may not need to boil them. Especially if the final processing step is not fried (fried) but baked, the dish will be more fragrant without boiling.
Tie one end of the tail, stuff all the mixed meat into the sausage, note that both stuffing and stroking the filling will make the dish look round. After stuffing, tie the other end tightly.
Boil water with a little salt for stuffed pork belly, steamed or boiled, when boiling reduce the heat to cook, note that when boiling or steaming, sometimes use a sharp toothpick to poke holes so that the sausage does not swell and burst. When tattooing does not see red water coming out, the sausage is ripe.
If you don't fry it but bake it later, you may not need to boil it, but just put it on the grill to make the dish more fragrant. Grilling can be baked in an electric oven or grilled on a charcoal stove. I share more how to fry stuffed pork belly is also a quick way to shorten the time but still delicious.
Put the pan on the stove, heat up the fat or cooking oil, add the pork belly and fry (fried) until golden brown, you can deep fry the outside as you like.
The finished dish stuffed with cartilage has a characteristic aroma of basil leaves. When eaten thinly, dipped with fish sauce, garlic, chili sauce, water, vinegar (or lemon), pepper for a sweet and sour taste.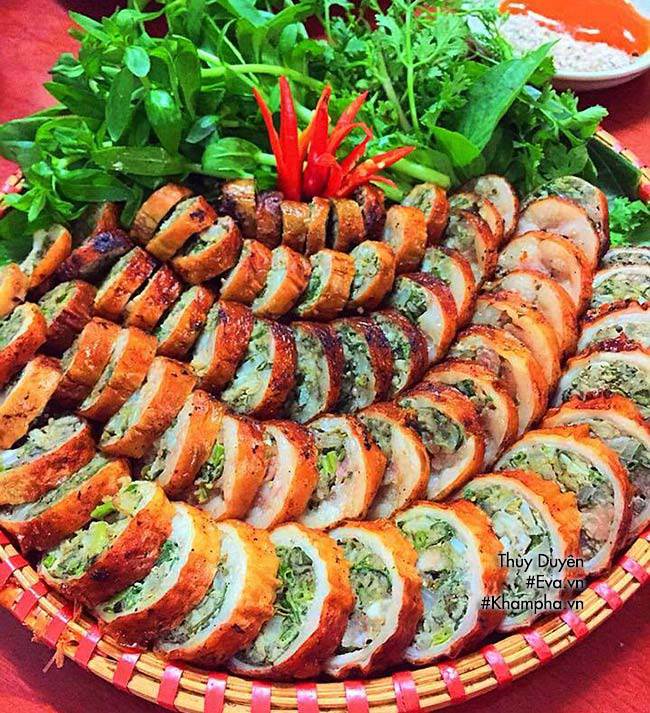 SHRIMP SHRIMP Noodle Soup
Material:
– Tofu: 10 covers
– Bacon: 300g
– Sun base: 300g (Can be replaced with boiled colon)
– Shrimp paste, sugar, vinegar, white wine, lemon, chili
– Noodle leaves: 1kg
– Herbs: marjoram, perilla, basil, coriander, chopped cucumber.
Making:
– Tofu cut into medium-thin pieces, fried crispy, evenly golden on both sides and then arranged on a plate. Or leave the fried one whole and then cut it if you like it softer.
– Bacon choose only pieces that are not too lean, not too fat, fat and lean blocks stick together, cut into pieces about 3cm long. Put the meat and cartilage in a pot filled with water, bring to a boil, skim off the scum, add some spices and vinegar. Simmer for about 10 minutes until the meat is cooked, take it out and drop it in a bowl of filtered water to prevent it from darkening. Cook cartilage for about 5 minutes. Remove the meat and cartilage to dry, cut into thin pieces and place on a plate.
– Take the shrimp paste to a bowl, season with sugar and stir until the sauce is less salty. Next, add vinegar and a little wine, beat until frothy, squeeze more lemons for fragrance. Mix a little more cooking oil to fry the beans, drop in a few slices of chili to have a delicious bowl of shrimp paste.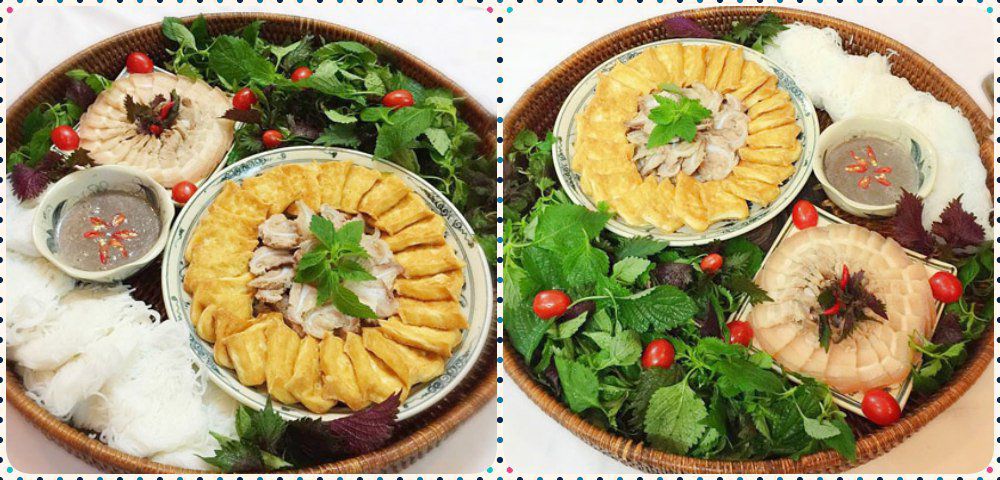 – Noodle leaves cut into small pieces to eat. The herbs are served with washed and soaked in salt water to dilute the water. At this point, you have completed the preparation of ingredients, put them on a plate or plate to enjoy with the whole family.
You are reading the article
At the weekend, make these 5 delicious dishes, the whole family will have a delicious meal that no one will refuse

at
Blogtuan.info
– Source:
Eva.vn
– Read the original article
here