Business
Haidilao and restaurant chains are threatening to "uniform" Chinese cuisine
Chinese cuisine has always gone against the easy ways of reduction. It includes a variety of dishes from many regions, each dish can be flexibly modified to bring out the typical local flavor with its own ingredients and processing methods. Even basic dishes like egg fried tomatoes or fried pork belly can have different flavors and colors depending entirely on the chef's background. More complex dishes almost never have a standard recipe and always have to rely on the chef's hard work over many years.
According to Zhong Shuru, a researcher at National Zhongshan University, China, that is probably also the reason why the Chinese are still so reluctant to accept the homogeneity of restaurant chains. According to a 2021 survey, restaurant chains account for only 15% of the Chinese food market in 2020, compared with 61% in the US and 53% in Japan.
However, this gap is shrinking. In recent years, Chinese supermarkets have been flooded with rows of mid- to high-end dine-in restaurants, led by brands such as Haidilao, Home Original Chicken and Xibei Youmiancun. The largest restaurant chain, hot pot giant Haidilao, has a total of 935 stores and is expanding internationally, despite having only a 5% share of the country's total hot pot market.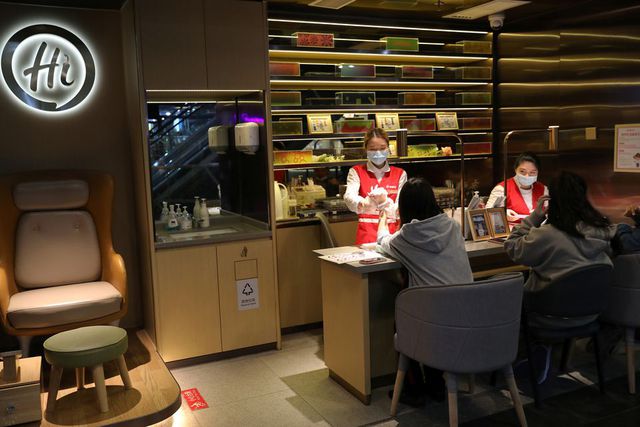 In recent years, Chinese supermarkets have been flooded with rows of mid- to high-end dine-in restaurants, led by brands such as Haidilao, Home Original Chicken and Xibei Youmiancun. Photo: Reuters
Chain restaurants are nothing new in China. For years, low-cost fast-food brands such as Shaxian Delicacies, Lanzhou Beef Noodles and Braised Chicken Rice have fiercely competed for market share. But the management model of these chains allows franchisees to operate on their own with little supervision from the top, resulting in a much lower degree of standardization and homogeneity than Western restaurant chains such as McDonalds.
The difference between the new generation of Chinese restaurant chains and their "elders", according to Zhong Shuru, lies in their use of "central kitchens". These are factories where ingredients purchased by chain headquarters are gathered, preliminarily processed, and partially or fully processed according to a standardized process before being sent to restaurants.
Take for example the Chinese restaurant chain Fish Sauerkraut. Most of the ingredients used in chains in southern China are processed through three "central kitchens". These kitchens will peck and cut fish into pieces, pack fish with spices and chop vegetables. Once the pre-cooked ingredients are delivered to restaurants, chefs will simply heat up the soup, lightly blanch the fish, and drizzle with oil. These simple operations only need to be done in 15 minutes from the time the customer places the order.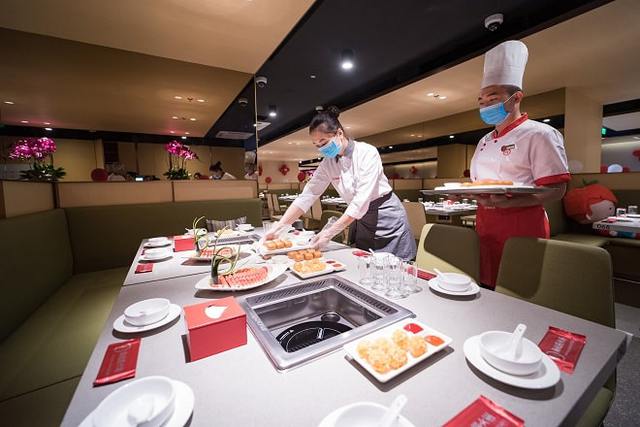 The culinary experience is no longer dependent on the chef's hand, which means that they do not need to be too skillful in their work; their previous experience no longer matters; they are easy to replace.
These central kitchens may go against the Chinese culinary tradition, which emphasizes the use of local, seasonal ingredients, but they protect the restaurant chain from being affected by chain fluctuations. local supply. According to an executive at Jiumaojiu Group, which operates a restaurant specializing in Northern Chinese dishes, the company purchases ingredients in large batches from suppliers across the country. The company also directly supervises the production of key ingredients, such as pork, to ensure quality and consistency. According to Shuuru, these restaurant chains are the product of industrialized agriculture – and their success is a sign that the traditional relationship between food and land is slowly breaking down.
The central kitchen model also does not need a chef. A good chef used to be the guarantor of the quality of the meal, and many loyal customers even choose to go to a store just because of the chef's reputation. Contrary to this, central kitchens operate on a chain model: All operations of specialized industrial machines such as vegetable cutters or bone saws are brought into the preliminary processing of ingredients. The culinary experience is no longer dependent on the chef's hand, which means that they do not need to be too skillful in their work; their previous experience no longer matters; they are easy to replace.
Regarding the menu, the central kitchens of the food chain often follow the "less is more" direction. In traditional Chinese restaurants, the menu often has a variety of dishes, and large stores often update the menu regularly to bring new options to diners.
However, researcher Zhong Shuru observed that this is no longer the case at many new restaurant chains. The shorter the menu, the simpler the quality control. The goal is efficiency, and efficiency is achieved by shortening the production time of the dish. The Chinese Sauerkraut Fish chain takes this approach to the extreme, offering only one dinner dish, made from one type of fish, with a spiciness.
The financial advantages of this model are obvious. Central kitchens allow Chinese restaurant chains to save on raw materials, labor and rental fees. The reason is that since most of the ingredients are prepared elsewhere, chain affiliates don't need too much kitchen space). Well-designed lines and standardized outputs make extending these chains as simple as a copy-paste operation.
With a few restaurant chains, the central kitchen has even become a separate business. Haidilao's subsidiary, Shuhai Supply Chain Solutions uses the chain's central kitchen model to supply ingredients to more than 2,000 branches of more than 300 restaurant brands. By the end of 2019, Shuhai's revenue had surpassed 6 billion yuan ($942 million) – more than even Haidilao's top competitors.
The pandemic situation has made restaurant chains like tigers grow more wings. Rising labor and rent costs combined with the demand for fast and alone dinners of busy urban consumers have made restaurant chains and central kitchens increasingly advantageous. At the same time, more and more households are choosing to buy pre-prepared foods, including ingredients that have been carefully prepared, just put in a pan and heat up after coming home. Even the family dinner table becomes part of the chain system.
But are the restaurant chains really signaling the end of Chinese food? A self-proclaimed optimist, Zhuru believes that this cannot happen overnight. Chain stores are still a small market, mainly in big cities and aimed at young people who appreciate convenience. Competition in this saturated market is also fierce: Many Chinese chain stores invest large amounts of resources in social media marketing in the hope of becoming a destination for young influencers. This also lessens the chain's appeal to families who prefer fine dining.
It is also worth mentioning that chain stores that rely on central kitchens focus on certain types of cuisine such as hot pot. The pungent and numbing taste of Mala chili in the hot pot also makes the processing not require too elaborate talent, and also helps to partially cover the shortcomings in the central kitchen model. The demand for spicy food has been growing rapidly over the years, but there are still many dinner dishes for those who are afraid of spicy foods and prefer independent restaurants with more diverse flavors.
China is not immune to the trend of McDonaldization in society. Food chains always promise investors a high level of management and efficiency while achieving sustainable results. These chains will continue to grow in the coming years. But Zhuru thinks the possibility of this industry changing the whole Chinese cuisine is not high. Perhaps, she also thinks that many independent stores today will have a longer life than a series of restaurant chains that are competing for each other. When a business grows entirely on a mechanical process, she observes, it is easy to be left behind when another business owns better machines.
https://cafef.vn/haidilao-va-cac-chuoi-nha-hang-dang-de-doa-dong-phuc-hoa-am-thuc-trung-quoc-20220420165041003.chn
According to Economic Rhythm/Sixth Tone
You are reading the article
Haidilao and restaurant chains are threatening to "uniform" Chinese cuisine

at
Blogtuan.info
– Source:
cafebiz.vn
– Read the original article
here