Giải trí
4 tips from doctors for a safe and healthy travel season-Travel
For the trip to have good health, everyone needs to equip themselves with practical information such as: where to arrive, where to stay, to eat, etc. Here is the advice of MSc Nguyen Van Tien – Center Nutrition Communication Education – National Institute of Nutrition to help you have a safe and healthy trip.
Season travel has begun, depending on each person's preferences, choose different tourist destinations such as: going to the forest or going to the sea or going to the river garden… Everyone needs to prepare carefully to make the trip happy, healthy and safe. for the health of yourself and your companions.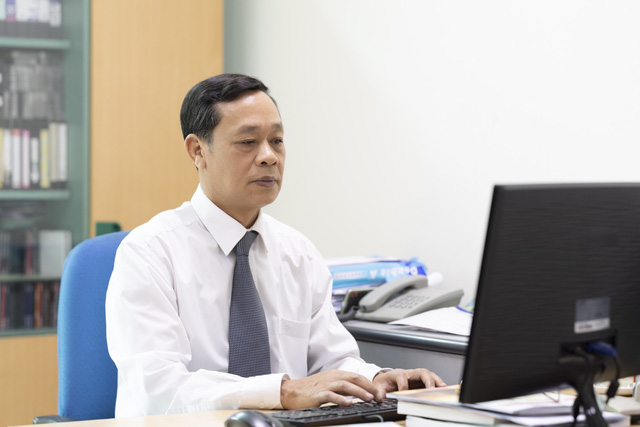 MSc.BS Nguyen Van Tien – National Institute of Nutrition
1. Eat well but be safe
Traveling is going to new places, enjoying new foods, new foods and getting acquainted with the culture of a new place. Each region, each place has different tastes, ways of preparing dishes, different spices of dishes. For example, the North eats salty, the South eats sweet, and the Central region salty-spicy. So, enjoy the food and feel it slowly so that your body gets used to it step by step.
New foods, new dishes are sometimes not suitable for people with poor digestion, picky eaters, people with underlying medical conditions, etc. Strange foods can cause you to have bloating, digestive disorders, diarrhea. Before eating, you should observe and feel the food to see if it is suitable for you with your senses and taste.
When traveling, eating cooked and drinking boiling water is always the first choice. Should stay away from dishes that are introduced as delicious, nutritious or attractive such as salads, raw dishes are unsafe foods, it has a potential risk of infection containing high pathogens.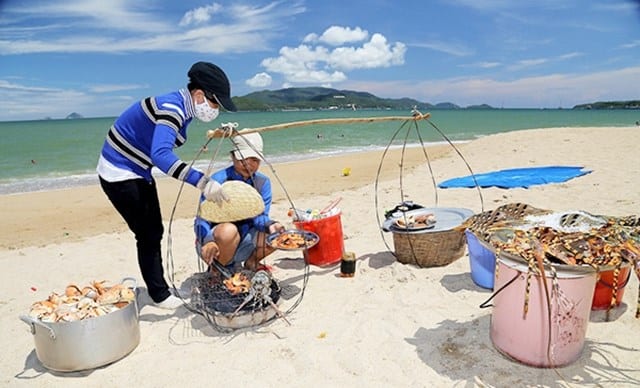 Many seafood dishes are processed right on the beach, which can contain many unsafe risks
When going to the beach, many people like to eat seafood, even eating right on the beach. The way seafood is processed right on the coast can be potentially unsafe.
On the other hand, seafood dishes with high nutritional value such as shrimps, crabs, crabs, squid, oysters, pharynx, etc., can easily cause allergies to sensitive people and should be limited with gout patients.
Should not eat and drink arbitrarily (on the beach, along the road) but should choose hygienic restaurants, have a certificate of food safety, have clean water, have sterilization equipment, fresh food, no food. There are flies and mosquitoes, dust-proof tools, and a clean hygienic environment. When eating fruits, pay attention to wash and peel them to avoid contamination with pesticides and preservatives.
Care should be taken when choosing drinking water, even if the source of tap water has been disinfected, it is definitely still necessary to drink boiled water. It is always best to prepare pre-packed bottles of water before departure which can be bottled mineral water, boiled water, tea, tap water… this ensures hygiene and safety, and provides enough water for the body. During the journey, you can fight fatigue.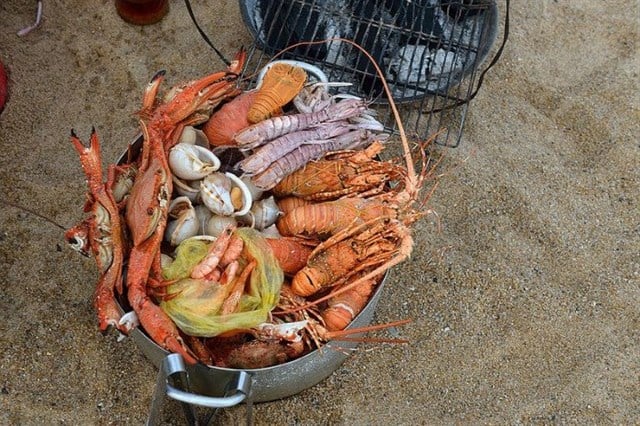 Do not eat casually (on the beach, along the road), should choose hygienic restaurants.
Attention, when traveling in the summer must be careful using ice. Do not eat ice cream or drink cold drinks along the way because the more you drink these, the more thirsty you will feel, even harmful to the stomach, moreover, hygiene is not guaranteed.
Traveling requires a reasonable diet to be healthy. During long trips, people are easily tired, car sick… Therefore, it is necessary to choose the most appropriate foods during the journey to reduce hangovers and discomfort.
Do not eat too much, eat too full because there is no exercise condition, so food is digested slowly, easily tired. Easy-to-digest foods such as fruits (apples, tangerines, oranges ..) bread, cookies are suitable foods for us to bring when going out.
2. Personal belongings when traveling
Clothes
When traveling, you need to learn the geography, climate, and weather of each region to bring clothes and personal items accordingly. You should bring light clothes, easy to wear and carry just enough, should also be based on the time of the trip and the weather of the destination to bring reasonable clothes.
With days of moving a lot, you should wear loose, light and cool clothes. When going to the beach, loose clothes, cotton fabric is appropriate, if you go to mountainous areas, you should wear long clothes to avoid mosquitoes, squeezing and insects.
Travel hats, thin raincoats are also essential to bring. Wide-brimmed hats are not only fashionable but also help you avoid the sun very effectively.
In addition, sunscreen is an essential item, especially for women, it will help reduce the harmful effects of ultraviolet rays.
You should bring light, easy-to-wear and just-fit clothes
Soft sole shoes
When traveling, you have to move often and walk a lot. Therefore, wearing hard shoes or high heels will be a big mistake. Hard shoes and high heels will make your feet blister.
Should prepare canvas shoes, soft sports shoes, flat soles for easy walking and climbing. If you go to the beach, you should prepare an extra pair of light sandals for walking on the beach like flip flops to create the most comfortable feeling for your feet.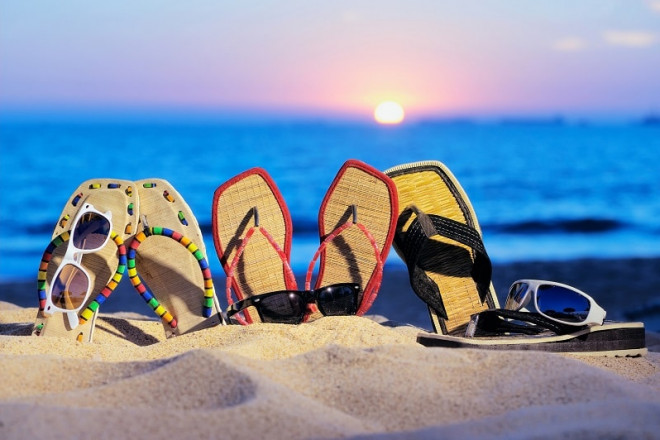 Should prepare canvas shoes, soft sports shoes, flat soles for easy walking when traveling
Toiletries in the bathroom
Most motels and hotels are fully equipped with toothbrushes, toothpaste and towels. To ensure hygiene and comfort, prepare your own personal belongings. bathroom (face towel, bath towel, razor, deodorant roller ..).
In addition, when traveling, you should also bring wet towels to facilitate wiping your hands when traveling in the car or when eating.
Gel hand sanitizer, normally we do not pay much attention, but to ensure the health of yourself and your loved ones during travel, you need to bring it. When traveling in the car or going to places where water is not available to wash, antibacterial hand sanitizer gel is an extremely handy solution that ensures sterilization, reduces the possibility of food poisoning, and deodorizes hands.
3. Medicine bag, medical equipment when traveling
This is a very necessary thing during the trip, common medicines to prevent you from getting a cold, digestive disorder or unexpected accident in the middle of the night can not be bought such as cold medicine, bandages, eye drops. , cotton swabs, hydrogen peroxide, insect bites medicine, wind oil, stomach pain medicine, motion sickness medicine, etc.
For people with chronic non-communicable diseases such as: hypertension, diabetes, gout, it is important to pay attention to prepare adequate medication and remember to take the correct dose as indicated, it is best to bring a prescription and how to take it. use.
When traveling with a family with young children, it is necessary to pay attention to prepare some common medicines for children such as antipyretic, a few packs of Oresol, thermocouple …
4. Find out in advance about the place you are going to for the first time when traveling
In the age of information technology, all information can be found through the internet. Please take a few minutes to read the information about the place you are going to, learn about the cultural features, beautiful tourist attractions, delicious food, transportation, …
You are reading the article
4 tips from doctors for a safe and healthy travel season-Travel

at
Blogtuan.info
– Source:
24h.com.vn
– Read the original article
here