When it comes to the cost of making music products in the current Vpop market, it's not too difficult to hear the word "billions". In fact, there have been many MVs that surprised the audience because of the huge investment from artists. However, not every product that spends heavily will determine success.
The proof is that many MVs are only made as minimally as possible with one frame but quickly create great effects. The following music products are the "embodiment" for not having to invest too much money, the filming scene but making the audience admire and achieve many great achievements.
Den Vau – creative "king" with MV style…. 1 frame
If anyone is a fan of Den Vau, it is certainly no stranger to the fact that the male rapper often has a way of making MV "unlike anyone else" but quickly created a fever only after it was released. Not to mention Black Vau when launching a product called It's Very Cloudy Today!.
Black – It's very cloudy today!
In the MV, there is only one scene made in the form of a one-shot shot of Black Vau sitting and rapping on a helicopter. Many people think that the idea was born after 6 months with the song title It's Very Cloudy Today! so Den Vau decided to play big and rent a plane and go up to the blue sky.
Black Vau also shared that the first time filming and rapping in the sky of Ha Long City was also a big challenge for him and the MV-making crew. The total number of flights is up to 6 flights and the scene in the MV that viewers watch is also the last one-shot filming, the previous scenes are all omitted.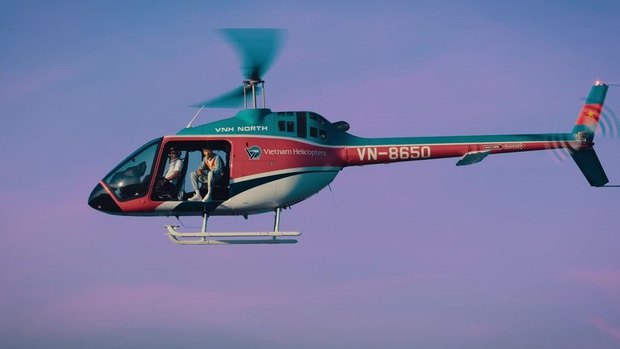 Black Vau's MV has only one scene where the guy is sitting on a helicopter and… rapping.
After the MV aired, It's Very Cloudy Today! of Den Vau has quickly gone viral on social networks. Only after less than 2 days of release, the MV has surpassed many "candidates" vying for #1 to earn more than 4 million views and top 2 trending YouTube. Although it has dropped in the top trending rankings, it is still considered an attractive product in recent times.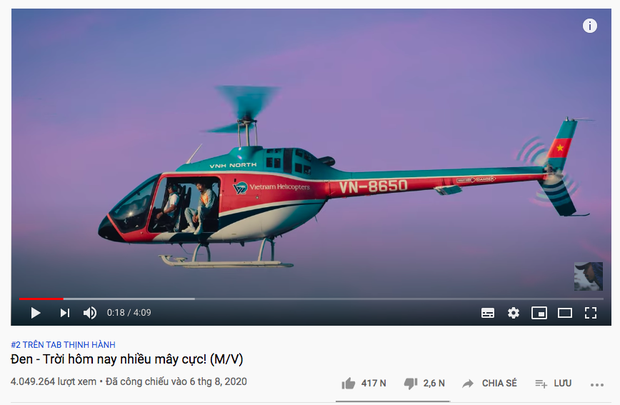 Black Vau's MV holds the #2 trending position on YouTube after nearly 2 days of airing.
Prior to It's Very Cloudy Today!, Black Vau also has two other "saving" products for himself, which are Two Million Years and I Don't Need Anything More Than You. With Two Million Years, this is the product that caused a "storm" in the Vietnamese music industry about a year ago. By appearing only 1 frame from start to finish, the image of Black Vau immersed in the water, revealing the right head to rap, created a photo-montage fever when it was just released not long ago.
No one would have thought that Black Vau would recklessly make a MV with such a unique idea. That's also why Two Million Years His music was also ranked among the cheapest MVs in Vpop when it didn't have to spend any elaborate scenes or choreography. This simplicity and no color was like a breath of fresh air among the billion-dollar MV forest of the Vpop market at that time, so the Two Million Years of Den Vau was well received without causing too much confusion.
Black – two million years ft. Margin (m/v)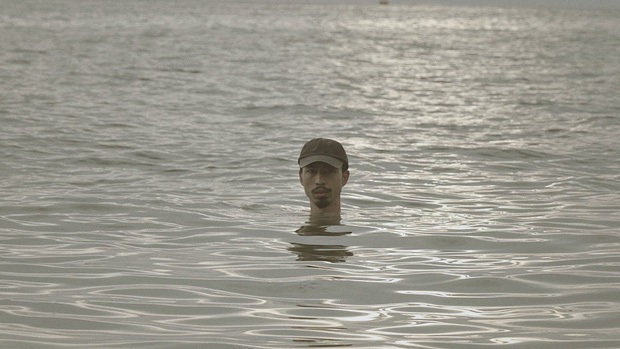 Throughout the MV Hai Trieu Nam is the image of Black Vau soaking in the sea and rapping the whole song.
The unique idea of ​​having 1-0-2 helped Black Vau usurp Hoang Thuy Linh's top 1 trending position with the MV. Let Me Speak To You. Up to this point, after more than a year of airing, the MV has now earned me more than 52 million views on YouTube.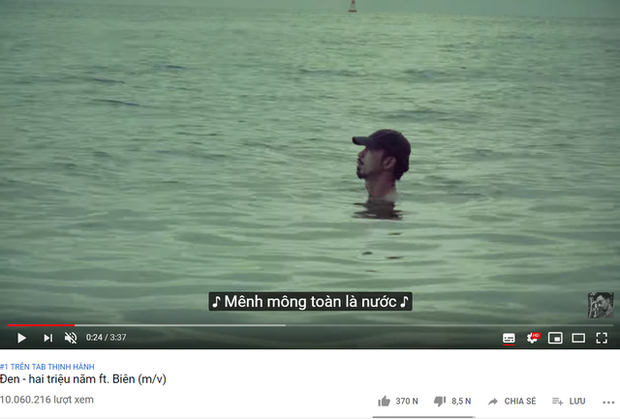 Black Vau's MV "Hai Million Years" quickly rose to the top 1 trending YouTube.
As for I Don't Need Anything More Than You, this is also considered a product in the music store of Den Vau with an equally minimalistic background and concept. Making the MV with the context encapsulated in a small room, Den Vau, Thanh Dong and Thai Vu ignored life and things happening around to sit on the sofa humming a rap song.
The frame only had a "fluctuation" when Den Vau, Thanh Dong, and Thai Vu all stood up, put their hands in their pockets full of pride, showing pride and affirming: Nothing in this world matters. equal to me.
I Don't Need Anything More Than You – Black ft. Vu., Thanh Dong
With only 1 frame, but Den Vau, Thai Vu, and Thanh Dong also "beat" the audience.
Immediately after its release, this MV quickly attracted great attention from fans, even becoming a new "phenomenon" of Vpop in November 2018. Just after 38 hours of release, the MV has reached more than 2.3 million views, climbing straight to #1 trending YouTube. Until the present time, I Don't Need Anything More Than You also excellently brought me more than 55 million views.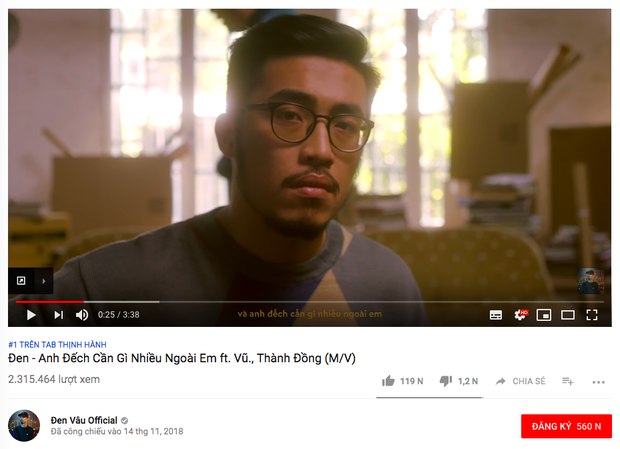 The MV once brought Den Vau the top 1 trending after more than a day of airing.
Hoai Lam is rustic but "hits the mind" with the acoustic version
No hype, no hype, but the song Colorless Bloom Hoai Lam's song is not difficult to hear in public places from restaurants and cafes to becoming a hit song covered by many artists. Achievement figures such as more than 55 million views after only 1 month of broadcasting, holding #1 in many charts and #28 in world positions (according to YouTube statistics), are truly undeniable. received the charm of Hoai Lam even though he had been missing for a long time in the Vietnamese music industry.
Flowers Blooming Without Color – Hoai Lam (Acoustic Version)
True to Hoai Lam's simplicity, he doesn't need to be fussy about making a billion-dollar MV or emotional content with heavy drama, he just needs to stand in one place, floating, humming gentle songs and expressing emotions in the voice. The guitar is also enough to touch the hearts of the audience. Not that until now, this MV by Hoai Lam has received more than 75 million views and is expected by the audience to soon reach the milestone of 100 million views. If this achievement is achieved, this will also be the first product that Hoai Lam brings to his career the number of 100 million views.
Hoai Lam made a simple MV with a black and white frame to express emotions.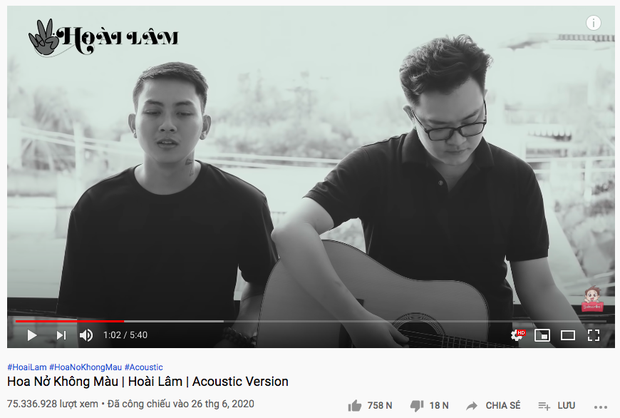 Hoai Lam's MV reached more than 75 million views after about 2 months of airing.
Not Only Me creating a big push for My Tam to affirm its position
Exactly 3 years ago, female singer My Tam marked her return after a long absence with the MV. Not Only Me. This is also the product she made in the form of one-shot shooting with black and white frames. Although not as sophisticated as other products, but Not Only Me quickly "captivated" the fans when delivering a gentle ballad melody and faithfully portraying the emotions of "brown-haired painter".
MV It's Not Only You – My Tam
During nearly 4 minutes, the audience could not only listen to My Tam's voice but also enjoy all of her emotions in each moment. It can be said that it is rare for fans to see My Tam through such a realistic and close frame if not in the MV. Not Only Me. After 3 years of debut, the MV has now garnered more than 95 million views and is considered a major milestone in the female singer's career. Besides, also from Not Only Me, My Tam has a series of other products in the album Heart 9 and created a great fever, helping her assert her position as "big sister" in the Vietnamese music industry.
My Tam's emotions are faithfully portrayed in every moment.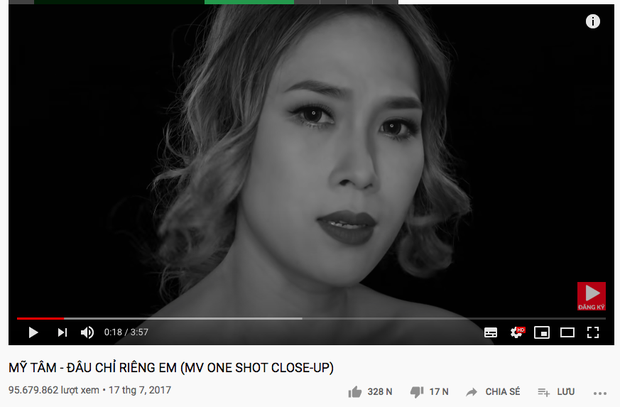 My Tam's MV "Dai Just Em" reached more than 95 million views after 3 years of release.
Soobin Hoang Son and Hoang Touliver caused fever with MV made with only… 100,000 VND
MV Some Pick Up (Cover) by Soobin Hoang Son and Hoang Touliver can be said to be at the forefront of the movement to make a 1-frame MV with black and white colors. Accordingly, in January 2017, the two SpaceSpeaker brothers released a cover of the song A Few Pick Ups is done simply when attaching a camera on a car and running around HCMC. At the time of its debut, this product created a big "storm" when re-enacting an old music product in a modern style.
MV A Few Times Pick Up – Soobin Hoang Son
More specifically, sharing about the process of making this MV, producer Touliver revealed that this MV only cost… 100,000 VND for petrol. However, he and Soobin Hoang Son could not have imagined that the product they made was so simple that it would collect 51 million views after more than 3 years of launch. This fever even made Touliver claim that he would only be hot once and that if he did it again, it would certainly not be as successful as the first time.
Soobin Hoang Son combined with Touliver to make a simple MV with 1 frame on the car.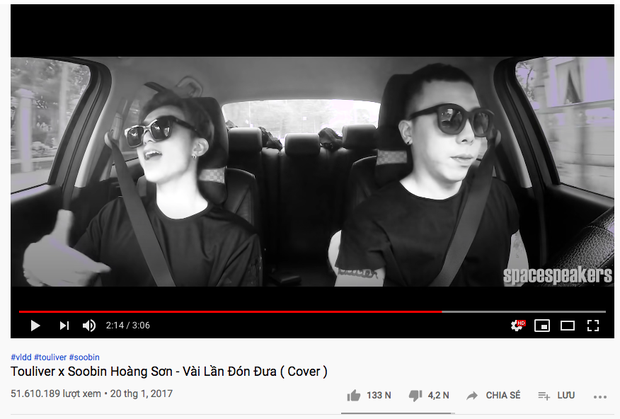 And reached more than 51 million views after 3 years of broadcasting.
https://kenh14.vn/loat-mv-tiet-kiem-nhung-lai-thanh-hit-lon-den-vau-menh-danh-ong-hoang-sang-tao-hoai-lam-tao-cu- hich-su-nghiep-200808111492462.chn
You are reading the article
A series of MVs that save money but become a big hit

at
Blogtuan.info
– Source:
Kenh14.Vn
– Read the original article
here