Giải trí
Delicious Korean style egg fried tofu dish
From tofu and eggs, many delicious dishes can be made, especially Korean-style delicious fried egg tofu, which is very suitable for busy housewives to add to the menu and change the taste of the whole family.
Delicious fried egg tofu
How to make delicious fried egg tofu for the family to enjoy is not difficult to do.
Material
– 2 large bean bags (tofu).
– Chicken eggs 3-4 eggs
– 1/2 bulb onion, 2 to 3 scallions, 30g chili powder. 2 cloves of garlic.
– Salt, pepper, cooking oil, magi soy sauce, tomato soy sauce, sesame oil, sugar.
Ingredients for egg fried tofu. Illustration.
Making
Tofu is washed, drained, cut into small pieces and sprinkled with a few grains of salt for each piece, marinated for 5-10 minutes to infuse.
Peeled onion, diced. 2 cloves of garlic, peeled and minced. Chop the onion roots.
How to make sauce
Pour 1/2 cup of filtered water into a bowl, add 30g paprika, onion, 30ml maggi soy sauce, 30ml ketchup, garlic, one teaspoon sugar, 1/2 teaspoon pepper.
Use paper towels to dry each piece of beans, then put them in a pan of hot oil and fry them over medium heat.
Pour the marinade into a saucepan and bring to a boil, then reduce the heat to low, simmer for another 10-15 minutes.
Crack the whole egg directly into the pan, continue to cook until cooked, fragrant, sprinkle finely chopped scallions, and turn off the heat.
Arrange fried egg tofu on a large plate, it looks nice, put a few stalks of coriander on top for decoration.
Fried egg tofu is very easy to eat, attractive color, nutritious, delicious taste, everyone will like it right away.
Delicious steamed egg tofu
Material
– 250 grams of tofu
– 4 eggs
– 250 ml of chicken bone broth
– 1 teaspoon salt, seasoning, pepper
– Finely chopped scallions
– 10 grams of ripe sesame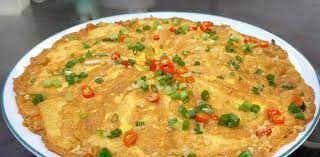 The finished product is delicious and attractive fried egg tofu. Illustration.
Making
Young tofu is put in a sieve and placed on top of the bowl. Use a ladle or spoon to crush the beans into a fine powder that falls into the bowl below.
Crack the eggs into a bowl, beat well and add the eggs to the sifted chickpea mixture above.
Pour the chicken broth into the egg and bean mixture and mix well, season with seasoning, salt, scallions, pepper, and sesame to taste.
Divide the ingredients into small bowls, but pour only about 1/2 – 2/3 of the bowl to allow room for the eggs to hatch and not to overflow.
Put the small bowls of eggs in the microwave on high heat for about 7-8 minutes. Ripe eggs will hatch with a very beautiful color.
If you don't have a microwave, steam it in a normal water bath.
The hot tofu steamed egg dish is greasy, delicious, soft and strangely delicious, so it is very suitable for both adults and children.
Steamed egg tofu is a delicious, nutritious and time-saving dish for busy housewives.
Stir-fried tofu with eggs – delicious and easy to make
Material
– 1 piece of tofu
– 4 eggs
– 1 handful of garlic
– 1/2 carrot
– 60ml soy sauce, 15ml cooking wine, 30ml oyster sauce, salt, cooking oil.
Making
Put the tofu in a bowl, crush and then crack the eggs, mix well.
Carrots and garlic cloves are cleaned, chopped, then poured into a bowl of tofu, mixed well.
Heat a little cooking oil in a pan, pour the mixed tofu eggs and fry until golden, then add soy sauce, oyster sauce, wine, salt to the island to infuse the spices and then turn off the heat.
Fried tofu with egg – garlic is easy to make, easy to eat, very delicious, mildly spicy, fragrant, very delicious.
The dish has garlic, so it also has a healing effect, so it is very good to use in daily meals.
*Information with reference to amthuchuongsen and Monngon.
You are reading the article
Delicious Korean style egg fried tofu dish

at
Blogtuan.info
– Source:
24h.com.vn
– Read the original article
here