On May 12, a source from the People's Procuracy of Dak Lak province said that the unit had issued an indictment against Le Ngoc Phuong (59 years old, residing in Ea Dar commune, Ea Kar district) for "murder" and Nguyen Van Chau. (70 years old, resident of Ea Kar district) for the crime of "Containing prostitution".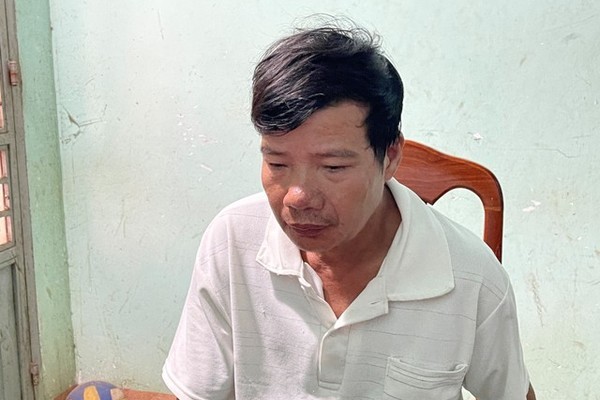 Defendant Phuong was arrested by the police.
According to the indictment, Mr. Chau opened VQ cafe (in village 1A, Cu Ni commune, Ea Kar district) and used two rooms for female sex workers.
On February 10, 2021, in the upstairs room of the VQ restaurant, Ms. NTKO (50 years old, residing in Krong Pak district) sold sex to Le Ngoc Phuong for 200,000 VND.
After buying sex without using condoms, Mr. Phuong saw many strange symptoms in his health, suspected that he was infected with HIV, so he went to the Regional General Hospital 333 (Ea Kar district). Mr. Phuong intends to commit suicide if the test results are positive for HIV.
On May 9, 2021, Mr. Phuong went to VQ and called Ms. O. to ask for clarification. When entering the room, Mr. Phuong said he did not come to buy sex but asked "Do you have HIV?".
At this time, Mrs. O was angry and said: "Yes, I have HIV, if you are stupid, let you die!". After struggling back and forth, Mr. Phuong used a knife to stab Ms. O. 3 times in a row, causing her to die on the spot.
Expanding the investigation to determine that, in the period from January to May 2021, Mr. Chau used 2 rooms for sex workers 6 times, earning an illegal profit of about 220,000 VND/time.
Talking to PV Infonet about this case, lawyer Diep Nang Binh said: "Based on Article 123 of the Penal Code that prescribes the crime of "murder", someone who kills someone falls under one of the following circumstances: thugs, for despicable motives… shall be sentenced to between 12 and 20 years of imprisonment, life imprisonment or death. Therefore, if just listening to Mrs. O sarcastically speaking, but the accused rushed in and stabbed him to death, he could be punished with the above punishment.
If Ms. O knows she is infected with HIV without warning, leading to resentment, she can only be handled according to the provisions of Clause 2 of this Article, which means she will only be sentenced to between 7 and 15 years of imprisonment. In addition, it is possible to consider the fact that the victim is also at fault.
The lawyer further analyzed: "Prostitution is one of the factors that accelerate HIV infection, affecting security and order, and this evil also increases the possibility of disease transmission in the community. Although the authorities have taken drastic action, in reality, this activity is still hidden with many complications, the objects of prostitution always find ways to work again with the methods and tricks of the day. The more diversified, the disguised use of services to avoid detection by the authorities in order to gain illicit profits.
Most of the sex workers are women who do not have a job and a stable place to live, making it difficult to manage. Meanwhile, the propaganda and dissemination of the law on prostitution prevention and control and the harms caused by prostitution in a number of agencies, units and localities have not been paid due attention, making the crime worse. Prostitution still happens.
Penalties for persons with acts of harboring prostitution are specified in Article 327 of the Penal Code. Accordingly, those who harbor prostitution shall be sentenced to between 1 and 5 years in prison. Committing the crime in one of the following circumstances, the offenders shall be sentenced to between five and 10 years of imprisonment: In an organized manner; Forced prostitution; Committing the crime twice or more; Accommodating 4 or more prostitutes".
Particularly for Ms. O, assuming she knows she is infected with HIV but still intentionally does not apply preventive measures when having sex or fails to notify the sex buyer, there are signs of "Criminal transmission of HIV". HIV to others", is defined in Article 148 of the Penal Code. According to the law, a person who knows he is infected with HIV and intentionally transmits HIV to others, unless the victim already knows about his/her HIV status. Those who have HIV and voluntarily have sex shall be sentenced to between 1 and 3 years of imprisonment.
In case the crime is committed against 2 or more people or committed against a person under 18 years of age, the offenders shall be sentenced to between 3-7 years of imprisonment. However, now that Ms. O is dead, this issue will not be considered, lawyer Binh stated.
You are reading the article
If infected, what to do?

at
Blogtuan.info
– Source:
Soha.vn
– Read the original article
here