Ciné
Life Style
Huyen Lizzie revealed that the kiss scenes with Dinh Tu in the movie were all real
Recently, Dinh Tu became a guest on 's YouTube channel Huyen Lizzie. According to Dinh Tu's share, he has been in the profession for 8 years, participating in many hit TV series such as: Quietly in the abyss, Hate it, love it, Sunflower against the sun, Love the sunny day…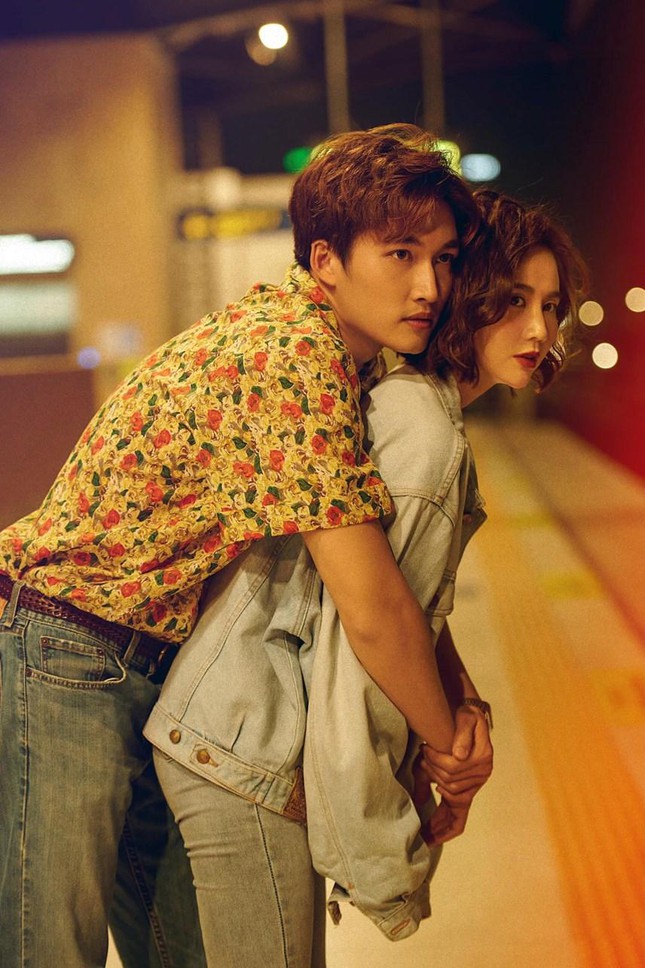 Dinh Tu and Huyen Lizzie are suspected of "fake love movies".
Dinh Tu affirmed that all the roles he received included kissing scenes with female actors. The actor born in 1992 also frankly said that he has never had a kiss with his co-star that made him feel out of place. According to Dinh Tu, the kiss in the movie is just work, moreover, he always focuses on "calculating" to kiss beautifully, so it's just gentle, emotional lip touches. During that time, Dinh Tu had the opportunity to pair with many beautiful female co-stars such as Phanh Lee, Quynh Kool, Phuong Oanh…
When asked by Phan Minh Huyen about his best co-star, Dinh Tu affirmed that each co-star has a different color and that he all accepts roles with a gentle love story, not too deep. "For Quynh Kool, it is a childish, funny love. With Phuong Oanh, it also comes from the love of a young man who is young, immature and does not have many events. So is Brake Lee…" – Dinh Tu told.
Sharing about the role of Hoang Duy in the movie "Love the sunny day back"Dinh Tu revealed, between Van Trang and Hoang Duy, there was an incident involving a third person.
Dinh Tu revealed, in the following episodes, Van Trang and Hoang Duy will "crack" each other. However, after the incident, Van Trang realized how her feelings were, even her feelings for Hoang Duy were even greater.
Besides, Dinh Tu said, the project "Love the sunny day back" Filming is in progress and will last for about 2 more months.
As for her side, Huyen Lizzie confessed, if she was Van Trang in real life, she wouldn't be as rigid as that character. "Even though Van Trang has a crush on Duy, she is always rational and clear. Minh Huyen himself cannot be so clear-cut because he lives for his heart more "- Huyen Lizzie said.
Huyen Lizzie admits that she and Dinh Tu are quite a couple on screen. She also confirmed that the kisses of Dinh Tu and Huyen Lizzie in the movie were real kisses. In addition, Huyen Lizzie first talked about an out-of-script kiss with Dinh Tu in the unaired episode of "Thuong on a sunny day" part 2.
According to Huyen Lizzie, it was a singing scene. Before filming, the crew agreed that they would not kiss. However, while performing, Dinh Tu suddenly turned to steal Minh Huyen's kiss. This unexpected situation made the actress jump. As for Dinh Tu, he said that it was a detail that he himself did not prepare in advance, but just suddenly popped up during the acting process. The actor admitted that it was that incident that helped the camera capture Van Trang's most natural and genuine expression.
Talking about the emotional development of Hoang Duy and Van Trang in the film, Huyen Lizzie revealed: "After Hoang Duy and Van Trang began to love each other, the development of the film turned to the contradictions of the Khanh-Duc family. . Therefore, Van Trang mainly focuses on solving her sister's family story and lacks romantic scenes with Hoang Duy. However, later this couple promises many unexpected and sweet details. Currently, the writer is writing more emotional scenes of the couple Hoang Duy – Van Trang."
Huyen Lizzie told herself that in the future, she would reduce interactions with Dinh Tu on social networks to avoid unnecessary misunderstandings. "Many times Huyen thinks that he should reduce interaction with Tu because he is afraid that the audience will misunderstand. Sometimes sisters are too close to each other, so they are easily misunderstood," emphasized Huyen Lizzie.
You are reading the article
Huyen Lizzie revealed that the kiss scenes with Dinh Tu in the movie were all real

at
Blogtuan.info
– Source:
Kenh14.Vn
– Read the original article
here