What is hand, foot and mouth disease in children?
Hand, foot and mouth disease is a disease caused by a gastrointestinal virus, transmitted directly through the digestive tract when eating together or coming into contact with fluids of children with this disease. In addition, the disease is also indirectly spread through contaminated objects or hands.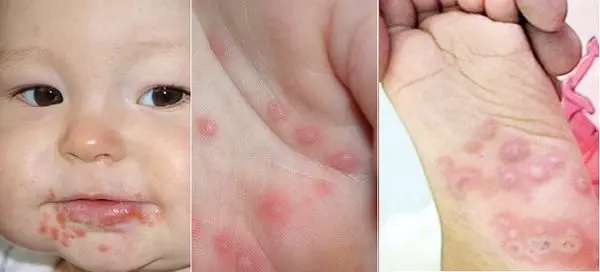 Image of a child with hand, foot and mouth disease. (Illustration)
The disease can usually occur year-round but is most common during the changing seasons, often in children under 5 years of age.
When it first appears, the child will often have a sore throat, low-grade fever, sore mouth, drooling and loss of appetite. After about 1-2 days of fever, the child begins to have a sore mouth, a rash on the palms, feet and oral cavity …
Signs of hand, foot and mouth in children
Children with hand, foot and mouth disease often have very recognizable signs such as:
– Low fever or high fever: In severe cases, high fever cannot be lowered.
– Damaged skin: Children with blisters, redness in special places such as around the mouth, throat, palms or feet, knees, buttocks …
– Some children with mouth pain often have vomiting, loss of appetite, diarrhea, increased salivation, fussiness, fatigue…
The period of initial infection until the appearance of signs and symptoms is about 3-6 days. Fever is often the first HFMD sign in children, followed by a sore throat, occasional malaise, and refusal to eat. 1 or 2 days after the fever, painful red spots may appear in the mouth and throat.
Some signs children have hand foot mouth. (Illustration)
The rash appears on the hands, feet, and buttocks for about 1 or 2 days. Sores in the mouth and throat can also be a sign of a herpangina virus infection. If your baby is infected with this virus, he will often have a sudden high fever and convulsions.
Sores on the hands, feet, or other body parts are rare. Parents need to distinguish between these two diseases in order to have the right treatment.
When detecting signs of hand, foot, and mouth disease in a child, the family should take the baby to a medical facility, especially at pediatric infectious diseases specialists, for more advice on how to care for and monitor children. , detect early symptoms of the disease, avoid unfortunate consequences.
How to treat hand, foot and mouth disease at home for children
Hand, foot and mouth disease in children is usually caused by a virus, so there is no specific treatment. Accordingly, the goal of home treatment of hand, foot and mouth disease for children is still mainly symptomatic treatment and active treatment measures to maintain life function in severe cases. Especially when there is respiratory failure, circulatory failure.
– Actively cool down for children: If the child has a high fever, which is about 38.5 degrees Celsius or higher, the child should immediately take the fever-reducing acetaminophen (paracetamol).
– Perform water and electrolyte rehydration: An electrolyte solution (hydrite or oresol) can be given to the child.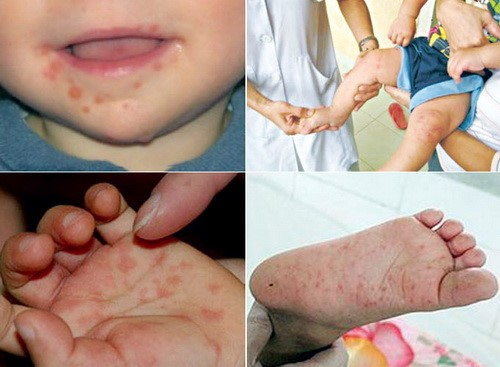 Mothers should take their children to the doctor to have timely treatment for children with hand, foot and mouth disease. (Illustration)
– Supplement with zinc, vitamin C: For children with fever and mouth ulcers.
– Clean children's mouth: For children with mouth ulcers, sore throats, it is necessary to wipe the mouth before and after eating with glycerin borate solution. Oral gels are used to disinfect, relieve pain, solve anorexia in children, and help children eat and drink easier.
Use of anticonvulsants: When meningoencephalitis symptoms develop, anticonvulsant drugs should be taken and immediate hospitalisation is required for intensive treatment.
Besides, if you realize that your child is at high risk for hand-foot-and-mouth disease such as lethargy, vomiting, high fever, etc., take the child to a medical facility promptly.
Children with hand foot mouth bath leaves what to quickly recover?
According to medical experts, you should not abstain from bathing your baby when he has hand, foot and mouth disease, but on the contrary should bathe and keep his skin clean regularly because there are a lot of bacteria on the baby's skin every day. Pay attention to wipe very gently so as not to burst the bubbles causing infection. Here are some types of leaves that can be bathed when your baby has hand, foot and mouth disease:
– Green tea leaves: In the composition of green tea leaves contains antibacterial that have the ability to fight infections. Therefore, the mother can bathe with green tea leaves to prevent the risk of infection for the child.
– Mint leaf: The leaves are bactericidal, heat-clearing, detoxifying, anti-inflammatory. Mothers can use mint leaves to boil water to drink or bathe the child so that the symptoms disappear quickly, the baby's body is also more comfortable.
– purslane leaves: According to Oriental medicine, purslane contains antibacterial and anti-inflammatory active ingredients that help the sores in the blisters to heal quickly and prevent bacterial infection of the body. In addition, purslane leaves are also cool, rich in vitamin C to help improve skin symptoms and strengthen resistance.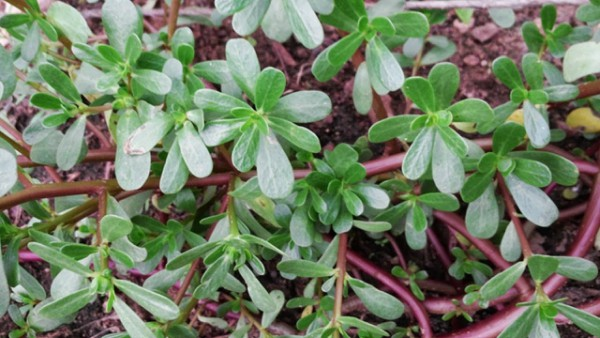 Mothers can cook purslane leaves to bathe the children.(Illustration image)
– Lettuce leaves: It has anti-inflammatory, bactericidal, and swelling effects, so it is very effective in supporting the treatment of hand, foot and mouth disease in children.
How to take care of children with hand, foot and mouth disease
– Isolation of babies: When detecting signs of hand, foot and mouth in the child, the mother takes the baby to see a doctor to determine the correct disease. If the baby is diagnosed with hand, foot and mouth disease, parents need to isolate the baby in the room to avoid spreading and creating an outbreak.
– Enhance complete nutrition:
+ For babies who are still breastfed, they should increase breastfeeding and breastfeed as usual.
+ Should give your baby soft and liquid foods to prevent mouth pain such as yogurt, soup, cheese…
+ Break up the meals so that your baby can eat more, they need to eat 3-5 meals a day to ensure nutrition.
+ Increase the intake of fruit juices, eat green vegetables and fruits to supplement vitamins.
After eating, the child should rinse his mouth with salt water.
– Ensure personal hygiene is clean:
+ Bathe your baby every day with clean water and antibacterial soap. Mother needs to take a very gentle bath so as not to hurt the skin, bathe in an airtight room.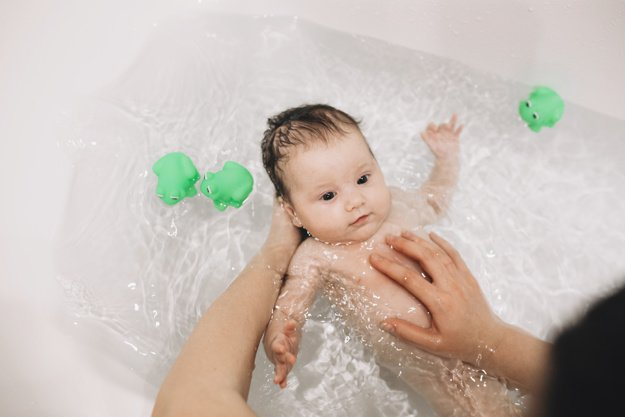 Personal hygiene for the baby helps the baby to be more comfortable with hand, foot and mouth disease. (Illustration)
Wash your baby's hands with soap often to help reduce the spread.
+ The baby's daily eating utensils should be sterilized, avoid sharing.
Children's toys and clothes need to be disinfected with an antiseptic solution or boiling water.
Mothers or caregivers need to wash their hands before and after touching the baby.
When to take a child with hand, foot and mouth disease to the doctor?
Hand, foot and mouth disease is common and only causes fever for a few days. Signs and symptoms are also relatively mild. However, the mother still needs to take the baby to the doctor to determine the correct disease and give appropriate care advice.
In case the child is under 3 months old and has a fever of more than 38 degrees Celsius and higher than 39 degrees Celsius for a 6-month-old child, the mother needs to take the child to the doctor. In case, the child has a high fever and does not go down for 2 days, the baby also needs to be taken to the hospital.
In addition, the mother also needs to pay attention to whether the baby is dehydrated? If your baby has a sore throat and can't drink or eat less than usual, you need to take him to the doctor. Hand, foot and mouth disease can cause dangerous complications, so mothers need to pay attention to their babies often, especially when they sleep.
You are reading the article
Signs of children with hand, foot and mouth disease and how to take care

at
Blogtuan.info
– Source:
Eva.vn
– Read the original article
here