Tech
The "tailor-made" platform supports the digital transformation of Vietnamese businesses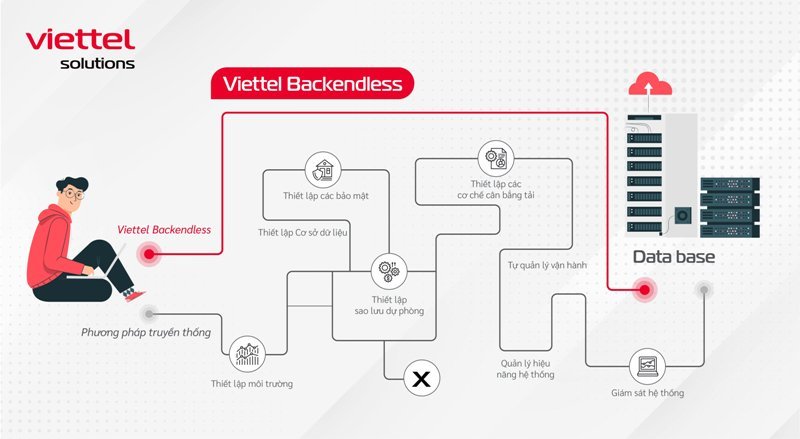 Vietnamese people remove the knot of digital transformation of Vietnamese businesses
With prices that can be up to several tens of millions of dong/month, Nguyen Van Nam, a programmer in Hanoi, is very "sneaky" when he has to use software services that Google provides. Even at the company Nam is working for, where there are about 30 programmers, using paid Cloud platforms provided by Google or Amazon is also a luxury because the package price is only suitable for businesses. large with strong economic potential while they are just a small business.
"Due to the requirements of my job, I still have to "collect" to buy services from foreign suppliers. However, they only have certain packages, so choosing which package to buy to meet their needs and suit their budget is always a difficult problem," said Mr. Nam.
However, the suffering of people like Mr. Nam will probably become a thing of the past with the introduction of the Viettel Backendless (VBS) platform. Researched and developed by Viettel Business Solutions Corporation (Viettel Solutions) – a member of Viettel Group. VBS not only simplifies the software development process but also stimulates the needs of Vietnamese SMEs to build software and digitize information.
Sharing about the birth journey of VBS, the solution that has just been honored to receive the Sao Khue Award for the category of Digital Transformation Platform, Mr. Pham Duc Chuong – VBS project leader said, the idea of ​​​​the product was formed in the period The Covid-19 pandemic began to break out in Vietnam. Pandemic isolation and unprecedented demands strongly accelerate digital transformation.
"Currently, the domestic market has 58,000 enterprises operating in the field of information technology, 1 million freelance programmers (Developers). However, not all businesses have enough highly specialized personnel and financial potential to thrive. Therefore, low-code development platforms (low-code), including Viettel Backendless platform, were born to solve those problems, helping SMEs and programmers to focus highly on product development for customers. end users", Mr. Chuong shared.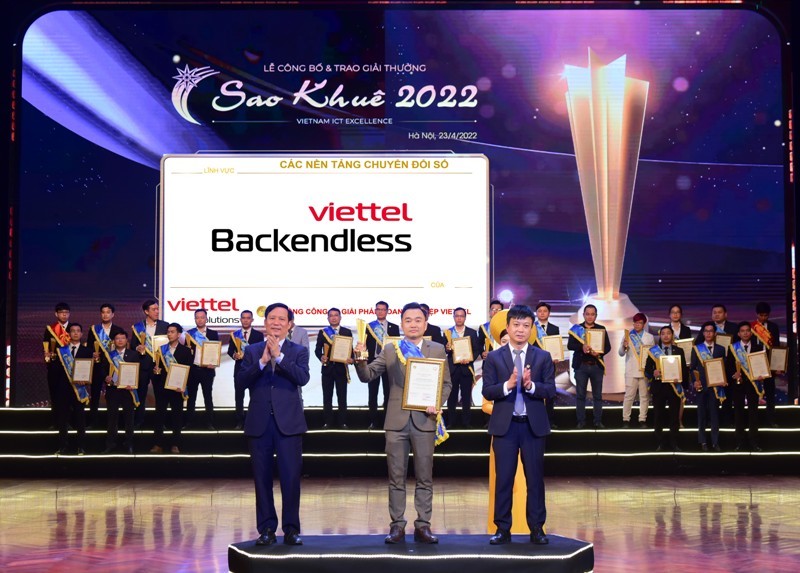 The advantage in the confrontation with the technology "giants" at home
VBS is a platform that provides solutions so that developers can focus on developing applications for end users without having to worry about backend development techniques and server infrastructure operations.
"Our goal is to accompany businesses and individuals to create the best in software development. Therefore, our platform aims to provide the most complete service from mass business solutions to trending technology solutions such as AI, Blockchain… with a simple and flexible approach to aim. promoting confidence in technology in enterprises as well as promoting digital transformation in the Vietnamese market." – Mr. Chuong said.
The common feature of SMEs, freelance programmers is that they have a limited budget. Tech giants like Google, Amazon also offer similar products but the price is too high while the platform is designed for customers around the globe, which has many similarities.
In order to have the opportunity to compete with global names on their own home turf, VBS is forced to solve these problems. VBS is not only a platform that is "tailored" according to the needs of Vietnamese customers, but also how to maintain reasonable prices, making it accessible to all businesses and individuals to speed up the creation of new products. useful products for the end user.
The diversity of sizes and fields of operation of businesses creates extremely diverse needs in the field of software design, which is also what the VBS development team is anxious to exploit to perfect the product. its products.
"To talk about the impression in the development of VBS, I think no word is more accurate than the two words trust. Confidence comes from the assessment of the world's leading analysts on technology trends (Garner, Forrester…), the belief in the achievements that Viettel owns has helped us overcome difficulties and challenges. knowledge to complete the VBS platform, which will be very useful for businesses and programmers in today's digital era." – Mr. Chuong said.
Vietnamese software industry's "instant noodles"
According to Mr. Chuong, VBS is a service platform operating under the Serverless model, which is a combination of software services and cloud infrastructure services. Simply put, a platform is like a pack of instant noodles or a ready-to-eat set with all the ingredients. Users only need to cook to have delicious dishes.
The difference of VBS with products of large technology corporations is to reduce to a minimum each line of code that programmers have to write to be able to create a complete feature. Usually, there are cases where the function has to write hundreds of lines of code, now, with VBS, they only need 5-7 lines of code.
Although quite new in Vietnam, this service has been developed by Google and Amazon a long time ago. The disadvantage of these services is their high cost while not being created to meet all the needs of Vietnamese people. In addition, the charging method of foreign suppliers is still very rigid, not suitable for the majority of Vietnamese customers.
"The "tailor-made" feature at VBS is to provide the closest utilities and features, update the latest trends at the most appropriate cost. The audience using this platform is not necessarily a team of high-quality IT engineers, instead, ordinary personnel can still create high-quality software products." Mr. Chuong said.
At the moment, VBS is being used for a number of development projects related to Health, Education, and Government. The feedback from the developers is quite positive. The ability to simplify processes, create new features quickly, and be user-friendly without requiring highly specialized programmers.
"Currently, we are focusing on internal customers of Viettel and contributing in the fields of digital transformation in the healthcare and education sectors. It is expected that by the end of 2022 to 2024, VBS will serve 1,000 businesses in the technology field and 17,000 freelance programmers," said Chuong.
To compete with Google or Amazon, which are recognized worldwide, understanding the domestic market and optimizing the package is considered the key. VBS is expected to provide flexible usage policy packages to meet diverse user needs and popularize this platform in the Vietnamese market.
On the other hand, it is the convenience and affordable price that VBS brings that will help SMEs be more confident in digitizing internal work. It is from those confidences that the product will promote multi-industry digital transformation in Vietnam.
The Viettel Backendless platform is regularly improved, adding new technologies, supporting the IT community and businesses to make the most of it and create new opportunities to improve competitiveness. It is an effective support tool to create breakthrough developments for each business in the digital transformation period. Viettel believes that as a pioneer in creating a digital society, VBS will be a solid luggage for the digital future of Vietnamese businesses.
You are reading the article
The "tailor-made" platform supports the digital transformation of Vietnamese businesses

at
Blogtuan.info
– Source:
genk.vn
– Read the original article
here