Văn hóa - Giải trí
Screening free cartoons for children in the summer of 2022 at the National Cinema Center
The show opens at 9:30 a.m. on May 28 at the National Cinema Center (87 Lang Ha, Dong Da District, Hanoi). The first screening includes 5 films: Floating Lightning, New Friends, Best Lamp, New Journey and Meaningful summer vacation. Movie tickets for each screening cost 0 VND, parents can pick up directly at the ticket counter of the National Cinema Center (note that tickets are not sold online).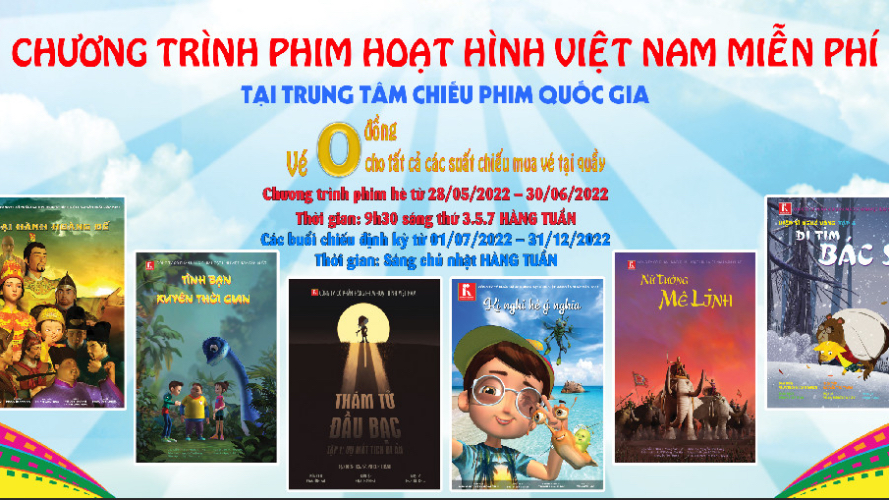 According to screenwriter Pham Thanh Ha, Head of Screenwriting Department – Vietnam Animation Studio, said that the 50 films screened this time are good and typical films selected from nearly 500 films of the studio. Audiences of every age can choose their favorite and appropriate movies, for example, elementary and high school students can choose new historical films produced in 2021 such as: "Dai Hanh Emperor", "Female General Me Linh", "Bach Dang is a wave" (all 30 minutes in duration); and some historical cartoons from a few years ago like: "The boy of the reed flag", "The hero in the cloth shirt", "The legend of the magic sword"... Younger audiences can choose to watch fun series such as: "Flying Snail", "Knight of the Golden Calf", "Strange Blue Star" or movies about the animal world that have reached hundreds of millions of views on YouTube.
This will be one of the practical activities to bring young audiences moments of entertainment combined with learning through pure Vietnamese animation products, healthy and innovative.
The series of 4 historical films also in this program include: Reed flag boy, General Me Linh, Dai Hanh Hoang Emperor and The teacher of eternity, will bring to the audience historical stories that are reproduced on the screen vividly, historical characters are depicted in depth, touching the emotions of viewers.
Each film has a different style of expression, but they are all characterized by animation because of its epicness, grandeur, and elaborateness, exuding the spirit of history.
The program is divided into 2 phases:
– Vietnamese cartoon month from May 28 to June 30. Showtimes from 9:30 a.m. on Tuesdays, Thursdays, and Saturdays every week.
– Periodic film screening program from July 1 to December 31. Shows from 9:30 a.m. every Sunday.
50 cartoons are shown for free at the National Cinema Center:
TT

Movie's name

Director

Type

Length

Note

I

Historical movies

first

Flag boy

Phung Van Ha

3d movie

35 minutes

2

General Me Linh

Phung Van Ha

3d movie

30 minutes

3

Emperor Dai Hanh

Trinh Lam Tung

3d movie

30 minutes

4

The teacher of eternity

Vu Duy Khanh

2D Movies (Computer)

20 minutes

II

Movie fairy tales, fairy tales

5

Dragon Transformation

Tran Khanh Duyen

Paper Cut Film (Computer)

10 minutes

6

Legend of Pongour Falls

Bui Manh Quang

Paper Cut Film (Computer)

20 minutes

7

The Legend of Bach Ma Temple

Pham Ngoc Tuan

Paper Cut Film (Computer)

10 minutes

8

Legend of Elephant Temple

Bui Manh Quang

Paper Cut Film (Computer)

10 minutes

9

Legend of the Sea Eye

Pham Ngoc Tuan

2D Movies (Computer)

10 minutes

ten

Your tail is warm

Tran Xuan Du

2D Movies (Computer)

10 minutes

III

Movie series

11

Strange Blue Star (Episode 1 – Strange Blue Star Series)

Phung Van Ha

3d movie

10 minutes

twelfth

Fruit planet (Episode 2 – Strange Blue Star series)

Phung Van Ha

3d movie

10 minutes

13

Ocean Monster (Episode 3 – Strange Blue Star Series)

Phung Van Ha

3d movie

10 minutes

14

Confectionery Kingdom (Episode 5-Series of Strange Blue Stars)

Phung Van Ha

3d movie

10 minutes

15

Friendship Through Time (Episode 7 – Strange Blue Star Series)

Phung Van Ha

3d movie

10 minutes

16

Superficial Lightning (Episode 1 – The Flying Snail Series)

Trinh Lam Tung

3d movie

10 minutes

17

New Friends (Episode 2 – The Flying Snail Series)

Trinh Lam Tung

3d movie

10 minutes

18

The Most Beautiful Lamp (Episode 4 – The Flying Snail Series)

Trinh Lam Tung

3d movie

10 minutes

19

New Journey (Episode 5 – The Flying Snail Series)

Trinh Lam Tung

3d movie

10 minutes

20

Meaningful summer vacation (Episode 7 – The Flying Snail Series)

Trinh Lam Tung

3d movie

10 minutes

21

The Golden Calves (Episode 1 – The Golden Calves Series)

Tran Khanh Duyen

Paper Cut Film (Computer)

10 minutes

22

A battle of wits (Episode 2 – The Golden Calvary Series)

Tran Khanh Duyen

Paper Cut Film (Computer)

10 minutes

23

Invincible strength (Episode 3 – The Golden Calvary Series)

Tran Khanh Duyen

Paper Cut Film (Computer)

10 minutes

24

Looking for a Doctor (Episode 4 – The Golden Calvary Series)

Tran Khanh Duyen

Paper Cut Film (Computer)

10 minutes

IV

Other genres

25

You and me

Tran Khanh Duyen

Paper Cut Film (Computer)

10 minutes

26

Chick's Dad

Pham Ngoc Tuan

Paper Cut Film (Computer)

10 minutes

27

Duckling's father (KB name: Duckling's father)

Tran Khanh Duyen

Paper Cut Film (Computer)

10 minutes

28

Warm glow

Vu Duy Khanh

2D Movies (Computer)

10 minutes

29

Toad Bitus

Pham T Minh Nguyet

2D Movies (Computer)

10 minutes

30

Baby seagulls

Trinh Lam Tung

Paper Cut Film (Computer)

10 minutes

thirty first

Flying bike

Nguyen T Hong Linh

Paper Cut Film (Computer)

10 minutes

32

Geckos solve crimes

Tran Khanh Duyen

Paper Cut Film (Computer)

10 minutes

33

Clay Superman

Tran Xuan Du

2D Movies (Computer)

10 minutes

34

The secret of Duon cave

Vu Duy Khanh

2D Movies (Computer)

30 minutes

35

The Falcon and the Otter

Hoang Loc

3d movie

10 minutes

36

Red Hat Turtle

Pham Ngoc Tuan

3d movie

10 minutes

37

Tall guy

Pham Thi Minh Nguyet

3d movie

10 minutes

38

The sky for you

Tran Xuan Du

2D Movies (Computer)

10 minutes

39

Deep Cave Monster

Tran Xuan Du

2D Movies (Computer)

10 minutes

40

Rodent guy

Hoang Loc

Paper Cut Film (Computer)

10 minutes

41

Hero

Pham Thi Minh Nguyet

3d movie

10 minutes

42

Fake tear

Tran Anh Tuan

Paper Cut Film (Computer)

10 minutes

43

Eternal Flame

Vu Duy Khanh

2D Movies (Computer)

10 minutes

44

Blessed hair

Pham Ngoc Tuan

Paper Cut Film (Computer)

10 minutes

45

Red-nosed cat warrior

Bui Manh Quang

Paper Cut Film (Computer)

10 minutes

forty six

Dream of motherhood

Pham Ngoc Tuan

2D Movies (Computer)

10 minutes

47

Do Do's grandmother

Nguyen Thi Hong Linh

Paper Cut Film (Computer)

10 minutes

48

Gray mouse is clever

Tran Anh Tuan

Paper Cut Film (Computer)

10 minutes

49

Flying fish

Pham Thi Minh Nguyet

3d movie

10 minutes

50

Warrior leader

Hoang Loc

Paper Cut Film (Computer)

10 minutes
You are reading the article
Screening free cartoons for children in the summer of 2022 at the National Cinema Center

at
Blogtuan.info
– Source:
danviet.vn
– Read the original article
here