Life Style
Sức Khỏe
The secret to losing 20kg "without fasting" of the top 10 HHVN flight attendants
Dang Van Ly (24 years old, Hai Duong hometown, air hostess, Top 10 Miss Vietnam 2020) used to have a carefree time with her unbelievable weight. On the day she found her goal, she was determined to lose weight to match her future plans.
Her weight loss journey lasted 7 years with important milestones, from her dream of becoming a flight attendant, then she lost the desired amount of weight to participate in the Miss Vietnam contest. Before entering the weight loss process, she carefully researched the knowledge of weight loss to choose the methods that are right for her. She puts self-love first instead of the prejudices and disparages of society that force her to follow.
Recalling the time with the biggest weight, Ly said, in the 11th grade, the female student at that time entered puberty, 1.76m tall, weighing 76 kg. When she was a student, she was not under pressure to study, was comfortable, and didn't eat and drink, so she tried to gain a lot of weight.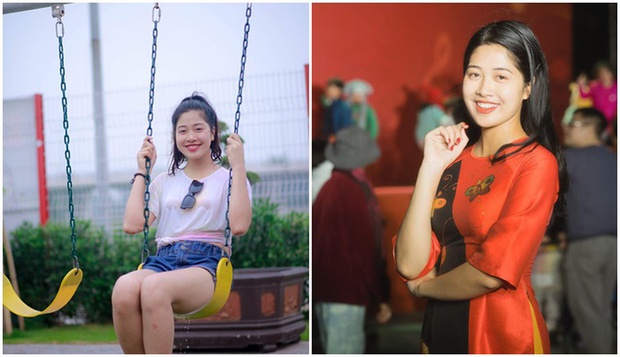 When Van Ly weighed 71kg after losing 5kg, photo: NVCC.
"When I realized that my weight was also a bit 'oversized', I began to try to keep it in order not to gain weight anymore. By 12th grade, I set a goal to lose 5kg to lose fat again. I started to eat less rice, instead of 3-4 bowls of rice for each meal, now I eat only 1-2 bowls, along with less snacking, less fat and chicken skin. Within 3 months I lost the weight I wanted", Ly shared.
Graduating from grade 12, the dream of becoming a flight attendant suddenly "caught up". Van Ly wants to be thinner to achieve her goals. Ly combines scientific eating and regular jogging, drinking lots of water. About 3-4 months before the audition, Van Ly combined weight loss with English practice, the weight before she entered the audition to the threshold of 64kg.
After that, when she was recruited as a flight attendant, during her work Van Ly continued to naturally lose another 2kg, then the hostess's weight was at 62kg. "I find the first stage of weight loss quite easy and simple, because the process of losing also takes place over a long time, not 1-2 months", Van Ly said.
She thought she would not lose weight anymore, but only kept her weight at more than 60kg to ensure her health for work. Moreover, BMI (Body Mass Index is the body mass index, used to calculate how fat or thin an adult is) was then at an acceptable level.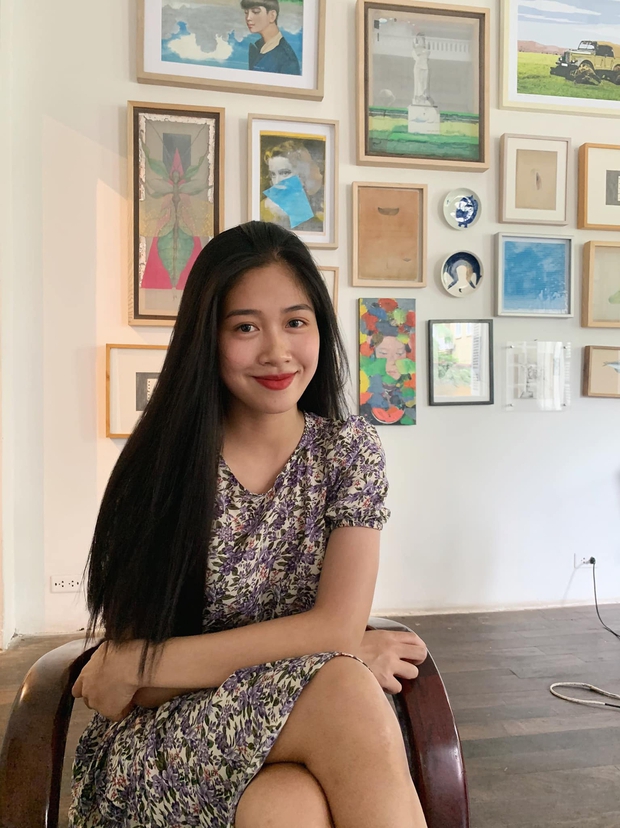 Determined to lose weight, she had the desired weight.
Persistence will pay off
By about 2020, the epidemic broke out, the airline was frozen, Van Ly and her colleagues were given a long-term rest. Bored, Ly accidentally saw the information that she received the application for the Miss Vietnam contest that year, along with that, when she was on the flight, she received encouragement from her colleagues and guests. Van Ly ventured to participate with the purpose of experiencing.
She started to learn about the regulations and saw that the contestants from previous seasons had the same height as her but weighed only 55-57kg, she decided to try to lose weight to that weight.
She said, that period was quite difficult and hard time, because she had to sprint for only 2-3 months before entering the preliminary round.
With the goal of reducing from 62kg to 56kg, the flight attendant had to exercise with maximum intensity. Van Ly began to learn seriously about nutrition to lose weight and training methods to lose weight as quickly as possible.
Regarding the diet, Van Ly has applied intermittent fasting methods, but she feels it is not suitable for herself. When applying intermittent fasting, she often had low blood pressure, so in only 3-4 sessions, Van Ly stopped that method immediately.
She switched to a low-carb diet (eat lean, keto…) with a daily menu consisting of chicken breast, cauliflower, cabbage, mushroom, chicken thighs, tofu, sometimes she changed her taste to beef.
Along with the diet, Van Ly every day roasts black beans mixed with 3 liters of boiled water to drink instead of filtered water every day.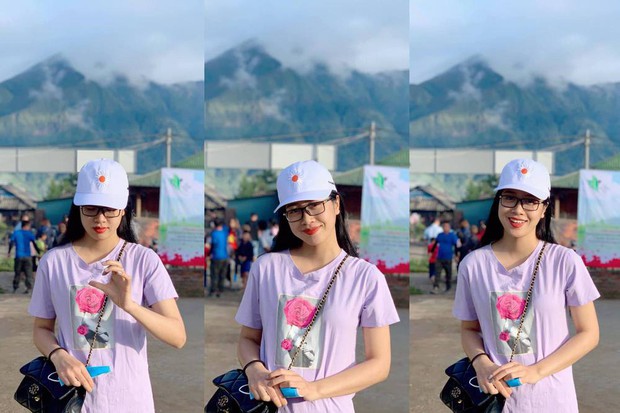 The time when Van Ly 56kg entered the Miss Vietnam contest.
About the exercise regime, every day, she gets up at 4 am, runs exercise around Giang Vo lake (Ba Dinh, Hanoi) 5km, continues to run another 5km in the afternoon, jumps rope 4000 times, does cardio around 30 minutes in the afternoon. – 45 mins.
The first two weeks she lost 3kg to 59kg. But the process of losing that weight to 56kg was extremely difficult. She shared that sometimes the whole week did not lose a single gram. Obsessed with losing weight, Ly constantly jumped on the scale dozens of times a day. "When I woke up in the morning, I climbed on the scale to try it out, took a bath, finished weighing it, drank water, weighed it, etc. It was a very hard time. I don't share my plan to take the exam with anyone, just quietly do it alone, many people ask 'why are you so pressured', at times like that, I'm so tired after practicing, I lie down and cry Ask yourself 'Why are you making me suffer like this? Will I have any results?", the question kept swirling around in my head, but it was also the motivation to help me try to achieve my goal every day.", said Ly.
It seems that God does not disappoint people, nearly 2 months, Van Ly lost the desired weight, this time is also close to the time to participate in the preliminary examination. Gradually, the 22-year-old girl at that time achieved many high achievements: Top 5 Compassionate Beauty, Top 5 Tourism Beauty, Top 10 Miss Vietnam.
Up to now, Van Ly still maintains a low diet, because it seems to have become her habit. She is still practicing hard after flying hours and learning many other things for future plans.
Sharing about how to lose weight safely, Van Ly said:If I want to lose weight myself, I must first find out what my body is in, learn safe weight loss methods, suitable for my body. In particular, do not take weight loss pills.
In addition, diet and exercise also need attention, so drink lots of water. In particular, you need to be comfortable, don't put pressure on yourself, because that will hurt your health.".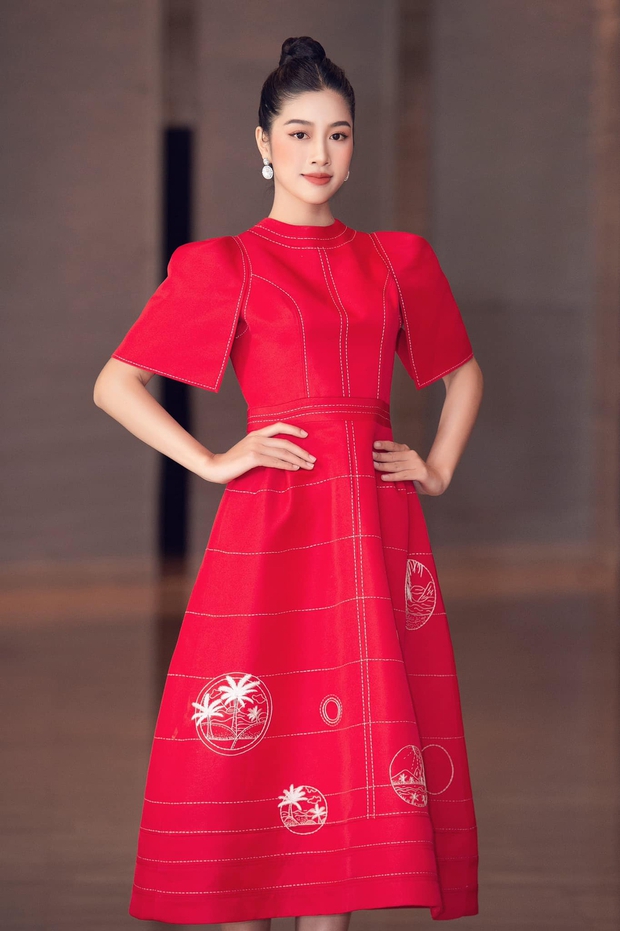 Currently, she still keeps her weight under 60kg.
According to doctor Cao Xuan Ngoc (who used to teach Aesthetic Laser class at the Faculty of Medicine and Pharmacy – Hanoi National University) to lose weight safely, we should follow a long-term route, maintain it for a long time, Because fast weight loss methods are often due to dehydration, muscle loss (affecting health) instead of destroying excess fat in the body.
Doctor Ngoc said that in order to lose weight effectively and safely, we should focus on diet, along with appropriate exercise and sports to support the weight loss process. In the diet, we should reduce foods that contain a lot of sugar, starch or choose starches with a low glycemic index, instead of cutting carbs and calories completely. For example, instead of eating white rice, we should eat brown rice, vermicelli, because the glycemic index in brown rice and vermicelli is lower than that of white rice.
In addition, during weight loss, we should not snack, because each snacking will increase the blood sugar index and increase the risk of obesity. Limit junk foods such as milk tea, carbonated drinks, sweets, etc.
According to Dr. Ngoc, many young people now choose to fast to quickly achieve their weight loss goal. However, according to the expert, this is not very effective and is not a long-term solution. "We should have a scientific and balanced eating plan in accordance with our lifestyle. Try to control your daily meals by taking pictures of each meal, regularly weighing it to know what you need to do.", said Dr. Ngoc.
https://soha.vn/bi-quyet-giam-20kg-khong-can-nhin-an-cua-tiep-vien-hang-khong-top-10-hhvn-20220526145940385.htm
You are reading the article
The secret to losing 20kg "without fasting" of the top 10 HHVN flight attendants

at
Blogtuan.info
– Source:
Kenh14.Vn
– Read the original article
here