Đời sống
Going to work in the field, she was shot in the eye by rocks and soil, but she was slow to go to the doctor, 1 woman lost her left eye
Soil and rocks shot in the eye but didn't go to the hospital soon
News from Cao Bang Provincial General Hospital said that the hospital had just received a female patient (58 years old) who was shot in the eye by rocks and stones, causing injury. The patient was admitted to the hospital with a painful, red, swollen left eye, blurred vision, and glare.
According to family members, about 2 months before entering the hospital, the patient was shot in the eye while hoeing. After the accident, the left eye could not see anything, there was pain, tears, and a lot of pus. However, the patient was still late to go to the hospital.
By the time of admission, the patient was in serious condition. Through examination, the doctors diagnosed that the patient had purulent inflammation of the entire left eye.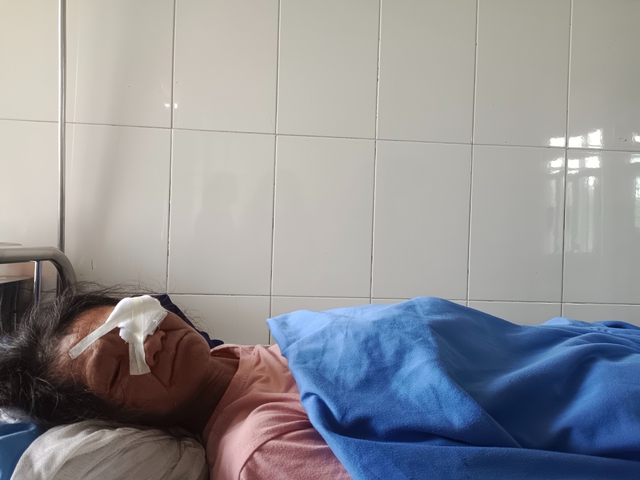 After doing laboratory tests and interdisciplinary consultation, the doctors performed intraocular surgery because the functional eye could no longer be treated conservatively.
After surgery, the patient was monitored at the Department of Ophthalmology (Cao Bang General Hospital), currently the patient's condition is stable.
How to give first aid when a foreign object is shot in the eye
According to an Ophthalmologist (Cao Bang Provincial General Hospital), eyes can be damaged due to many reasons such as work accidents, daily life accidents, traffic accidents, burning agents…
When an accident occurs with damage to the eye, the first aid and treatment of the initial injuries is very important. Proper first aid will avoid more serious eye damage and help facilitate subsequent treatment and contribute to better eye recovery later on.
If it is a concussion injury such as eyelid bruising, swelling, or hematoma around the eye socket, an eye patch should be used.
If the penetrating injury causes tearing and bleeding, cases of puncture wounds with viscous mucus and blood must be stopped and the patient taken to a medical facility with ophthalmology for treatment. timely, minimizing complications.
For conjunctival foreign bodies (dust, iron filings), avoid rubbing the eyes as this can deepen the foreign body or scratch the iris. Blink your eyes into a glass of clean water to help the foreign body float out. If not, the patient should be taken to an ophthalmology facility for removal.
"When any foreign object falls into the eye, it is necessary to take the patient to a medical facility with an eye specialist as soon as possible to avoid serious complications. Eye injury if not treated promptly can cause serious damage. blindaesthetic effects and the treatment is complicated, expensive and time consuming.
Therefore, preventing injury and protecting eyes is the most effective and practical measure.
When working in an environment where agents can cause eye damage, there must be means of protection for the eyes such as wearing glasses, attention should be paid while working, precise movements, proficient techniques to reduce accidents …", this doctor recommended.
You are reading the article
Going to work in the field, she was shot in the eye by rocks and soil, but she was slow to go to the doctor, 1 woman lost her left eye

at
Blogtuan.info
– Source:
danviet.vn
– Read the original article
here