Thị trường
Construction engineer… raising snails, earning hundreds of millions each year
After 2 years of implementing black apple snail farming, so far Mr. Pham Viet Sy (Van Minh village, Thuong Nga commune, Can Loc (Ha Tinh) has an income of over 200 million VND per year.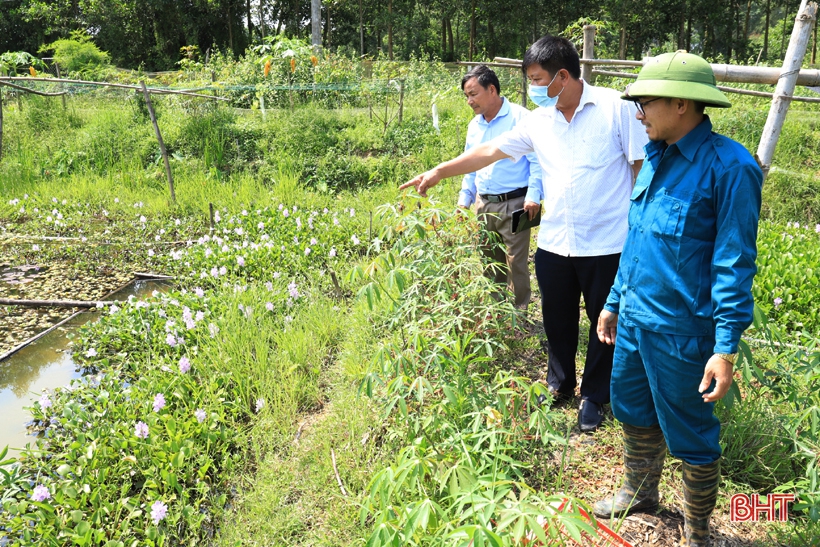 An officer of the Farmers' Union of Can Loc district visited Mr. Pham Viet Sy's model of black apple snail farming
Originally a construction engineer, Mr. Sy cherished the dream of getting rich on the land he was born in. But engrossed in pursuing works and projects, the boy born in 1989 could not fulfill his dream.
At the beginning of 2020, Pham Viet Sy had an accident at work. After more than 3 months in hospital for treatment, he returned to his hometown to start digging ponds to release snails.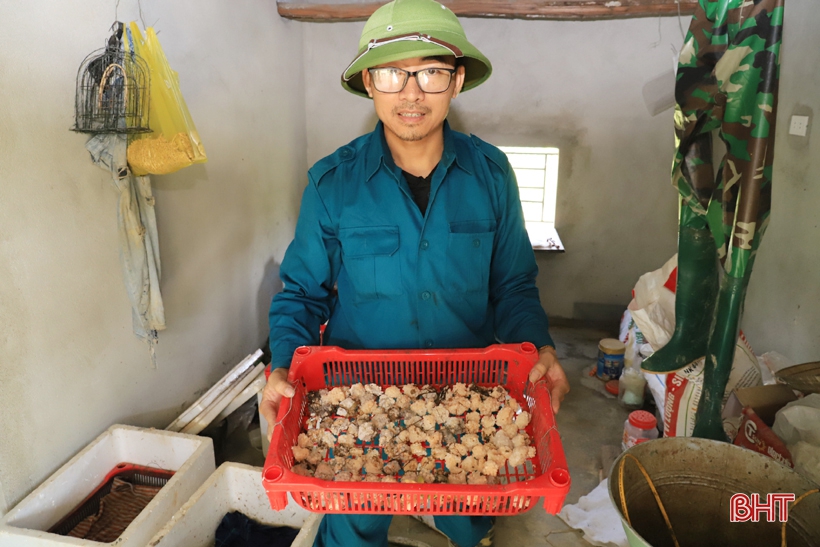 Black apple snail eggs are incubated for breeding
After a period of research and experience through books and newspapers on black apple snail farming techniques, he invested more than VND 150 million to rent 35,000 square meters.2dug 9 ponds and bought 150,000 snails from Thanh Hoa to breed.
Starting a business, lack of capital, lack of experience, so snails develop very slowly. Undeterred, he turned to large efficient farms in other provinces such as Nghe An and Thanh Hoa to learn more. In particular, Mr. Sy regularly participates in training courses on snail farming techniques organized by the Farmers' Association of Can Loc district to accumulate more experience. Heaven does not help people, in the next farming times, thanks to mastering the technique, snails gradually develop and grow well.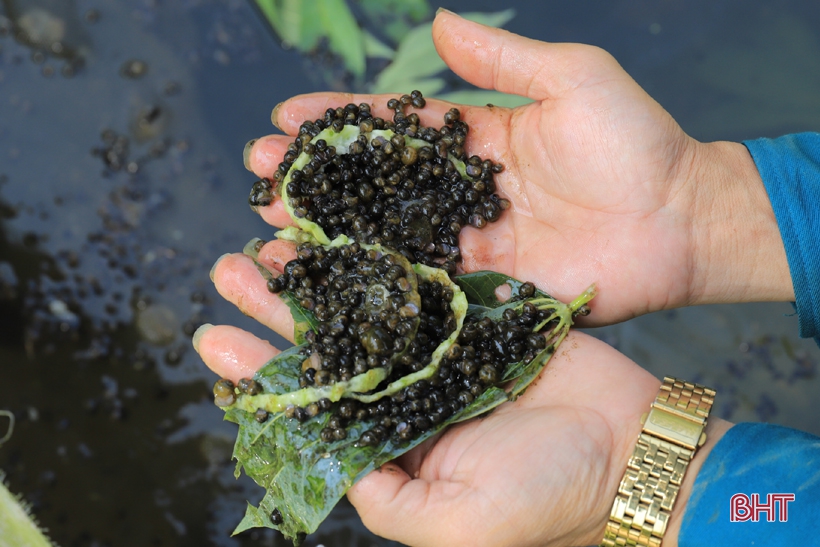 Thanks to the correct technical process, snail seed has good quality
According to Mr. Sy, the black apple snail is a type that likes to be clean, only living in a clean, unpolluted water environment; if not well prevented, it will be easy to get diseases such as intestinal tract, swollen faucet… Therefore, before stocking, the pond must be treated with calcium lime (Dolemit).
During the rearing process, every 10 days, continue to spray Dolemit once to treat the pond to help the snails grow healthy and fast. Raising black apple snails should pay attention to providing a sufficient and regular amount of food, not overfeeding. The food of black apple snail is mainly duckweed, water hyacinth, mulberry flower, cassava leaves, melon, cucurbit, which is very cheap and easy to find.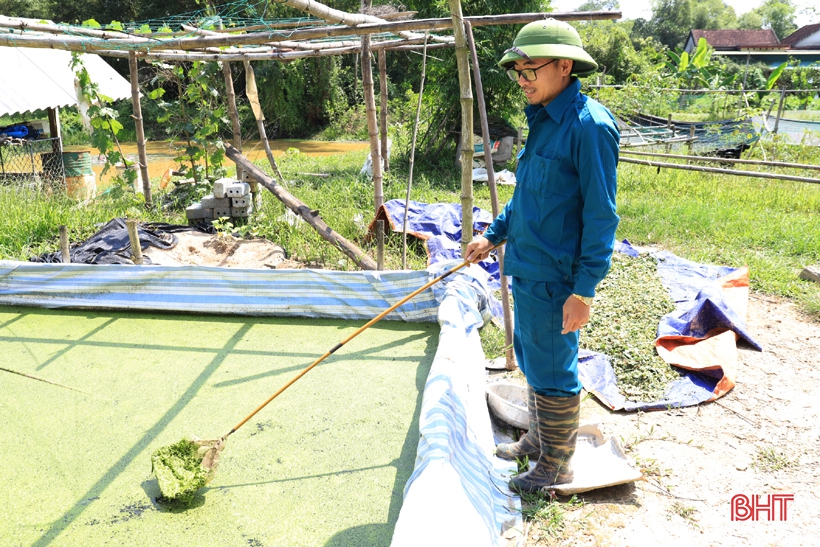 Beets are one of the foods of the black apple snail
In particular, black apple snail has poor heat tolerance, so in the summer, it is necessary to pay attention to combat the heat by adding water hyacinth to the lake, cooling it with a net or planting shade vines. In the winter, snails are almost inactive, so farmers need to reduce the water in the lake and release more duckweed to keep animals warm.
Mr. Sy added that raising black apple snails is easy to care for, does not take much effort, and has a quick capital recovery time. When snails lay eggs, it is necessary to collect egg nests and put them in a separate tank, install electric bulbs and spray water daily to create a humid environment suitable for snail eggs to develop, about 20 days to sell.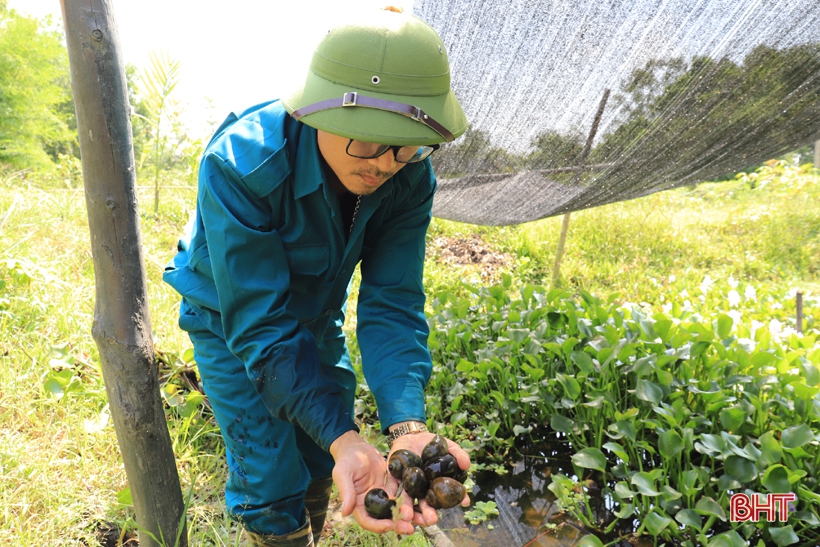 Commercial snails have a market price of about 100,000/kg
Thanks to mastering the techniques, now, his family has 9 ponds for raising snails with the number of more than 200,000 children, including seed snails, parent snails, and meat snails. Depending on the time of the snail, the price varies but ranges from 90,000-100,000 VND/kg for meat snails; 3.5-4 million VND/kg for seed snails; 150,000-250,000 VND/kg parent snails; 2-3 million VND/kg snail eggs.
Although newly raised, the past 2 years (2020, 2021) have brought his family an income of 400 million VND, of which 150 million VND are from seed snails and the rest are commercial snails.
Currently, black apple snail is a favorite food of the people, with high economic value, so the output is easy. For the same reason, next time Mr. Sy will continue to expand 3-5 ponds.
According to Mr. Nguyen Huu Hai – Chairman of Can Loc District Farmers' Association: The success of the model has opened a new direction for people in the district in diversifying the adoption structure. Therefore, this model needs to be considered and replicated in order to contribute to improving people's income and boosting the local economy.
You are reading the article
Construction engineer… raising snails, earning hundreds of millions each year

at
Blogtuan.info
– Source:
infonet.vietnamnet.vn
– Read the original article
here