The first is the pandemic. Then there was the Russia-Ukraine conflict. With two global crises in a row, global supply chains and trade flows could undergo permanent changes.
In particular, the Ukraine crisis forced many countries to rethink the need to find reliable trading partners.
"If the Covid-19 pandemic emphasizes the need to shorten supply chains, the war in Ukraine has emphasized the role of trusted trading partners," said Peter Martin, Research Director from Wood Mackenzie, identify.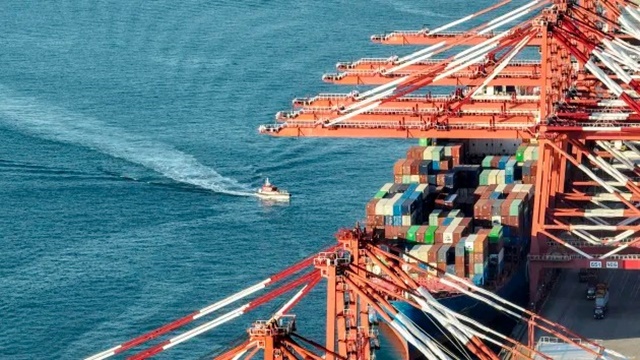 Qingdao Port, China. Image: Getty.
Energy prices continued to climb this year as Russia conducted a special military operation on Ukrainian territory and received a series of sanctions from Western countries. Russian officials say the country will find new customers to replace traditional importers. Oil exports from Russia to China and India have increased sharply recently.
Earlier this week, the European Union (EU) agreed to ban 90% of oil imports from Russia by the end of this year. Previously, the EU imported about 40% of its natural gas through Russia's pipeline system, with a quarter of that flowing through Ukraine.
Food exports, such as wheat, are severely affected. Millions of tons of wheat from Ukraine, one of the world's largest wheat exporters, cannot cross its borders to and from the countries that need it. The reason is because the Russian military has blockaded the Black Sea, where all of Ukraine's seaports are concentrated.
Before the conflict broke out, cargo ports on the Black Sea were where Ukraine exported 90 percent of its grain products, according to Andrius Tursa, Market Advisor for Central and Eastern Europe at Teneo Intelligence.
Epidemics and war are the drivers of lasting changes to global supply chains. The global economy will tend to be regionalized – short supply chains with trusted trading partners, added Martin.
Trade blocks
That's not the end of globalization, says Martin, but global trade can be split into two or more "isolated blocs".
The first trading bloc will include the EU, the US and their allies, who have heavily sanctioned Russia with the aim of isolating the country, according to Martin. That group of allies could include Britain and Japan.
Another bloc might include neutral countries.
"There will be another trade bloc that includes China and India. These countries continue to maintain commercial relationships with both sides. They can import more energy from Russia but still need to maintain good relations with the major economies in the first group to maintain their export strength," Martin said.
New trade routes
"The sea and land trade routes, and the volume of goods on each of those routes, will also be affected," Martin said.
Since the outbreak of the conflict, shipping businesses have restricted their movement into the Black Sea region, where the Russian military has taken control of freight operations. This causes congestion at many seaports across Europe as shipping businesses have to change their routes.
"Russian military activity in the Black Sea, attacks on Ukraine's seaport system, and mines make it impossible for commerce in this area to take place," according to Tursa.
"The seaports in Ukraine will not be reopened anytime soon, although many solutions are being discussed," he said.
Ukraine is developing food export channels on land and by river.
"Although alternative export channels are expected to increase in the near future, the level of efficiency will not be as high as by sea," Tursa said.
Winner, loser
According to Wood Mackenzie Research Director Peter Martin, countries in Southeast Asia, Latin America and Africa will benefit as global trade flows change.
"Exports may slow as countries find new markets to sell their goods and services, and the transportation sector also needs to change to accommodate new trade flows," Martin said. speak.
"Russia will be hardest hit even if it finds new customers, as it will be cut off from much of the global economy," he said.
You are reading the article
Global trade is changing

at
Blogtuan.info
– Source:
cafebiz.vn
– Read the original article
here