In recent years, the trend of bringing gardens into the house has been loved by many people, especially families with small children. For parents, the garden is not only a place to grow clean vegetables for each meal, but also a green space for children to be close to nature, parents to relax after tired working hours.
In a faraway Germany, Do Tuong Vy (33 years old) thinks: "I want my daughter to always be close to nature, know how to take care of flowers every day to understand the value of nature in daily life. Since then, she has a beautiful soul, knows how to love the space around her. and have a healthy development environment with green trees". That is also the reason why Vy started to turn the 4m2 balcony into a tiny garden, small but enough to raise the child's soul.
Vy decided to make a garden so that her daughter could have a playground at home.
2 months of tinkering to design and learn to garden
Vy started gardening last year, when the family moved into a new house. She said: "My house is a whole building consisting of 3 separate apartments for my family, Sophia, grandparents. Each person lives in a separate apartment and has a common yard. Although the common yard is large, it is the living place of the family. I have a large family, so I want to make a small space on the balcony so beautiful, for myself and my daughter." Vy's apartment has an area of ​​90m2, with a balcony of 4m2.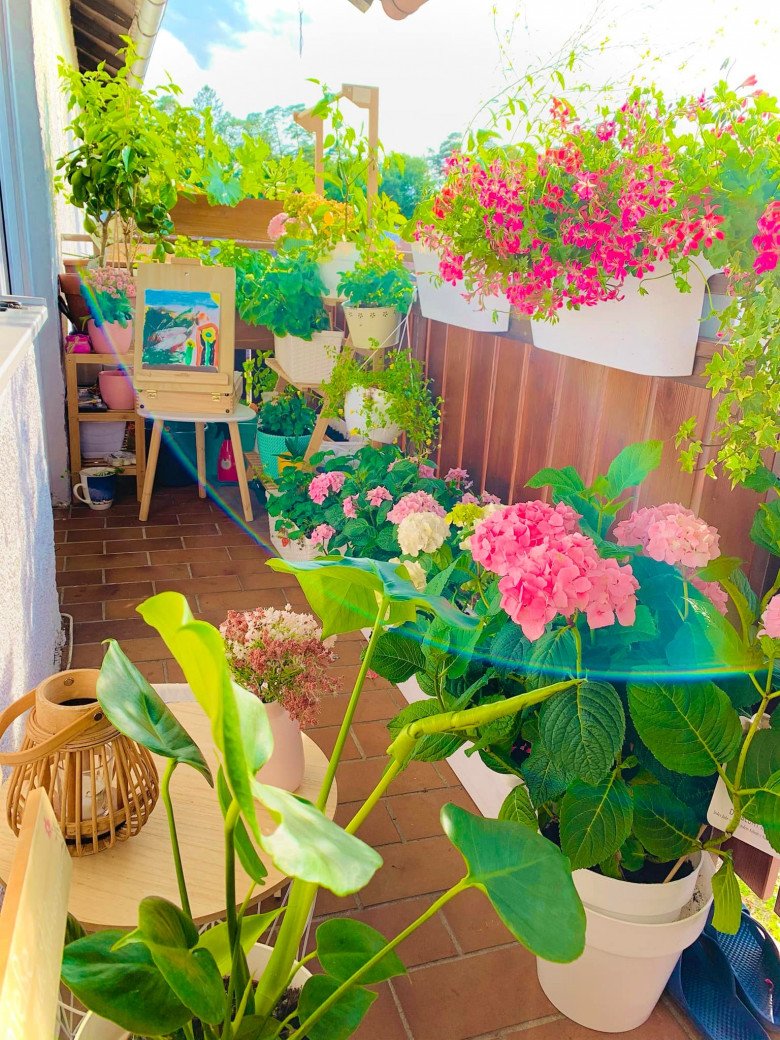 For gardening, Ms. Vy spent 2 months online looking for ideas, working while looking for a way to arrange them properly. Because the garden is quite small, it is narrow and not square, so finding the right furniture takes a lot of effort. Ms. Vy ordered online children's benches, cabinets, shelves, … to assemble at home.
There are items, Ms. Vy has to buy each piece of wood separately, ask someone to cut it to the right size and then drill it herself. Thanks to that, the furniture is suitable for the balcony, which saves a lot of money compared to ready-made furniture. As for flowers, Ms. Vy chooses to buy young plants in a large supermarket at the beginning of the season to get a favorable price.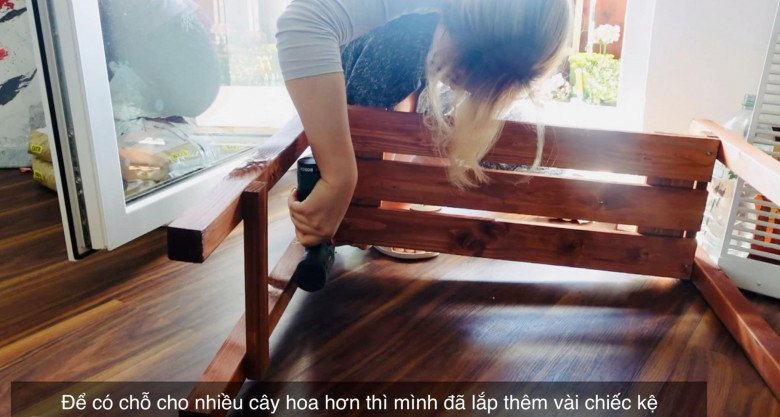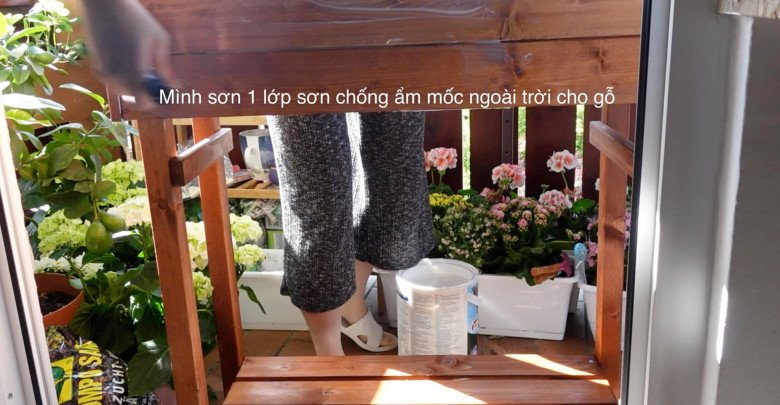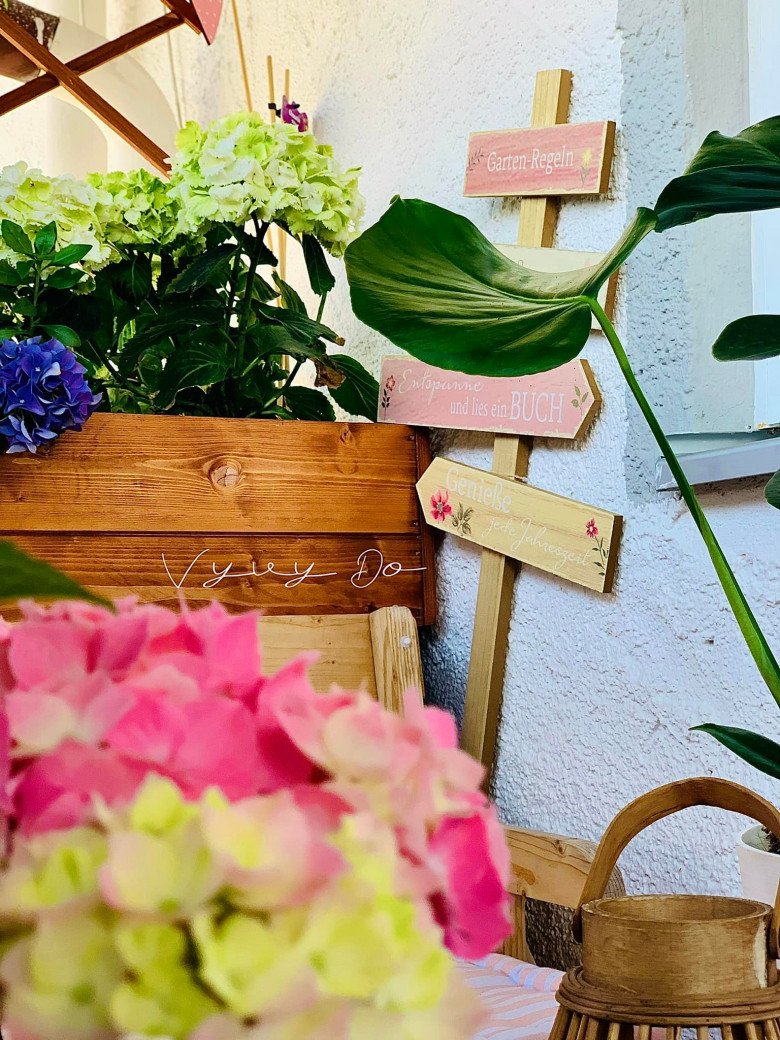 Vy takes care of every little corner of the garden with her own hands.
At first, due to lack of experience, a mother of one child once lost some trees because of frostbite. "The weather in March and April here is still very cold and sometimes it's snowy. Due to inexperience, I leave the tree outdoors, at night the temperature drops to minus degrees, causing the tree to get frostbite. After that, every night until the end During the day, I bring the plants into the house. During the day, when it's warmer, I take them out to let the plants absorb air and light to grow. On days when it's a bit colder, I cover the outside with a tarpaulin to keep the plants warm. Vy shared.
The initial cost for the garden is only about 100, 200 euros (about 2.5-5 million VND). After that, Ms. Vy bought many other types of shelves and plants that died due to lack of experience in farming. So when the garden is completed, the cost is about 500 euros, equivalent to more than 12 million VND.
Garden corner nurtures the child's soul
The 4m2 garden is divided by Ms. Vy into 2 corners at both ends, including an area for her daughter to draw and an area for relaxing coffee. In the middle, she left empty, only hanging flowers and arranging flower pots along the edge of the balcony. As a result, creating an airy and comfortable space.
Although the garden is small, but thanks to the mother's skillful arrangement, it still has all kinds of flowering plants such as hanging geraniums and standing stems, 3 types of chrysanthemums, hydrangeas, roses, a small cherry blossom tree… Besides out there are some trees green as lake tongue, betel nut, cactus, lemon tree, kumquat tree, chili plant, zucchini, vegetables and some spices such as coriander, mint, …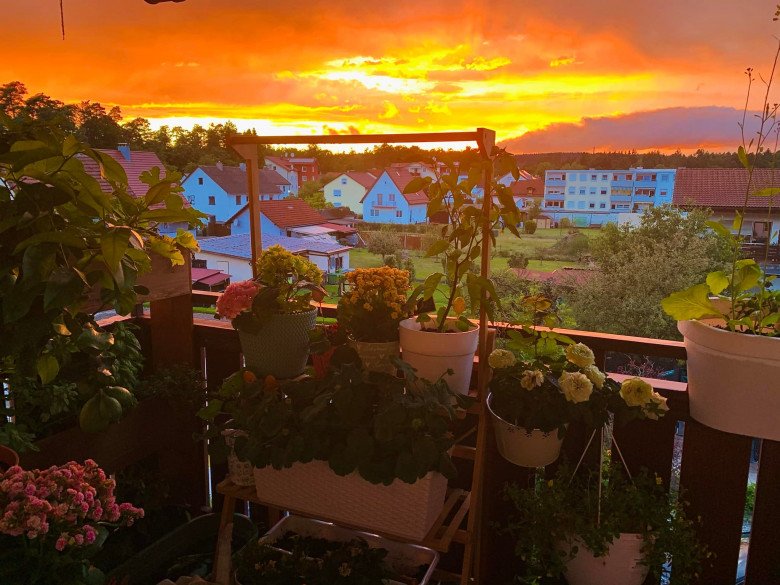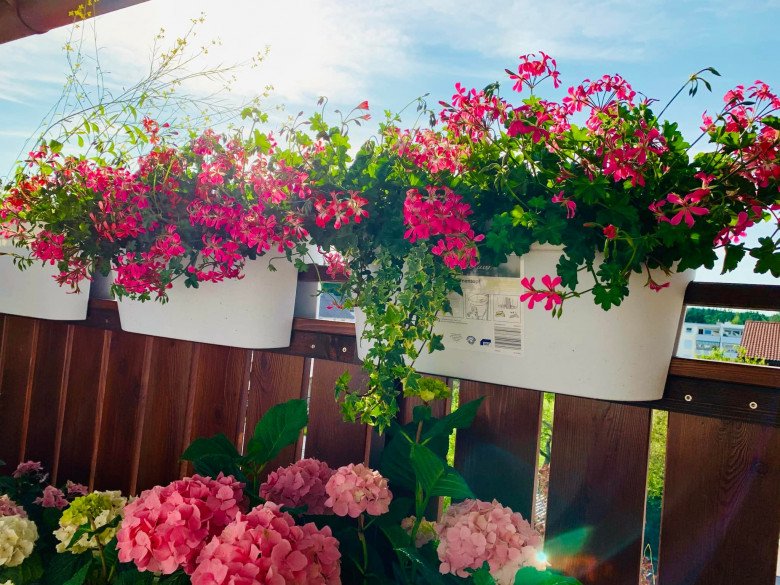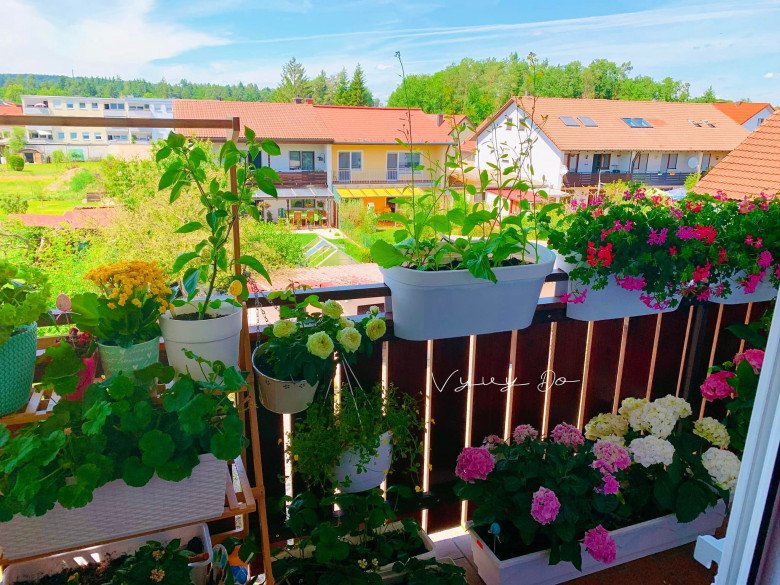 Ms. Vy arranges flower pots around the edge of the balcony, using hanging pots, floor shelves, … to save space.
Vy's daughter – Sophia is 7 years old this year, loves painting. The small garden is the place where children look at flowers, take care of trees and draw pictures every day. Vy shared: "Since having a garden, my daughter and I both like to go out on the balcony to draw and read stories to each other. Every morning when we open our eyes, we will see if the flowers have bloomed more or how big the vegetables are. harvestable,…
Girls especially like to sit and draw passionately in the garden on summer afternoons. I find this nourishing her soul day by day and feel very happy to be able to save a small fresh space for her and her family, right at home."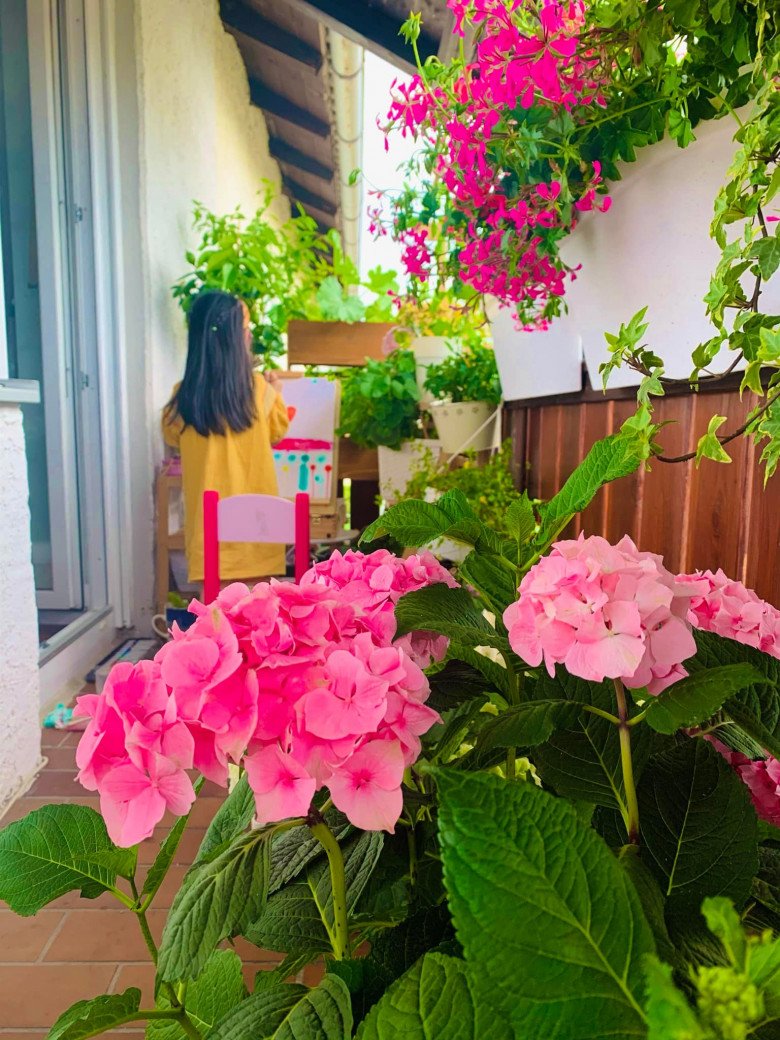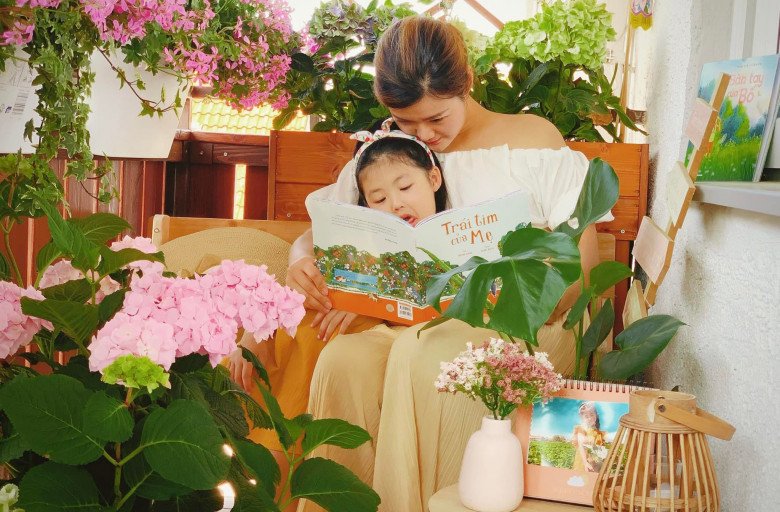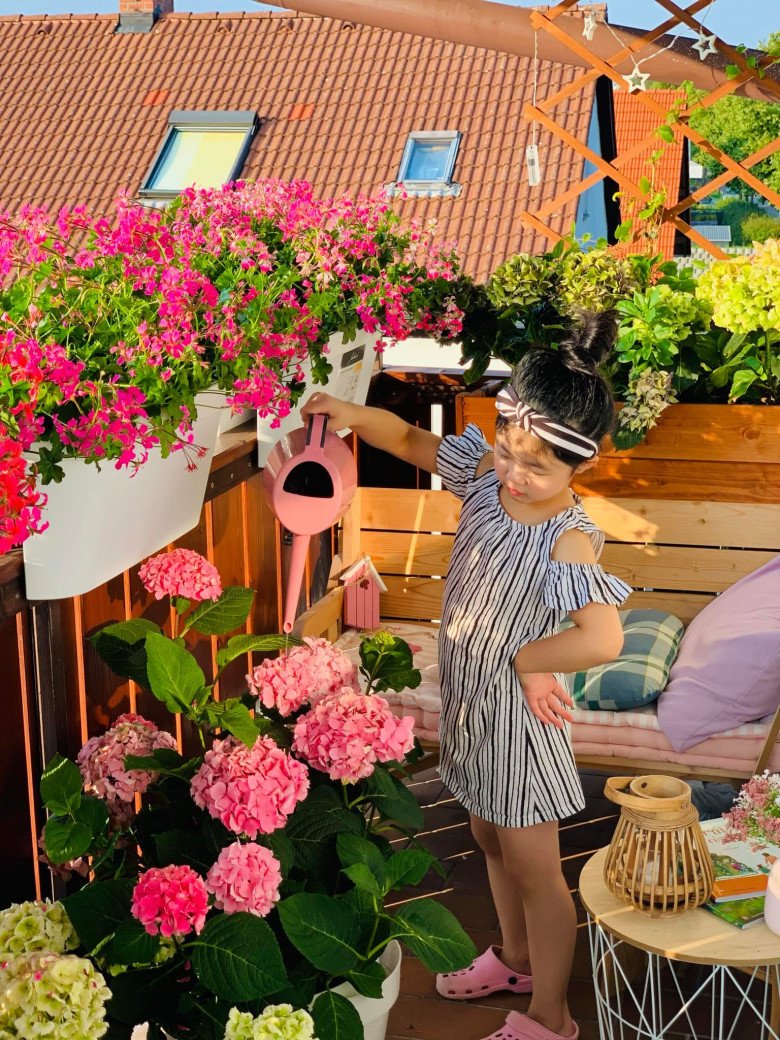 Vy herself also accumulates more experience in gardening and taking care of trees. According to her, the most important thing is to know which plants need a lot of sun and which ones need less sunlight to choose the right layout angle, water enough, provide enough nutrients for the soil, depending on the type of soil for flowers or vegetables. You will need more protein and potassium to supplement accordingly.
When the plants are infected with bugs, she mixes dishwashing liquid with toothpaste and cold water, sprays them on the leaves and strokes away the bugs. In addition, Ms. Vy also applies the experiences she learned while in Vietnam.
"In the past, when I was still in Vietnam, my father used to water plants with water to wash rice, so now I also apply and listen to everyone's experience, I mix yeast (used for cooking) with water to water the plants. In the near future, I plan to make an organic compost bin to use water to fertilize the plants so that the plants can grow clean and ensure food safety, especially with edible vegetables. mom to share.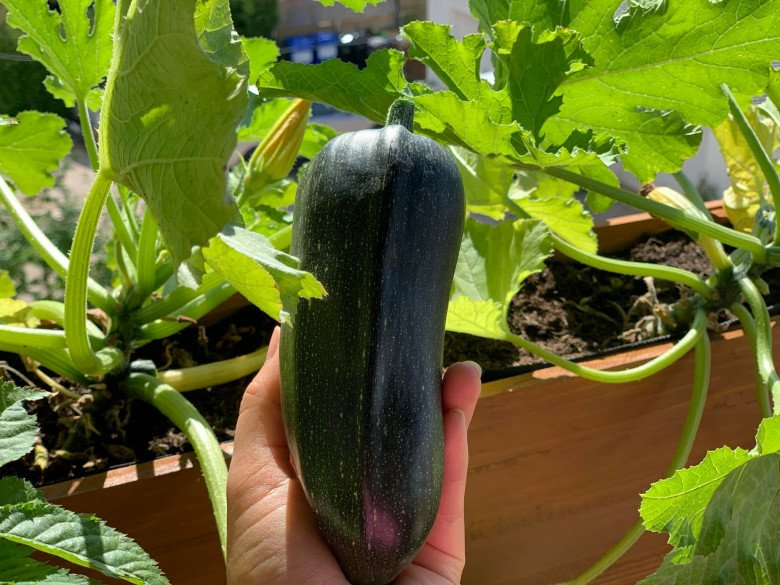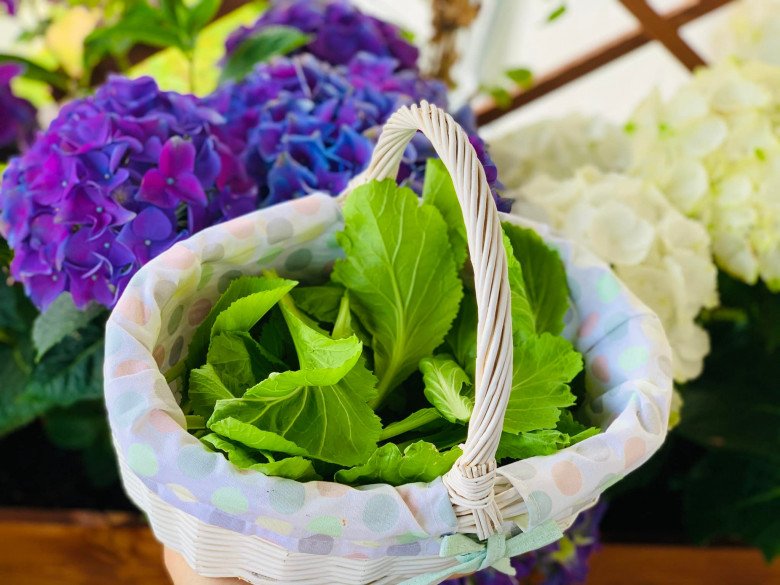 Some vegetables in the garden.
The garden seems to bring new energy to Vy's family. Day by day, the small family is comforted by the green space, listening to the chirping birds, breathing the fresh air. For Vietnamese mothers, it is a simple but precious happiness that brings a sense of peace to the soul amidst the chaos of life.
You are reading the article
Every corner is beautiful and sparkling, with all kinds of vegetables

at
Blogtuan.info
– Source:
Eva.vn
– Read the original article
here