Children's playground is not only a place to play and entertain, but also a space to promote spiritual and cultural development. In big cities, children are deprived of healthy places to play, which worries many parents, especially at the start of summer vacation.
When she has free time, Ms. Ha My (Phu Nhuan district, Ho Chi Minh City) will take her child to Gia Dinh park near her house so that she can run and dance with her friends. My family rents a house in a nearby area, her 8-year-old daughter often wants to go out to play because of the small living space in the house. The alley in front of the house has had many accidents because of the lack of observation by the children, so My sister is even more insecure about letting her children play in front of the house.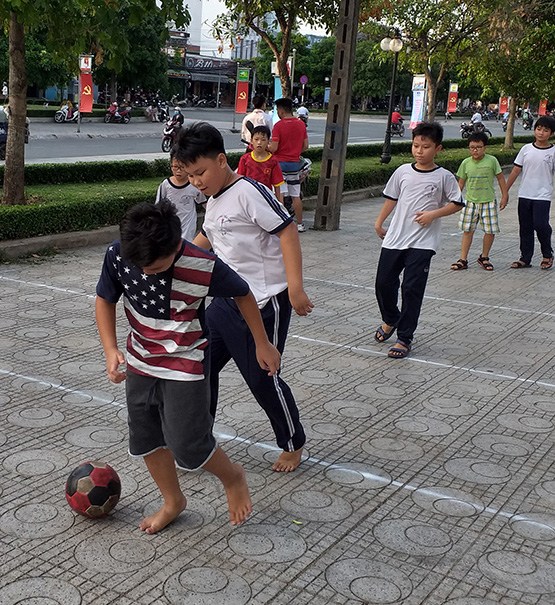 Children play right on the sidewalk, causing traffic insecurity.
Because of fear of disadvantage for her children, before summer vacation, My sister went online to search for gifted courses and summer camps to register for her children. Summer camps in neighboring provinces have a variety of activities such as visiting ecological forests for children, returning to nature, learning survival skills.. But she said, the cost of these summer camps is quite expensive. red and only lasted about 10 days, her family could not afford to pay.
She added that she did not want to force her child to study too much during the summer break, but wanted her to be comfortable and exercise to improve her health.
With the same concern as My, Mr. Tuan (Go Vap District, HCMC) is also worried about the summer playground for his two children. After a prolonged epidemic, Mr. Tuan's eldest son was diagnosed with signs of mild psychological illness, the doctor advised the family to let him participate in healthy collective activities, increase interaction with the outside. . Mr. Tuan is interested in creating a family bookcase, often takes his children to Nguyen Van Binh's book street, he also takes his children to the park, picnics at the zoo…
However, these activities depend on the couple's free time, and summer days last for several months. Mr. Tuan wanted to find a summer program throughout for the children but fell into a deadlock.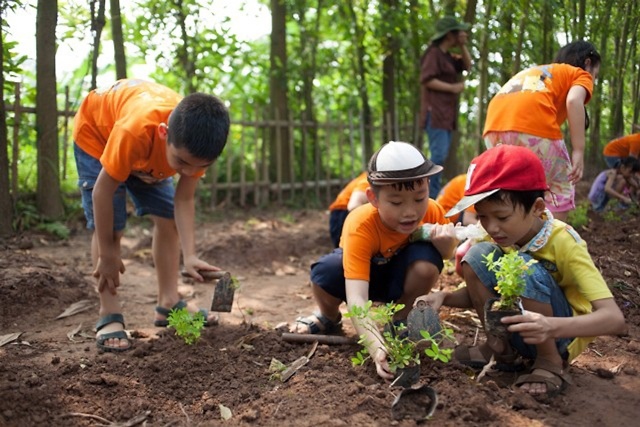 The lack of playgrounds has existed in big cities for many years. Parents worry that if there is no playground, children will easily fall into unhealthy games such as addiction to online games, many children play sports on sidewalks, in alleys, which are very dangerous… Facilities at amusement parks in the park is limited and not preserved and maintained, so it is rusted and damaged. Summer activities in residential groups are not really rich, dynamic and mechanical, leading to boredom, and children have no interest in participating.
Many public playgrounds are occupied by adults, making it difficult for children to access, and shops are encroaching on them. The playground is not safe for children such as lack of light, too close to the road without barriers, in some places not adjacent to residential areas, it is easy to be harassed, bullied and abused. .
Ms. Minh Khue (Binh Thanh District, Ho Chi Minh City) lives in one of the most expensive apartment complexes in the city, but she is like many other parents when the concern about the children's summer playground always makes her feel uncomfortable. must think.
"When deciding to buy a house here, partly because the park is spacious and civilized on the campus, my children will comfortably go out and play near my house without having to worry. However, this is also a park area. In general, many people are outside eating, camping, cycling… Many people lack awareness, so even the children's play area also drinks and smokes. The condition has also improved, but the risk of unsafety is still high when many young people rollerblading and skateboarding do not observe, easily bumping into children," Khue recalled.
Ms. Khue sent her children to participate in a summer activity for the children of employees of the company where she is working. However, these activities also happen infrequently. Photo NVCC
Khue has not thought of a summer vacation plan for her children in the near future, she said she will consult more friends and information online and then make a decision. Initially, she planned to register for more foreign language classes, but the children did not agree.
Psychologist Dr Dinh Phuong Duy believes that children need to interact and interact with the outside environment in parallel with learning. Otherwise, children's eyes will be framed by stereotypes, lack of creative thinking when not observing the world around them. From there, it leads to emotional poverty, easy to close off from society or create a hostile personality.
Meanwhile, many scientific studies show that playing will help children feel comfortable, support the development of children's thinking and understanding skills as well as behavioral skills in life. Children need to play at least 2-3 hours a day, just enough time for neurons to regenerate.
You are reading the article
Parents in Ho Chi Minh City have a headache to find a place to play on summer days for their children

at
Blogtuan.info
– Source:
Eva.vn
– Read the original article
here