Originally, donuts were "anti-hunger" foods, easy to distribute, easy to use, and most of all, cheap.
Originated from the Netherlands
The donut has a special appeal to anyone who sees it. In bakeries, the warm golden light that shines down on the donut counters on beautiful trays invites passersby in the morning and afternoon and helps alleviate many people's hunger.
White "frosted" cakes with different variations are not only available at every grocery store in the United States, but also in many other countries.
Cakes made from dough are a very old story, as old as the way flour is kneaded and oil or tallow is used. But the donuts we eat today are a relatively young food with many different versions and presentations.
The North American version of the donut before spreading around the world seems to have originated decades after the American Revolution. That's when a familiar dish of Dutch settlers was "adapted" to a new world identity. Reading the history of donuts, you will be surprised to learn that donuts have long been tinged with "nationalism".
New York was formerly known as New Amsterdam, and native writers often reflected on Dutch customs in earlier eras with reverence and amusement. One of these customs is to make fried dough cakes, known as oliekoecken, or oil cakes.
The recipe is listed in a 17th-century Dutch cookbook: "The cake is coated with a crust and top with dried fruit to make it eye-catching."
One of the earliest mentions of donuts in American literature is by Washington Irving, the writer and diplomat, best known for his two works "The Legend of Sleepy Hollow" and "Rip Van Winkle".
In "Knickerbocker's History of New York" in 1809, he told about classic Dutch-American folk customs with "Primitive tea parties of the not-so-distant past".
They were fashionable parties usually reserved only for the upper classes or aristocrats, who had their own farms and private wagons.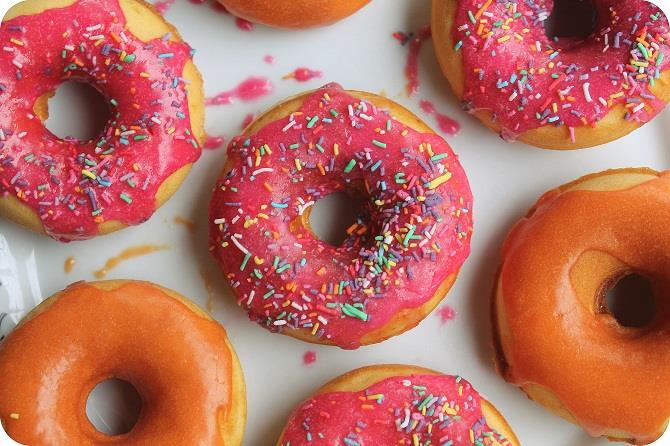 Diners are sure to be proud of a special dish. These are sugary dough balls, fried in lard called donuts, or olykoeks.
Over time, innovative donuts became a popular dish, but not merely a dessert, or eaten to relieve hunger, but also bearing the identity of an authentic American dish.
The name donuts mentioned by Jon Townsend in the 18th Century Cooking YouTube channel may have come from a very famous confection called ginger seeds.
It's a small round cookie about the size of a walnut. Donuts at that time were used to call for small balls made of fried dough, so they were called "nuts".
American traditional food
Fantasies of the convenience and taste of donuts have continued throughout the course of American history. More than 50 years after Irving wrote about them, donuts have morphed into their modern round shape, no longer as small as a walnut.
The real causes of this transformation have been lost to time, buried with only one anecdote involving the sailor Hanson Gregory and his mother.
One version of this legend holds that Gregory's mother made donuts for him to take with him on his travels and that the cakes had a round hole so he could strap it to the ship's rudder handle and eat it in storms. But there are countless other anecdotes about the hole in the middle of the cake, including a "material science" theory.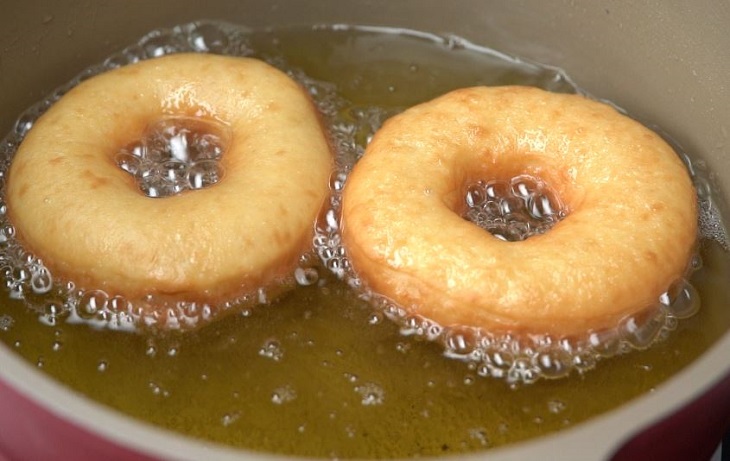 When the thick, wet dough is tossed in hot grease, the dough in the middle will remain intact even though the outside is cooked. Therefore, if you want a large cake that cooks evenly, you need to leave a hole in the center of the cake.
Whaling ships in New England are also relevant to the question of why the donuts made there are a bit fishy. "With a large amount of whale fat on board after catching and caching, frying the dough with whale fat is the most sensible option," writes Michael Krondl in his book "The Donut: History, Recipes, and Lore from Boston to" Berlin".
The writer Mary Brewster, while on board a whaling ship that had just pulled the nets in 1845, wrote: "I saw all the men celebrate with song and chatter over donuts." The next day, she added: "This afternoon the same men fried donuts, and they happily enjoyed their own produce."
Professional donut makers were highly regarded during World War I, when many women volunteered for the Salvation Army to make donuts for the US military. Hundreds of thousands of delicious cakes were distributed to the trenches.
There are many posters that acknowledge the dedication of "those who bring home flavor to the battlefield". Salvation Army's prestige was raised immediately. "When the war ended, the totem they chose was the donut, a profound symbol of their homeland," writes John T. Edge in his book "Donuts: An American Passion."
But for at least one woman who made donuts for the U.S. military during the war, the joy of making them was gone. It was Helen Purviance, who fried… a million donuts during the war.
When interviewed by The New York Times on the occasion of raising donuts in Savoy for the Salvation Army, she frankly said that "no longer like making donuts like before because every time I donut, I remember the horrors of the war." painting". "There is no glory in war," she emphasized to the reporter.
The donuts of the modern store can be embedded in the narrative of America's casual dining pleasures. But the fried dough actually served as a hunger-saver for many souls while alive and thrust into various grim circumstances in the old world.
Now, it's easy to find a donut in almost every culture, and their own stories about their origins are often mixed with romance, even a little "religious" and "ritual" food. .
You are reading the article
Simple dishes conquer the modern world

at
Blogtuan.info
– Source:
Afamily.vn
– Read the original article
here