Animal News
Is pet insurance worth it? How do you choose a policy?
There is no way to foretell the future; you cannot anticipate when or how your pets will become unwell or how much it will cost to treat them. Pet insurance offers protection from unforeseen medical expenses. The appropriate Insurance for Dogs & Cats can be a lifesaver because the majority of Americans struggle to pay a $1,500 emergency medical bill yet one in three pets need emergency care annually.
So, is pet insurance worth it? Here is some information to aid with your decision-making.
Cost of pet health insurance
According to NAPHIA, the average yearly cost for an accident and illness policy is roughly $584 for dogs and $343 for cats. For dogs, that comes out to about $49 per month and for cats, about $29 per month.
For dogs and cats, the annual cost reduces to $239 and $130, respectively, if you select an accident-only policy. Such Insurance for Dogs & Cats won't pay out if your pet becomes unwell but will cover care if, for example, he is injured by a car or eats something poisonous.
The age and breed of your pet, the cost of veterinary treatment in your area, and the insurance plan you select can all have a major impact on premiums.
Be aware that costs tend to rise as your pet ages and develops more health problems. Unfortunately, if the cost of the plan exceeds your budget, you might have to cancel it just as your pet begins to require it most.
If you keep the insurance coverage in place for the duration of your pet's life, you'll probably wind up paying thousands of dollars.
What is covered by Insurance for Dogs & Cats
What do you receive for paying all those premiums? Insurance for Dogs & Cats can be a lifesaver if your pet needs an expensive diagnostic, but chances are it won't cover every penny of the bill.
Limitations, paymets, and deductibles
Most policies have an annual deductible, which is the sum you are responsible for paying before the pet insurance company begins to pay. Most Insurance for Dogs & Cats policies pay out a set amount of your vet bill after your deductible has been met, usually 70%, 80%, or 90%. Additionally, there can be a yearly payout cap that applies to you.
Let's say you have a plan with a $500 deductible that reimburses 80% of your expenses and pays up to $10,000 annually. Your plan would cover $1,200 if your dog needs a $2,000 surgery but you haven't yet paid your deductible. As for the math:
$2,000 – $500 deductible = $1,500. 80% of $1,500 = $1,200.
A lower deductible or greater reimbursement rate can frequently be added to your plan, but doing so will raise your premium.
What is not covered
Even if you discover a plan that offers 100% reimbursement with no yearly cap, it could not cover all of your veterinarian costs.
For instance, unless you've purchased an add-on for wellness and preventive care, the majority of plans won't cover spay or neuter operations. The same is true with immunizations, yearly exams, and dental cleanings. This is true because Insurance for Dogs & Cats is meant to cover unforeseen costs, not recurring expenses related to pet keeping.
But in almost every pet insurance plan, pre-existing conditions are arguably the most significant exclusion. Pet insurance typically excludes pre-existing conditions and only covers recent wounds or illnesses. When your cat is diagnosed with cancer, don't try to purchase pet insurance to pay for his chemotherapy because it probably won't be covered.
How do you choose a policy?
I'm going to outline the key elements that should be covered in a pet insurance policy for you.
What Should a Pet Insurance Policy Cover?
Exam costs
Exam expenses are not always covered by employers, and some even make them voluntary. Other businesses automatically incorporate it in their policies. If it isn't covered, it will be like having to pay a higher copay for each visit. If your pet has a problem that needs repeated examinations, you visit an emergency room or a specialist hospital, or you're one of those individuals who brings their pet to the veterinarian at the first sign of anything unusual, this might get pricey.
Rehabilitative and Alternative Therapies
More and more veterinarians are recommending these treatments, particularly following orthopedic surgery or trauma. Make important to learn what a pet insurance company offers as part of such coverage. Consider therapies including acupuncture, hydrotherapy, and laser therapy. You can typically add this coverage when you get a quote if a firm makes it optional.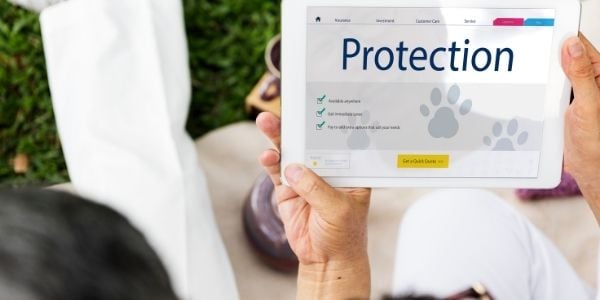 Foods on Prescription
In order to manage chronic illnesses including arthritis, allergies, diabetes, urinary problems, etc., therapeutic diets are frequently advised. These foods typically cost twice as much as what a pet would normally eat. These diets would have been beneficial for my clients' pets, but they were unable to sustain the costs over the long run. Even if a business paid half the price of prescription food, that might make it more accessible to more individuals. Find out whether this coverage has any restrictions.
Dental Conditions
The cost of a preventative dental cleaning will not be covered by pet insurance providers, but they should pay for costs related to dental mishaps, such as a shattered tooth from trauma (e.g., cracking it on a hard chew toy). Check the policy to make sure these kinds of dental disorders are covered because periodontal disease, oral tumors, feline gingivitis/stomatitis, and feline tooth resorption account for the majority of dental problems encountered by veterinarians. Ask the insurance provider if the coverage covers root canals and crowns on teeth that are regarded as essential, such as canines and the fourth upper premolars (also known as the carnassial tooth). Also, find out if these coverages have any unique constraints.
Hereditary and Congenital Disorders
These are ailments that a pet either gets from its parents or is born with. Almost all plans now offer coverage for them, although some have age restrictions and/or longer waiting periods, so be sure to inquire about this.
Behavior Issues
With the right treatment, behavioral problems or concerns like separation anxiety, noise phobias, litter box aversion, etc. can be treated or at the very least managed. Every year, behavior problems are the main cause of pet surrenders to shelters or euthanasia. Although many illnesses are best avoided than cured, they may necessitate numerous vet visits, prolonged therapy, and management—possibly even a referral to a specialist. Find out if the coverage has any restrictions.
Supplements
Supplementation can be quite beneficial, particularly for illnesses like liver disorders and orthopedic ailments. The ones that are typically more expensive than over-the-counter (OTC) alternatives are the ones with scientific and anecdotal support that they genuinely work. They may be expensive since they may be required in the long run.
To sum up
Think about getting pet insurance if
Your pet is a young, healthy animal.
You lack the savings necessary to pay a high vet cost.
You feel more secure knowing you have Insurance for Dogs & Cats .
Insurance for Dogs & Cats might not be worthwhile if
Your pet is elderly or has health issues already.
A sizable vet cost wouldn't put you in financial difficulty.
As opposed to paying for insurance you might never use, you would rather take the chance of an expensive diagnosis.
Please read: http://blogtuan.info/2022/07/01/6-benefits-of-cycling-in-the-morning/