Thị trường
SeABank sets a target of VND 4,866.6 billion in profit and increases its charter capital to VND 22,690 billion
Southeast Asia Commercial Joint Stock Bank (SeABank – stock code SSB) has just announced the documents of the 2022 Annual General Meeting of Shareholders (AGM) with the target of pre-tax profit of VND 4,866.6 billion, increasing charter capital to VND 4,866.6 billion. 22,690 billion VND.
The Congress is expected to be held on April 21, 2022.
In 2021, SeABank continued to have stable growth steps, operating effectively with pre-tax profit of more than VND 3,268.5 billion, up 89% compared to 2020 and completing 135% of the 2021 plan; total assets reached more than 211,663 billion, up 17.5% compared to 2020. Return on average assets (ROA) and return on average equity (ROE) are respectively. 1.33% and 16.12%; bad debt ratio is only 1.65%. In addition, in 2021, SeABank has completed increasing its charter capital from 12,087 billion VND to nearly 14,785 billion VND, becoming one of 12 private commercial joint stock banks with the largest charter capital in Vietnam. In the first quarter of 2022, the Bank continued to successfully offer 181,311,631 shares to existing shareholders to raise the charter capital to VND 16,598 billion.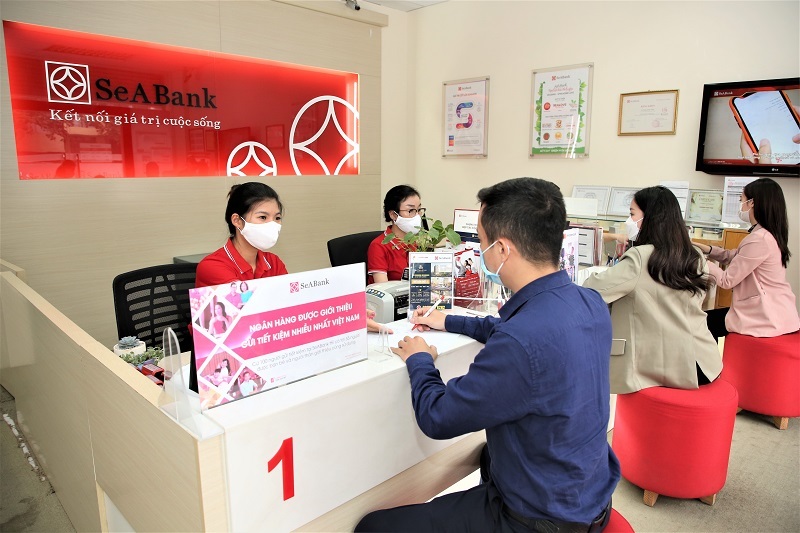 Besides, SeABank continued to have its credit rating of B1 maintained by Moody's and upgraded its outlook from Stable to Positive. This is also an important basis to affirm the position, potential and reputation of SeABank with customers and partners, especially the foreign investment community as well as credit rating agencies, and is always at the forefront. in meeting the highest international standards, proactively, transparently, safely and sustainably administering and operating business operations.
2022 is a year of strong development in SeABank's 2020 – 2025 development strategy, in which the direction of business promotion is focused through: Customer development, risk management and compliance control, approvals credit, operations, digital technology development, human resource management and organizational culture. To continue to maintain the growth momentum, SeABank has set development goals in 2022 to submit to the General Meeting of Shareholders on business results and plans to increase charter capital. Specifically:
Profit before tax reached 4,866.6 billion VND
One of the important contents to be approved in the 2022 General Meeting of Shareholders is the business plan for 2022. Accordingly, SeABank sets the following targets: Total assets are expected to grow by 10%; Deposits are expected to grow at VND 22,000 billion, equivalent to an increase of 16% compared to 2021; Maximum credit growth of 17%, equivalent to a net growth of VND 24,000 billion compared to 2021; Profit before tax reached 4,866.6 billion dong; The regulated bad debt ratio is less than 3%.
In order to complete the set plan, in 2022 SeABank will continue to implement many synchronous solutions, which are focusing on risk management and compliance control, diversifying products and services, and exploiting to the fullest. strategic partner ecosystem, implementing a digital convergence strategy, investing heavily in technology, especially comprehensive digitization of operating processes in credit, payment, customer service activities… bring operational and transaction efficiency, increase customer experience.
In 2021, good growth from the service fee segment is one of the main drivers for the Bank's impressive business growth with net profit from service activities reaching nearly VND 1,146 billion, 3.2 times higher than that of the bank. times compared to 2020. Therefore, diversifying products for customers, improving and developing non-interest income, insurance, and foreign exchange are the focus of SeABank's business in 2022. SeABank plans to continue growth in fee income to stabilize and diversify income sources, focusing on services such as insurance, foreign exchange, digital banking and credit cards.
Increase charter capital to 22,690 billion VND
In 2022, SeABank is expected to increase its charter capital from VND 16,598 billion to VND 22,690 billion to further improve its financial capacity and add additional capital for business activities to realize the set growth goals. The Bank will increase charter capital through the following activities: Issuing shares to pay dividends and increase capital from equity, issuing shares under the selection program for employees of SeABank in 2022 ( ESOP 2022) and private placement.
Specifically, SeABank plans to issue 321,100,000 ordinary shares with par value of 10,000 VND/share, of which 211,400,000 shares (equivalent to 12.7%) to pay dividends in 2021 and issue 109,700 .000 shares (equivalent to 6.6% rate) for existing shareholders to increase share capital from owner's equity. If this plan is approved, each SeABank shareholder will receive dividends in shares and shares to increase capital from equity at the total rate of nearly 20%.
With the ESOP 2022 issuance plan, SeABank plans to issue 59,400,000 shares to employees. In addition, depending on conditions suitable to the set target, SeABank plans to privately offer 228,700,000 shares to foreign investors.
In addition to the business plan 2022 and the plan to increase charter capital to 22,690 billion VND, the General Meeting of Shareholders of SeABank will also approve a number of other contents such as the profit distribution plan in 2021; amend and supplement the charter and regulations; additionally elected 01 independent member of the Board of Directors,…
Minh An
You are reading the article
SeABank sets a target of VND 4,866.6 billion in profit and increases its charter capital to VND 22,690 billion

at
Blogtuan.info
– Source:
infonet.vietnamnet.vn
– Read the original article
here