Business
Tears of a woman in Hanoi 37 years after giving birth
At the weekend, she called her daughter to get up early, Le Thu Huyen (38 years old, living in ) Nguyen Khiet Street, Phuc Tan Ward, Hoan Kiem District, Hanoi) borrowed a motorbike to pass her son to his sister's house in Long Bien district to send to work.
Sending her children to her house, Huyen quickly returned to keep up with her order to ship to Nguyen Tuan street, Thanh Xuan district. The 38-year-old woman is working as a shipper for her cousin who lives next door, after taking a break from working at a karaoke bar, this is her main source of income during the outbreak days.
Without a motorbike, she borrowed a relative's car to fill up with gas to ship goods. Today, orders far away she received 50,000 dong, the orders near her only earned 20,000 to 30,000 dong. No matter how much or how little, she is still very happy because she earns money to buy milk for her children.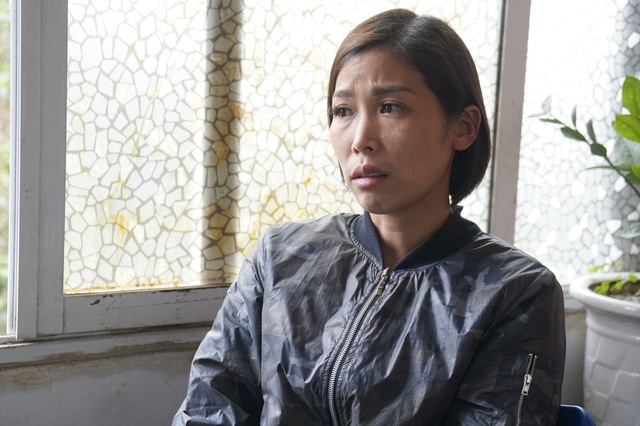 Huyen was born in 2021 when she was 37 years old.
The journey to birth for yourself
Ms. Huyen said that she was born on April 26, 1984, at this time her father, Mr. Le Huy Son (born in 1961), was serving a prison sentence. Her mother gave birth alone, then she let her grandparents raise her and then left.
"My mother called to tell my father that I was born in Hang Bun, and then had no contact with my family anymore," the woman recalls.
Her father was in prison and she was raised by her grandparents. A few years after the expiration of his sentence, Mr. Son returned home, took a second wife, and gave birth to a son and a daughter. During her childhood years, she did not have the love of her father, because Mr. Son was constantly punished. When friends of the same age jump rope, shoot marbles, show off new clothes, Huyen just hangs around at home to take care of her younger brother.
Her mother left, her father was sentenced to prison, she was not allowed to give birth, nor had any documents to prove her existence in the world. With no papers, she was poor, and Huyen was not registered to go to school. "I have an acquaintance at home who works as a teacher, I was allowed to sit down until I was in 4th grade, then I stopped and knew the face of letters."
After 16 years, Huyen lives like an invisible person, not recognized by the law or the government. At the age of 16, she met and fell in love with a man over four years old in the Temple of Literature ward. Not long after, the two got married, but did not register the marriage, because she herself did not have any identification papers.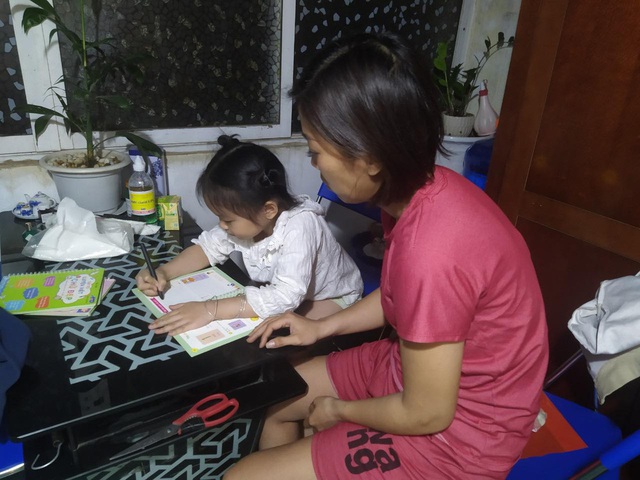 Huyen's daughter reaches school age but still stays at home because her mother cannot afford to go to school.
At the age of 18, she became pregnant with her first child, giving birth to a boy. Without marriage, a young mother cannot give birth to a child. She pitifully let her husband adopt her biological child, giving birth to the baby without her mother's name. A few years after the second child was born, the birth registration for the first child as well as the first child had to go through adoption procedures for importation and birth registration. The mother's name in the child's birth certificate remains blank, although she still lives and takes care of the child every day.
Realizing the inadequacy in her lack of identification papers, Huyen and her husband returned to find her father. The two inquired about their background, place of birth, decided to give birth to her sister, having a document to prove her existence in the world. However, after many years of struggling due to not being able to find her birth mother and not having enough documents as prescribed, the 38-year-old woman still could not register her birth.
"My mother left me in front of the house, told me to give birth in Hang Bun, but when I went out to ask people to look up, my name was not there. I was born there. My mother herself also disappeared, so no one witnessed or witnessed. prove me to give birth", Huyen said and said that she had gone everywhere to find her mother. She asked her father about her mother's acquaintance and hometown to hope to find her mother to give birth to her, but to no avail.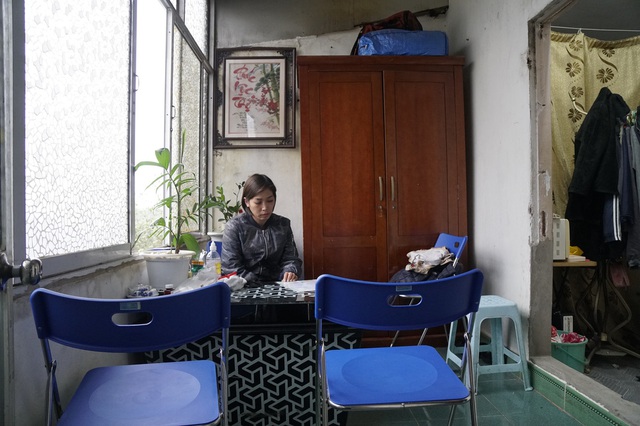 Currently, Huyen lives with her father, brother and daughter in a 30-square-meter house on Nguyen Khiet Street.
In 2016, she and her father went to take a DNA test and wanted to use it for birth registration, but still could not. Ward requires a mother to prove her birth.
For 37 years, Huyen traveled from place to place hoping to get a birth certificate. I myself could not apply for a job because I did not have an identity document, and nowhere dared to accept her. The only lucky thing for a woman is to have a husband who loves her dearly.
Married at the age of 16, she returned to open a shop selling water near her home. She helped her mother-in-law sell vermicelli in the morning, and sold water in the afternoon.
Two children grow up, she is pregnant with the third child, a daughter. When the girl was born, knowing her situation, Van Mieu ward facilitated the mother's name on the daughter's birth certificate. For the first time, she cried because of happiness, being the mother of her child on paper. She was even more determined to have a birth certificate for herself.
Two years ago, Huyen's husband died due to illness and difficult family conditions. She brought her daughter to live with her father, while her two eldest sons lived with their grandparents in Van Mieu ward.
"I brought my daughter to live with my father to take care of him conveniently, also reduce the burden on the grandparents here, the two eldest sons can go to work to live with their grandparents," the mother of three confided.
Returning to live with her father, Huyen did enough to take care of her daily meals. Although she struggled to make a living, she never gave up on giving birth to herself. After many years of hard work, running from ward to ward, she was instructed by the judicial officers of Phuc Tan ward to make a dossier and create conditions for her birth registration.
On the morning of October 20, 2021, Ms. Le Thu Huyen went to the headquarters of the People's Committee of Phuc Tan ward to receive the birth certificate for the first time after 37 years without being legitimate.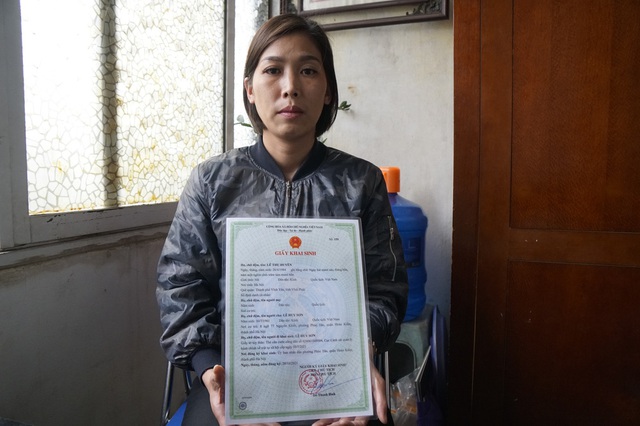 Ms. Huyen received her birth certificate on October 20, 2021.
Dream of having a bunch of vermicelli to earn money to raise children
37 years of living in poverty, without going to school, without a decent job, struggling with all kinds of jobs from sweeping garbage, washing dishes to rent… to have money to raise children. The night before the day she went to receive the birth certificate, Huyen could not sleep. "Lying thinking back to my life for the past 37 years, thinking that I will have a brighter future, have a more stable job, I can't sleep."
The moment she held a birth certificate with her name on it, got a document to prove her existence, she hugged her father and cried. After 37 years, almost half of her life was born, her husband was no longer happy with her. The mother promised herself that she would use this document as an identity, to apply for a decent job to have money to send her children to school.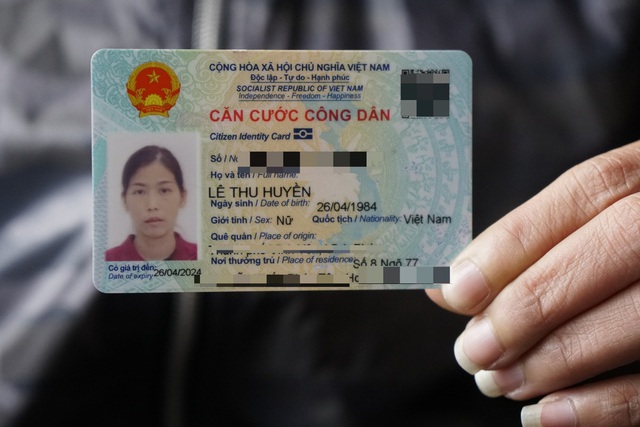 After being born, Huyen was given a citizen's identity card.
The joy of receiving the birth certificate was not long before Hanoi exploded with Covid-19, and the shops closed in turn. She moved back to her father's house to take care of him, but Huyen said she couldn't help him.
"My father still works as a security guard, earns 4.5 million a month, covers food, electricity and water in the house," Huyen said. Previously, when she moved back to live with her father, she worked as a waiter at her uncle's karaoke bar, earning 4 million months to live on. But the epidemic closed so she lost her income.
Seeing Huyen's situation, my cousin near my house allowed her to ship goods for her. However, there are not many goods, on a crowded day, she will get 200,000 VND, minus the gas bill, she has 150,000 VND left. One day there was only 1 order, the other day there was no order, so she had to eat shrimp noodles over the meal.
"I can do whatever I want, I just love my daughter, she's been absent from school for the whole year. Luckily, her auntie picks her up to take care of her, she cooks rice to take home, otherwise …", 38-year-old woman left the sentence unfinished and looked out the window.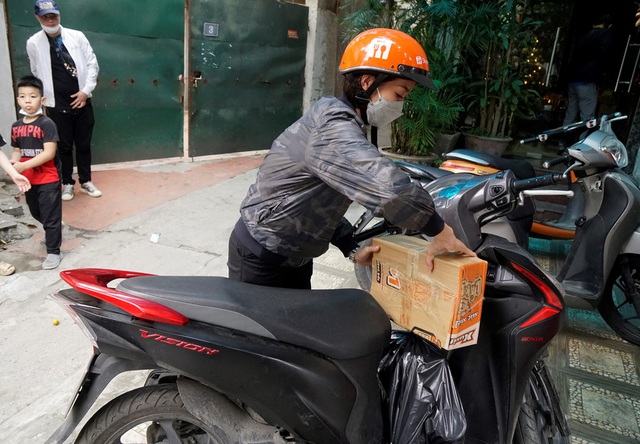 Huyen currently ships things for her cousin to earn money to cover her life.
Her daughter reached school age partly because of the epidemic, partly because she did not have money, so she had to leave her child at home. When she was still living with Huyen's husband's house or helping her mother-in-law selling vermicelli, the 38-year-old woman always wished she had enough conditions to open a noodle shop, sell goods to feed her children day by day.
"I can't live with my father forever, he has taken care of the electricity and water bills in the house, I want to earn a job and make money to feed my children and go to school," the woman shared, having a friend who knows her situation. should ask to sit in front of the shop to sell noodles. But now she herself can't even eat, where to get the capital to trade.
She said that she went to ask for a loan from a few places, but the epidemic was complicated and everyone was in trouble, so she couldn't borrow any thousand. Her younger sister got married and took care of two small children, so she didn't dare to ask. The mother of three only hopes that the epidemic will soon stabilize, with papers to prove her identity, she will find a job, accumulate some capital to open a noodle shop, have time to stay at home to take care of her children, send her children to school.
Mr. Quach Van Nam – judicial officer of Phuc Tan ward (Hoan Kiem, Hanoi), said that Le Thi Thu Huyen was granted a birth certificate in October 2021.
According to Mr. Nam, this is the result after the review process with the direction of all levels and sectors. Huyen has a very special situation, it can be said that it is rare, Huyen herself was born in a special family. From 2011 to 2020, Huyen married and lived in Van Mieu ward. When her husband died, Huyen brought her small child back to the locality to live.
"She has three children, two grown-up grandchildren, and now she is raising one small child," said judicial officer of Phuc Tan ward.
https://soha.vn/nuoc-mat-cua-nguoi-phu-nu-o-ha-noi-37-nam-moi-duoc-khai-sinh-20220328145257543.htm
You are reading the article
Tears of a woman in Hanoi 37 years after giving birth

at
Blogtuan.info
– Source:
cafebiz.vn
– Read the original article
here