Thế Giới
US warns India about Russian oil
President Joe Biden and Indian Prime Minister Narendra Modi had an online chat on April 11, as Mr Biden urged world leaders to act harder than before. Russian military campaign in Ukraine.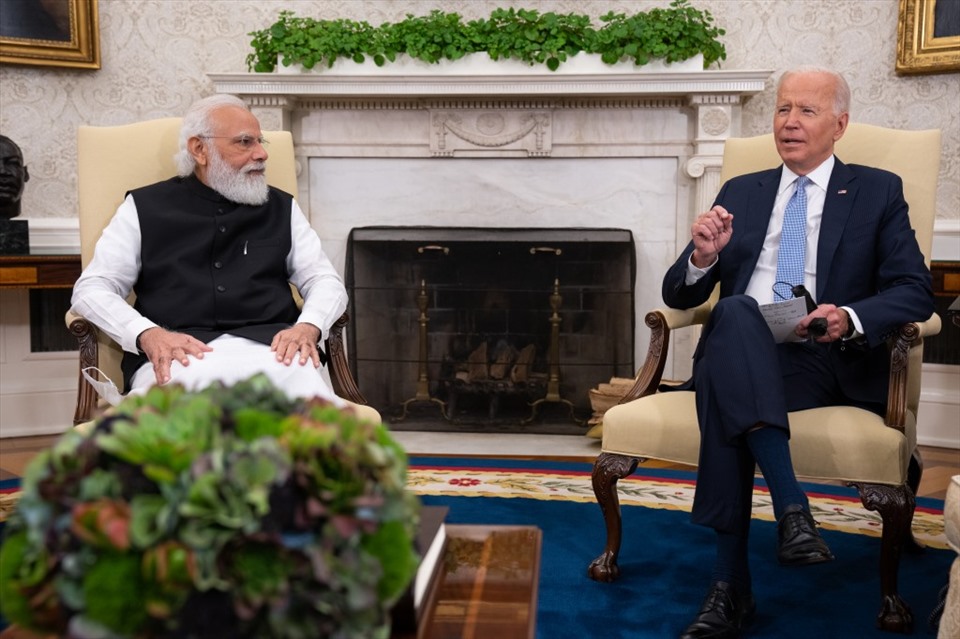 Oil from Russia still flows to India
White House press secretary Jen Psaki said President Joe Biden and Indian Prime Minister Narendra Modi discussed the consequences of Russia's military campaign in Ukraine and "minimizing the damaging impact of hostilities on the global food supply and commodity markets".
India continues to buy energy from Russia despite pressure from Western countries to avoid buying Russian oil and gas. The US has also considered sanctions against India for its recent purchase of advanced air defense systems from Russia.
Last month, the state-run Indian Oil Corp alone bought 3 million barrels of crude oil from Russia to meet domestic demand despite Western requests to avoid buying these products. Meanwhile, Reuters pointed out, India has bought at least 13 million barrels of crude oil from Russia since it launched a military operation in Ukraine on February 24 due to the sharp drop in Russian oil prices following Western sanctions. with Russian entities. Previous data showed that, for the whole year of 2021, India imported about 16 million barrels of crude oil from Russia.
However, India is not alone in purchasing Russian energy. Some European allies such as Germany also continue to import energy from Russia despite public pressure to terminate those contracts.
The Indian press reports that Russia is reducing the purchase price of oil to 20% lower than the global benchmark price. Iraq is India's top supplier, with a 27% market share. Saudi Arabia ranked second with about 17%, followed by the United Arab Emirates (UAE) with 13% and the US with 9%, the Press Trust of India reported.
Psaki added that during the conversation on April 11, Mr. Biden and Mr. Modi also mentioned cooperation on a range of issues including ending the COVID-19 pandemic, combating the climate crisis, and strengthening the economy. global economy and upholding a liberal, open, rules-based international order to promote security, democracy, and prosperity in the Indo-Pacific.
The exchange of US-India leaders took place before a ministerial meeting under the US-India framework of 2+2 between US Secretary of State Antony Blinken, US Defense Secretary Lloyd Austin, Indian Foreign Minister Subrahmanyam Jaishankar and Indian Defense Minister Rajnath Singh, White House added.
The last time Mr. Biden and Mr. Modi had a conversation was in March. Mr. Biden also recently said that in the Quartet (including the US, Australia, Japan and India) only India was "somewhat uncertain. " in countering the Russian military campaign in Ukraine.
Reuters pointed out, this South Asian country has tried to balance its relationship with Russia and the West, not imposing sanctions on Russia like the rest of the Quartet members. The AP reported that New Delhi's neutral stance on the Ukraine war has drawn opposite reactions from Washington and Moscow. Earlier this month, Russian Foreign Minister Sergei Lavrov praised India for its "comprehensive assessment of the situation, not just a one-way street". India abstained when the United Nations General Assembly voted on April 4 to suspend Russia at the 47-member Human Rights Council. This vote had 93 votes in favor, 24 votes against and 58 abstentions.
There is no red line
Daleep Singh, US Deputy National Security Adviser for International Economics who recently visited India, said the US has not set any "red lines" with India regarding energy imports. from Russia but don't want to see a "rapid acceleration" in purchases.
"Friends don't put red lines," he said. However, he pointed out, America's partners in Asia and Europe have been encouraged to cut their reliance on "an unreliable energy supplier".
Mr. Daleep Singh said the US is ready to help the world's third-largest oil importer and consumer diversify its energy and defense supplies. "What we don't want to see is an increase in India's imports from Russia in terms of energy or any other exports that are banned by us or linked to other aspects of the international sanctions regime." – he said.
A US government official earlier told Reuters that Washington has no objection to New Delhi's purchase of Russian oil, provided the purchase is made at a below-market price.
Mr. Singh also said that the US does not want its allies to help restore the Russian ruble. The ruble had fallen shortly after the outbreak of hostilities but has rebounded in recent days. "We don't want to see mechanisms designed to prop up the ruble or undermine the dollar-based financial system, or to circumvent our financial sanctions," he said. Russia is building a payment mechanism in rupees to maintain trade between the two countries.