Parents accuse the school of forcing them to sign an application not to let their children take the graduation exam
On the evening of April 19, public opinion was stirred by the content of the conversation of a group of parents of students whose children are studying in Hanoi. Accordingly, a parent in this group said that the school requires students who are in grade 9 who are not doing very well to transfer schools (to private schools) or make a commitment not to enter 10th grade.
Specifically, this parent recounted the incident as follows: "My family has a younger sister whose child is in grade 9 of Dich Vong Secondary School. Year 8 is still a good student, year 9 sums up 7.2. Yesterday then the homeroom teacher and 3 main subjects Math, Literature, English, the principal, the vice principal called her mother to a meeting to come up with a plan to send her child to a private school, sign the application not to let her child take the graduation exam because she was afraid that she would not pass. affect the school's performance 50% of the parents of the class were called because their child was doing well or below and had a one-on-one meeting. Her younger brother went back to crying and told him that he was in school for 9 years, but now he won't let him. "You're going to graduate. Of course they give you a direction to choose and then you'll be under a lot of pressure from this."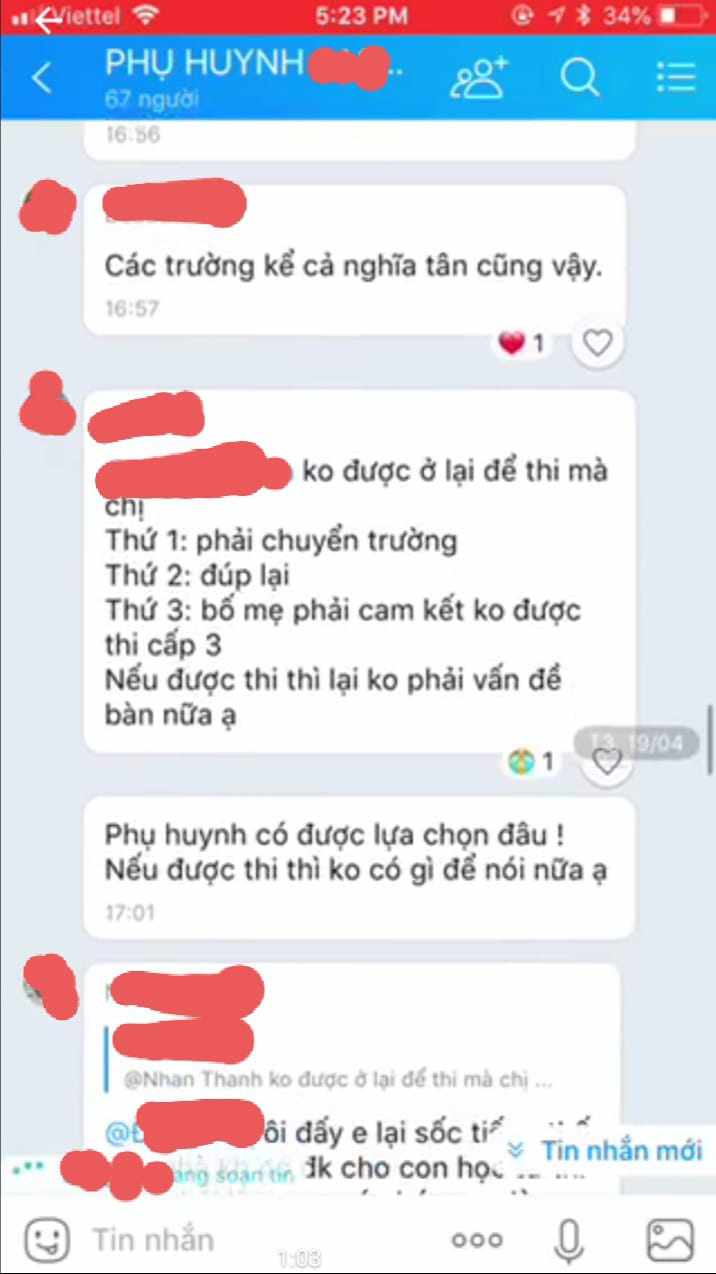 The shared content also said that there were 67 people in the group and many people also confirmed this situation in different schools. However, no one dared to react or fight with the school because "The board of directors called each parent to come, telling them to bring their children to the "meeting", some classes up to half the number of students were called to "meeting" to make this request".
The incident is causing frustration among parents and those interested in education. A series of opinions were given such as: "The school only knows how to color without thinking about children", "It is necessary to strongly condemn this negative situation. It violates human rights and children's rights", " Achievements, emulation and commendation, consequences harm the whole young generation"…
What does the school say?
Regarding the above reflection, on April 20, talking to the reporter of Dan Viet newspaper, Ms. Le Thi Thuy Nga, Principal of Dich Vong Secondary School, Cau Giay district (the school mentioned above – PV) said: "I didn't watch social media last night. This morning I went to school to open the phone at 7 o'clock to find out this information. Me and the teachers at the school are really sad."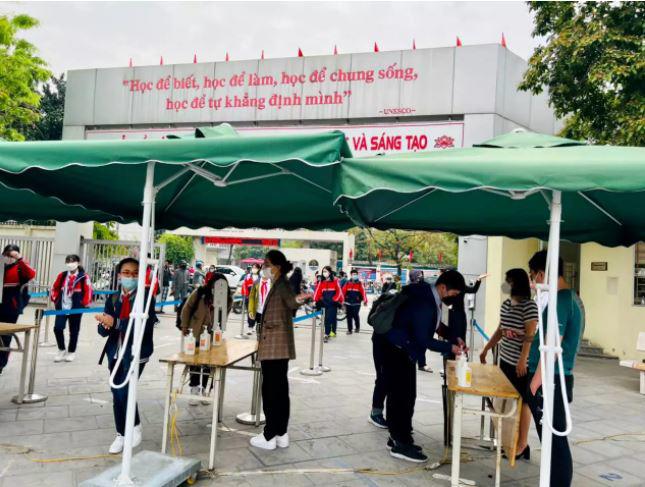 Students of Dich Vong Secondary School on the day of going directly back to school. Photo: NTCC
According to Ms. Nga: "This information is completely untrue. There is no story that the school advises parents not to let their children take the test. Not even that the good students in grade 8, grade 9 have a score of 7.2 but don't. There is no such thing as the principal, assistant principal, and teachers sitting around to give advice like that.The exam is the right of students and parents.
I'm pretty sure it's not me as this is unacceptable behaviour. And if this fact is true, please make public the information of which classes, teachers, and schools so that we can know. We reorganized the teachers to prevent such a phenomenon from happening in the school. If you don't have it, you shouldn't put it up like that."
Ms. Nga also shared that recently, under the influence of the Covid-19 epidemic, teachers had a hard time teaching online. When organizing students to go back to school, there are cases where students do not take notes in their notebooks. Therefore, teachers in addition to teaching the main course must tutor to consolidate knowledge and motivate students to stabilize their psychology.
It is known that in the school year 2021-2022, Dich Vong Secondary School has 12 9th graders with nearly 600 students.
"In the near future, teachers will have a meeting with parents and students, but it is to advise on ways to support students to get the best test results at the end of term 2. The incident affects the teachers' enthusiasm and affects their reputation. of the school, the department, the department. If we keep going to solve things like this, we don't have time to focus on teaching our children," Ms. Nga said.
Talking to Dan Viet, Mr. Pham Ngoc Anh, Head of the Education and Training Department of Cau Giay district, said that the unit had grasped the information. Currently, the Cau Giay District Department of Education and Training is conducting an inspection, clarifying when the results are available, they will provide specific information.
You are reading the article
Parents accuse the school of forcing them to sign an application not to let their children take the graduation exam for fear of affecting achievement

at
Blogtuan.info
– Source:
Eva.vn
– Read the original article
here