Business
Wrongly transferred 385 million dong of goods, the woman was surprised with the attitude of the shipper
Recently (May 12), the social network spread the story that the shipper returned 385 million VND to the customer by mistake, causing a stir. Accordingly, on the afternoon of May 7, Ms. HM (Binh Thach, HCMC) received an order of books delivered by the shipper. Because she is not at the company, she asked the security to receive it for her and ask for the shipper's account number to pay 385 thousand dong.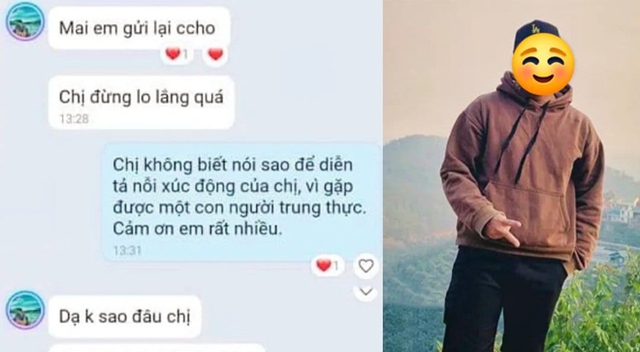 Social networks spread the story that the shipper returned to the customer 385,000,000 VND by mistake, causing a stir.
Because she was too busy, Ms. M. mistakenly transferred the amount to 385 million dong without even knowing it. Then she continued to work, until she opened it, she saw nearly a dozen missed calls with a message from the shipper: "I'll call you back urgently". She didn't have time to call back, but the shipper kept calling to say that the wrong money had been transferred and asked to send a bank account number for him to transfer again.
Ms. M. was too surprised by the kindness of the shipper, so she said to transfer 380 million VND, and 5 million VND, she sent him coffee, but the shipper refused to accept it.
Ms. M. added, the shipper discovered that the bank limit was only 200 million VND/day, so he said to run to the bank to transfer it all back to her. But after walking for a while, he remembered that on Saturday morning, the bank was not working, so he sent her 200 million VND in advance.
After that, the shipper asked her where she lived to run to the ATMs to withdraw enough money and then bring it to pay. However, she made an appointment for the next day because she knew the shipper was busy delivering.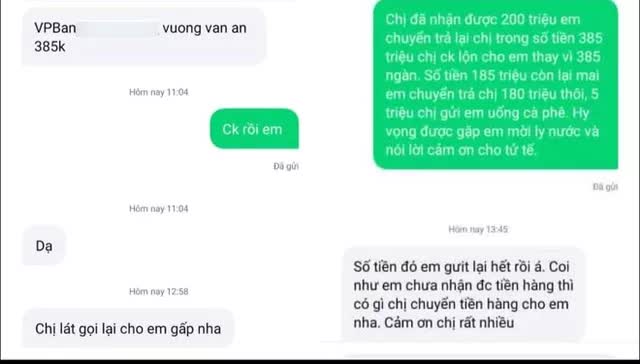 The conversation between Ms. M and the shipper.
However, just a few minutes later, the shipper found a way to immediately transfer 185 million VND to Ms. M. After that, he texted to inform him that he had sent the full amount, asking her to transfer 385 thousand VND for the ordered book.
Ms. M. immediately transferred to the kind shipper 385,000 VND for the book and 5,000,000 VND for her thanks.
Shipper VA (25 years old, living in Thu Duc City) – the guy in Ms. M.'s story, said that when he received a "super" amount of money from a customer, he stood still. Therefore, even though he was busy with delivery, he still found a way to transfer all the money back to Ms. M. He was afraid that the next day transfer would make her restless and he himself did not feel relieved and stopped shaking. scared.
Immediately after being published, the story about the kind shipper received great attention from the online community. Everyone was surprised by VA's behavior, and congratulated Ms. M. on having met a good person, so she could easily get her money back hundreds of millions of dong.
Nickname Ngoc Vu commented: "Luckily for the customer, the customer encountered a kind and non-greedy shipper. That's why he returned the full amount transferred – 385,000,000 VND, but if he met someone greedy. Probably won't be able to get the money back so easily, have to go to the bank and wait to get it back."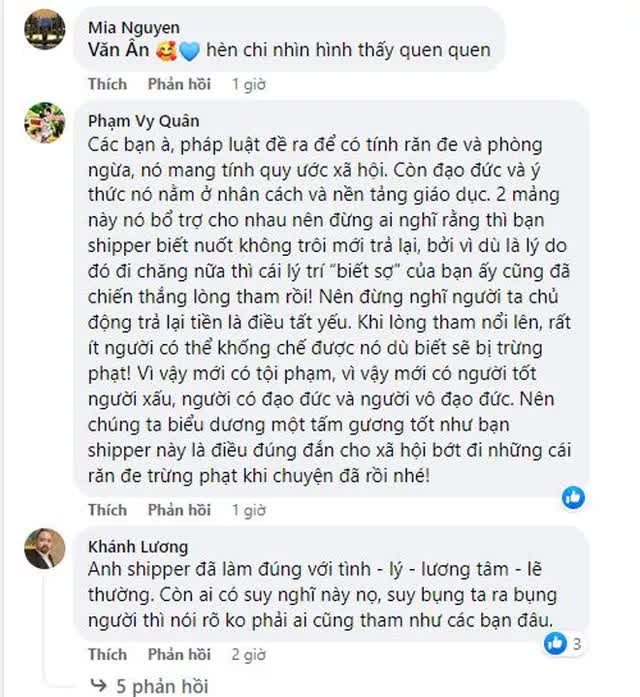 The story of the kind shipper has received great attention from the online community.
"Guys, the law is designed to be deterrent and preventive. It is a social convention. Morality and consciousness are based on personality and educational background. These two areas complement each other. So don't think that the shipper can't swallow before returning it, because even if that's the case, your "fearful" reason has already won over greed.
Do not think that people actively return money is inevitable. When greed arises, very few people are able to control it even though they know they will be punished. That's why there are criminals, that's why there are good people and bad people, moral people and immoral people. So, let's show a good example like this shipper, it's the right thing for society, reduce punishments when it's over!", Pham Vy Quan expressed his opinion.
Member Linh Nham shared: "I also just transferred the wrong amount to a friend and was lucky to meet a kind and nice person. You have transferred back to me the correct amount of money I transferred wrong. Feeling that life is still very busy. many good people".
You are reading the article
Wrongly transferred 385 million dong of goods, the woman was surprised with the attitude of the shipper

at
Blogtuan.info
– Source:
cafebiz.vn
– Read the original article
here