According to information from the Department of Pediatrics, Hung Vuong General Hospital, the department has just received 2 cases of children with staph infection with severe osteomyelitis complications.
The doctors said: Staphylococci are Gram-positive, aerobic bacteria. Staphylococcus aureus is the most causative agent; often causes skin infections and sometimes pneumonia, endocarditis, and osteomyelitis.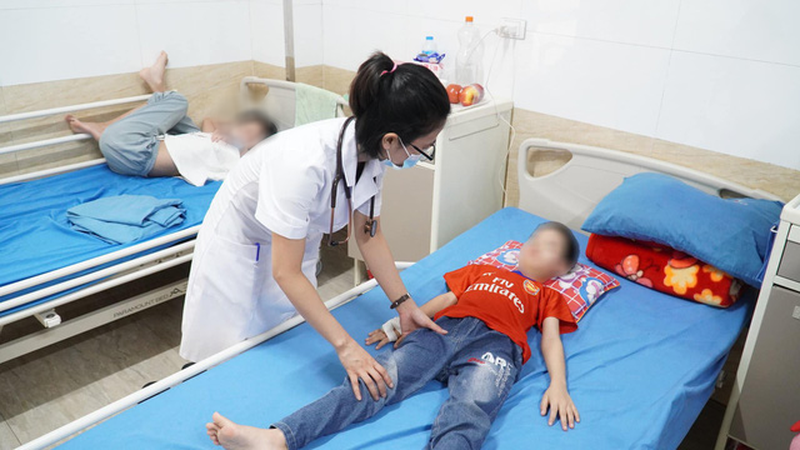 Some strains produce complex toxins that cause gastroenteritis, scaly skin syndrome, and toxic shock syndrome.
Subjects who may have staphylococci include:
– Newborns and breastfeeding mothers.
– Patients with influenza, chronic lung disease, leukemia, tumors, chronic skin disorders, diabetes, burns.
– Patients with implants, prosthetic materials, other foreign organs, or plastic endovascular catheters.
Patients taking adrenal hormones, radiation, immunosuppressive drugs, or anti-cancer chemotherapy.
– Patient has chronic kidney disease and is being treated with dialysis.
– Patients with incisions, open wounds, or burns that result in the patient being exposed to antibiotic staphylococci from other patients, healthcare workers, or items in healthcare facilities.
Symptoms and complications:
– Abscess, boil, cellulitis: the skin is inflamed, red, swollen, hot, painful, or has pus.
– Empyema of the pericardium, endocarditis: valvular warts, high fever for a long time.
– Pleural effusion, empyema, pneumonia: There are abscesses on both sides of the lungs, spotty infiltrates, and pleural pus.
– Osteomyelitis, arthritis: poor mobility, above bone or joint inflammation, heat, swelling, redness, pain.
– Sepsis: often occurs in patients with staphylococcal infections from the beginning such as boils, pneumonia, osteomyelitis, bacteria from these foci spread into the blood.
– Food poisoning: abdominal pain, vomiting, diarrhea.
– Septic shock syndrome: intoxication, high fever, low blood pressure.
– Peeling syndrome: rash on infected skin, then blisters and blisters burst, leaving a red layer of skin that can peel off when gently pulled.
Doctors of Pediatrics recommend: People who have the above symptoms need to go to the doctor immediately for timely treatment.
You are reading the article
Warning of severe sequelae after staphylococcal infection in children

at
Blogtuan.info
– Source:
Afamily.vn
– Read the original article
here